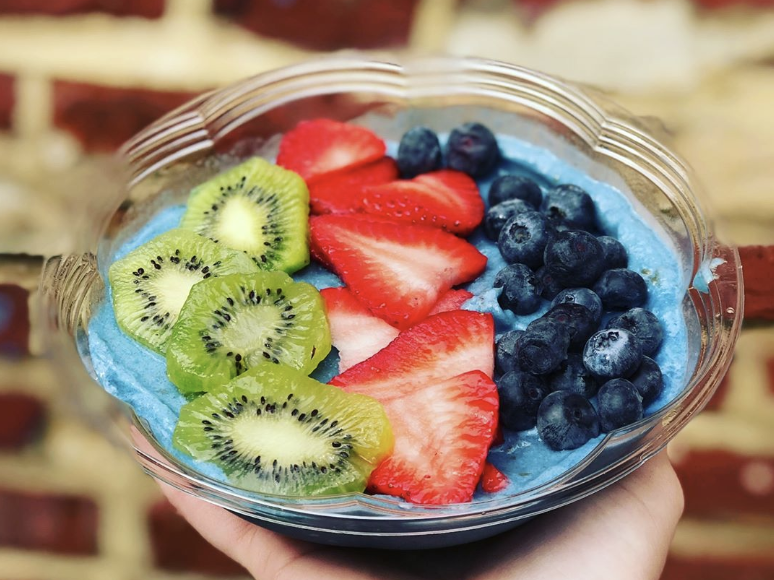 @earthshakebaltimore
OPEN
EarthShake: Locust Point locals will be happy to hear that this fuel-up spot has officially made its return to the neighborhood. The juice bar, which originated on Fort Avenue in 2016, relocated to Fells Point last year. But earlier this week, the owners opened a second location back where it all began. The new shop features all of the signature açai and pitaya (dragonfruit) bowls, cold-brew coffees, smoothies, and cold-pressed juices that regulars remember from the original EarthShake. And, in keeping with the wellness vibe, it also offers CBD gummies, protein balls, and Fire Cider shots with habanero pepper and apple cider vinegar. 1442 E. Fort Ave. 410-276-0777
Aveley Farms Coffee: In recent years, the dining scene has been lucky to welcome java joints that focus on educating consumers about the process of how coffee ultimately ends up in our mugs. Now joining the likes of Vent Coffee Roasters and Sophomore Coffee is Aveley Farms—a new cafe and roastery that officially opens in Harbor East on May 18. The project is the brainchild of Towson native Corey Voelkel, who was inspired to open the shop after spending some time in San Diego. "I want to teach consumers about the knowledge shared between roasters, importers, and baristas," Voelkel said last fall. "That's something the West Coast does really well." Inside the 900-square-foot space—which features warehouse windows overlooking the neighborhood skyline—locals will be able to enjoy global grinds, unique Aveley Farms blends, collaborative brews with other local roasters, and pastries sourced from area wholesalers. 1400 Aliceanna St. 443-465-8057
Ramen Utsuke: The retail-and-residential skyscraper at 414 Light Street debuted its first eatery earlier this week. Ramen Utsuke, a sister-spot of Kippo Ramen in Fells Point, has officially opened in the downtown building, serving steamy bowls of drinkable broth topped with add-ins like sprouts, soft-boiled eggs, and seaweed. In addition to the noodles, the restaurant, whose name translates to "ramen crazy," will also serve dishes such as sushi, avocado salad, and pork gyoza. "There are some people who are against ramen stores offering any other dishes," owner Shigehiko Okiebisu told us last year. "I wanted to do something a little different and crazy that other people wouldn't do." Featuring a contemporary design, the 80-seat spot boasts a large open kitchen, outdoor patio, a mix of booths and communal tables, and glowing lanterns hung overhead. Ramen Utsuke will be joined by two new vegan concepts setting up shop inside the building this summer. 414 Light St. 443-563-2977
COMING SOON
Stone's Throw Hash: As its name signifies, this new pop-up highlights filling sweet potato hashes that are sourced from purveyors just a stone's throw away. The concept was inspired eight years ago, when founder Ben James discovered that he was allergic to wheat. He started experimenting with different gluten-free and paleo-friendly recipes, and recently began booking local pop-ups and catering gigs. A food truck is expected to hit the streets in the fall, but until then, Stone's Throw will be popping up at breweries and farmers' markets around town. Specifically, you can catch James at Full Tilt Brewing in Govans on Friday, May 24 and Sunday, May 26. Bowls to look out for include the "Bay Be Blue Crab" (Chesapeake blue crab, free range eggs, pickled carrots, and Old Bay), "Wakey Wakey Apple Bacy" (shredded apples, seasonal greens, and pastured bacon) and the vegan "Buddha Hash" with crispy tofu and organic beets.
CH-CH CHANGES
Ashley's Sweet Beginnings: In conjunction with its recent menu refresh, this cafe and sweets spot inside The Shops at Kenilworth is transitioning into new digs this summer. Ashley's is moving to the first floor next to Kenilworth mainstay Italian Gardens—a space which is also neighbored by new health-food spot Lyfe Cafe. Aside from her signature soups and sandwiches, owner and pastry chef Ashley Krauk has become known for creating colorful custom cakes, macarons, brownies, and hand pies. Updated offerings now include Silver Spring-based Moorenko's ice cream and Instagrammable mason jar milkshakes. 816 Kenilworth Drive. 410-337-6991
EPICUREAN EVENTS
5/18: Baltimore Mac and Cheese Festival
Head to Power Plant Live for this massive celebration of one of the most comforting dishes out there. Spend the day strolling around the entertainment district to sample bourbon and whiskey, dance to live music, and revert back to your childhood self with mac and cheese varieties from more than 30 different vendors and food trucks. Attendees will be able to try everything from classic baked macaroni to over-the-top dishes inspired by the classic comfort food and vote for their favorite submissions. 34 Market Pl. 11 a.m.-6 p.m. $20-55
5/24: Big Softy CREAM Pop-Up at Union Collective
Mark your calendar for the return of Big Softy's CREAM (Crabs Rule Everything Around Me) pop-up at Union Collective next weekend. The recurring event—whose name is a culinary play on the classic Wu-Tang Clan anthem—is spearheaded by Big Softy founder Craig Falk, who is also the brains behind The Lunchbox Lady. Stop by to indulge in Falk's signature soft shells, crabby collaborations by Well Crafted Pizza, Union beers, and, of course, Wu-Tang-inspired ice cream flavors from The Charmery. DJ Impulse will be spinning throughout the party from 6-9 p.m. 1700 W. 41st St.