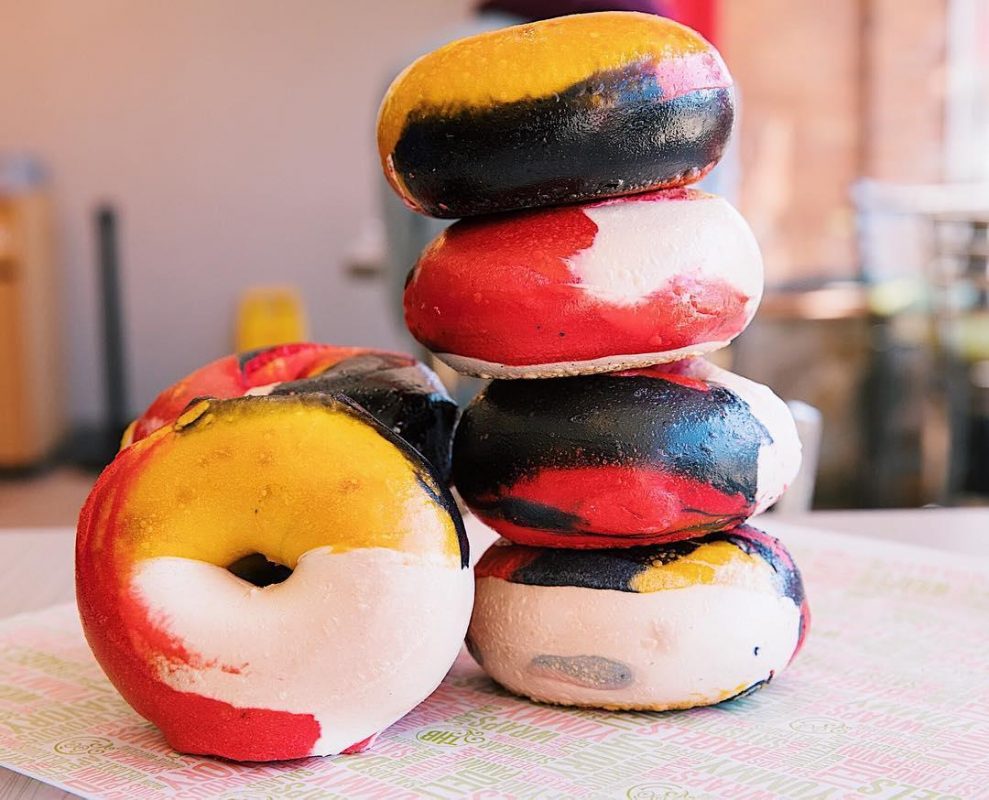 @thb.bagels.deli via Instagram
OPEN
Écho Frezco: It's been nearly three years since plans to open this cocina inside the Hunt Valley Town Centre were officially announced. After much anticipation, the sister-spot to the popular La Tolteca chain finally celebrated its grand opening earlier this week. Swing by to sample the massive plates ranging from cheesy quesadillas and chicken flautas to steak nachos and a fried taco bowl with all of the fixins'. Of course, there is also a fully-stocked bar that turns out classic margaritas, palomas, and Mexican draft beers. The spot adds even more dining diversity to the development, which houses other eateries including Iron Rooster, Coal Fire Pizza, Barrett's Grill, and Bar Louie. 100 Shawan Rd. 410-891-8281
COMING SOON
Chatime: Bubble tea can be hard to come by within city limits. Devotees were on cloud nine when QQ Boba debuted on the Avenue in Hampden a few years back, and next month, fans will be able to get their fix at this new shop in Federal Hill. The global tea franchise will soon open its second Maryland location (the first debuted in White Marsh in 2017) in the vacant space sandwiched between Lucky Fortune and Knockout Fitness on Light Street. Though boba—the trendy Taiwanese milk tea enhanced with flavored jellies and chewy tapioca balls—will be the focus, the menu will also offer fruit smoothies, fresh-brewed coffees, and lattes topped with a savory mousse. 1114 Light St.
NEWS
Lexington Market: It's an exciting time for the city's public market presence. The renovated Broadway Market in Fells Point partially reopened this week, and the brand new Cross Street Market is expected to follow suit in Federal Hill this spring. The next redevelopment coming down the pike is the landmark Lexington Market downtown. After a year of research and collaboration with vendors and business leaders, local developers Seawall and BCT Architects recently unveiled plans to construct a new market in the parking lot just south of the current space. Though the split-level structure will be smaller, the plans allow for all of Lexington's vendors—including fan-favorites like Faidley's and Connie's Chicken & Waffles—to remain open throughout construction.
"Our Connie's team is excited about the new feel that it is in line with what many of our customers have asked for," Connie's co-owner Khari Parker said in a statement. "Specifically, a design that brings a fresh feel through a new building, while preserving elements of the historic charm that tourists and local Baltimoreans alike have come to love at Lexington Market."
Expected to break ground in 2020, the new building will span the block between Paca and Eutaw Streets and include an interactive plaza for farmers' markets and other community events. Once the project is complete, a second phase will focus on the adaptive reuse and reprogramming of the existing Lexington Market. 400 W. Lexington St.
Towson Station: In other development news, Mission BBQ, MOD Pizza, Tropical Smoothie Cafe, and The Habit Burger Grill are among the fast-casual eateries that have inked deals to open at this forthcoming strip mall at the corner of York Road and Bosley Avenue in Towson. Spearheaded by Caves Valley Partners and H&R Retail, the new destination was met with some opposition from neighbors who were concerned about tree removal during demolition. But, ultimately, a Baltimore County judge ruled to move the project forward. Construction is slated to begin this summer, and tenants could start making their debut by later this year. 800 York Rd.
EPICUREAN EVENTS
3/24-25: Maryland Day Bagels at THB Bagels + Deli
You can always count on THB to fry up colorful bagels in honor of special events. We've seen everything from purple bagels for Ravens season to green ones to celebrate St. Patrick's Day. Now, the cafe chain is showing off its local pride with yellow, black, red, and white circles for Maryland Day. All locations will be offering the tie-dye bagels on Sunday and Monday as an homage to our state's big anniversary. (Perfect timing, as we cheer on the Terps in the NCAA Tournament.) Multiple locations including 3301 Boston St. 410-732-9090
3/28: Origins: A Speaker Series
It's hard to believe that there have been nearly 30 installments of this sustainable speaker series since it debuted at Artifact Coffee in 2015. This time around, settle in for a panel discussion about food security in Baltimore and Washington, D.C. Chef Spike Gjerde will moderate the talk with Baltimore City food policy director Holly Freishtat, Rev. Dr. Heber Brown III of the Black Church Food Security Network, and Oasis Community Partners executive director Phillip Sambol. As always, attendees will be able to expand the discussion with the speakers over a family-style meal prepared by Artifact. 1500 Union Ave. $60 443-873-3900
SHUT
Edible Favors: Throughout the end of the month, sweet tooth fiends will be flocking to this dessert stall inside Mount Vernon Marketplace to stock up on festive cupcakes and the signature "Everything" cookies packed with chocolate, caramel, and salty pretzel pieces. Owner and pastry chef Denise Dingle, a Baltimore International College grad, recently decided to move on to other ventures after three years in Mt. Vernon. "It's with heavy hearts that we soon say bon voyage to Edible Favors here at the marketplace," reads a message posted to the food hall's Facebook page earlier this week. "Denise and her goodies will be moving on and leaving at the end of March, but we can't thank her enough for years of smiles and tasty treats." 520 Park Ave.
Peace & A Cup of Joe: For more than a decade, Pigtown and Ridgely's Delight locals have made stopping by this Pratt Street staple an important part of their morning routine. But last week, owner Themar Long sold the cafe's last cup of coffee. "You're never told the strains on family, friends, and life owning a business will put upon you," Long said in an announcement posted to Facebook. "But it's been an exciting ride, which I wouldn't change for all the world." Not only will the shop be remembered for its striking orange exterior with a hand-painted mural of hands picking coffee beans, but also for its menu of weekly coffee specials, colorful salads, and grilled sandwiches. 713 W. Pratt St.