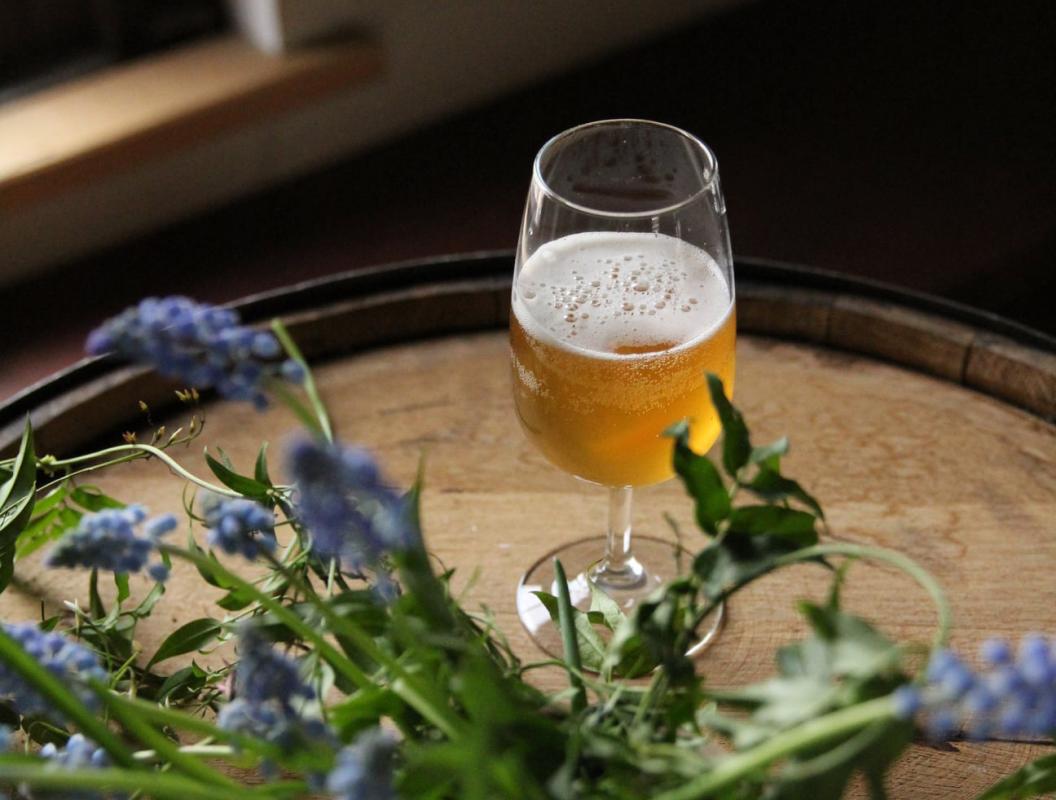 —Courtesy of Fadensonnen via Facebook
NEWS
Baltimore Spots Top Esquire's List of Best Bars in America: As Esquire's lifestyle and culture director Kevin Sintumuang notes in the introduction to the magazine's annual "Best Bars in America" list—which dropped earlier this week—bars were sorely missed during lockdown. "Bars are simultaneously a place to be by oneself and a place of community," Sintumuang writes. "An escape and a home away from home. That vanished as many were forced to transform into takeout joints or, worse yet, to permanently close."
In the wake of such a challenging year for the food and beverage industry, we were happy to see two of our own rightfully celebrated on the coveted list. Ranking among the top 27 bars in the country, according to Esquire's editors, are Fadensonnen in Old Goucher and Ministry of Brewing inside St. Michael's Church in Upper Fells Point. The latter was lauded for its experimental brews and unique setting. And Fadensonnen—the natural wine, beer, and sake spot from Clavel's Lane Harlan and Matthew Pierce—was praised for its "artsy, agrarian edge." As Sintumuang puts it: "For those who ever doubted that Baltimore could be cool, just have a shot here." 
Lexington Market Begins Vendor Rollout: Earlier this week, the Transform Lexington team began announcing the vendors that will fill the new Lexington Market—currently under construction in the lot adjacent to the current structure, which remains open—when it cuts the ribbon in early 2022. The first two vendors to be announced were mainstay sausage and snowball stall Sausage Master, which will move from the current market to the new building, and North Avenue flower shop Fleurs d'Ave, which will expand with a second location inside the new building. Taking a staggered approach, the team plans to continue announcing tenants on a bi-monthly basis throughout the rest of the year. Read more, here.   
COMING SOON
Allora: A new restaurant from chef Brendon Hudson of Liliahna Luxury Catering is opening in Mt. Vernon. The Culinary Institute of America grad took to Instagram earlier this week to announce that he and his team have spent the past few months transforming the space at 1005 North Charles Street into a European cafe. The plan is for Allora to serve espresso and pastries for breakfast, an array of international sandwiches during lunch, and a Roman-inspired Italian tasting menu for dinner service on Friday and Saturday evenings. Stay tuned for more. 
OPEN
Busboys & Poets: The Charles Village location of this Washington, D.C.-based bookstore-cafe chain has finally made its debut. At its new home on Saint Paul Street, Busboys and Poets will host its signature open mic nights, readings, and other community events while serving up an expansive lunch and dinner menu. Visitors can grab coffees and teas while browsing books, or settle in at the cafe to order dishes such as beef sliders, blackened salmon with lemon butter sauce, vegan penne pasta, and an avocado panini. 
REOPENING REPORT
The Crown: After a five-month hiatus, this Station North staple is reopening its doors on Friday, May 28 at 4 p.m. Though the upstairs rooms will remain closed for the time being, the back bar and restaurant is returning in full swing this weekend. Stop by to crack open a beer, snag an order of kimchi-topped "K Fries" or bulgogi nachos, and get reacquainted with one of the city's most beloved gathering spaces. 
Waverly Brewing Company: Another spot returning from hibernation mode is this Hampden brewery, whose taps have been dry since January due to the impacts of the pandemic. Thankfully, the team is making a long-awaited comeback this weekend with plenty of fan-favorite brews on deck. Raise a glass to Waverly's return—and the long weekend ahead—by sipping flagship beers like the Blackberry G'oat sour and Golden Sombrero blonde ale, which is perfect for easy summer sipping.  
SHUT (FOR NOW)
Rye Street Tavern: In case you missed it—a rebrand is in the works at Rye Street Tavern in South Baltimore. In an announcement posted to social media earlier this month, the team at the American tavern on the Sagamore Spirit distillery campus shared that they would be closing in order to reimagine the concept as "a more integral part of the Sagamore Spirit experience and the exciting redevelopment in Port Covington." In the meantime, the adjacent distillery's new whiskey bar, Nineteen O'Nine, is open on weekends and the team plans to revive their signature "Whiskey on the Waterfront" events throughout the summer.