—Renderings courtesy of Sagamore Ventures
Shops, offices, apartments, and a communal market are only a few of the additions Baltimoreans will see in the next phase of the Port Covington development in South Baltimore, which had a ceremonial groundbreaking last week and is due to open starting in late 2022.
As the buildings come together, the hope is for Port Covington to transform from a collection of individual structures into a full-fledged community.
"This is more than buildings," said Margaret Anadu, global head of sustainability and impact for Asset Management at Goldman Sachs, a partner in the project along with Weller Development Company and investment firm Sagamore Ventures. "This is about opportunities and dreams. This is about people's lives." 
Under Armour founder and executive chairman Kevin Plank—also the CEO of Sagamore Ventures—likened the development of Port Covington to a "great flame" that will spark the creation of tens of thousands of jobs benefitting people in South Baltimore and beyond. 
"I'm all in. Goldman's all in. This team is all in," Plank said at the groundbreaking. "The vision that we have for this project is a tide that just does not elevate Port Covington, or even just the surrounding six neighborhoods, but all of Baltimore."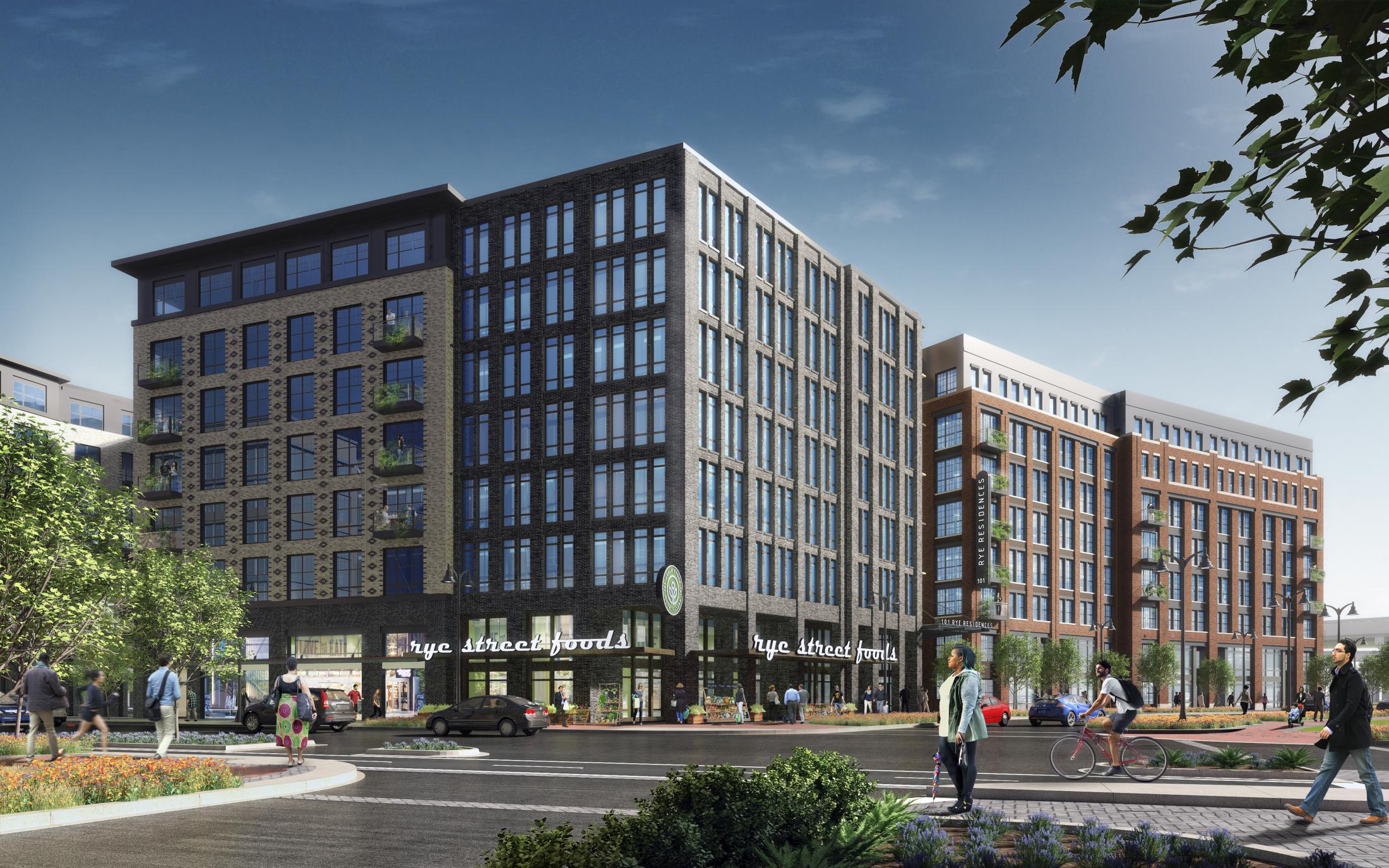 Because the infrastructure and waterfront improvement work is largely funded with $660 million in Tax Increment Financing (TIF) that needed approval from the Mayor and City Council, housing advocates and others initially voiced concerns that the development should give back to the community by providing affordable apartments, jobs, and other benefits for residents of South Baltimore and elsewhere in the city.
In response, the Port Covington development signed a Community Benefits Agreement in 2016 with the South Baltimore 6 (SB6) Coalition—a nonprofit organization that represents the surrounding communities of Brooklyn, Cherry Hill, Curtis Bay, Lakeland, Mt. Winans, and Westport—to outline how these communities will benefit from the project. The developers also entered into a Memorandum of Understanding with the City of Baltimore that includes more than $100 million in commitments to fund priorities such as workforce development, education, economic development, and affordable housing.
"[We have an] obligation to the city of Baltimore to ensure that Port Covington benefits as many people and as many parts of this city as possible," Plank said. 
To date, the team has funded more than $19 million toward its MOU and Community Benefits Agreement, including more than $9 million of baseline funding to the South Baltimore communities. At the groundbreaking event, the developers reported that 20 percent of the residences in this phase of Port Covington will be affordable housing and that of $36.5 million awarded for infrastructure work, contracts totaling $27 million have gone to minority-owned firms and contracts totaling $3 million have gone to women-owned firms.
Other community benefits so far include providing free office and maker space for local entrepreneurs, fundraising for fields in Cherry Hill's Reedbird Park, aiding comprehensive planning efforts for the Middle Branch waterfront, and sponsoring "Gwynnda," the new Gwynns Falls Trash Wheel.
"Our city leadership was bold to take this on, and we will prove you right to do so," Plank said of the TIF funding. "We will work on that each and every day."
A noteworthy aspect of the vertical construction work now underway is that it won't be incremental, the way Baltimore development traditionally occurs. When city and state leaders held their groundbreaking, they marked the simultaneous start of five separate projects. (A rough comparison would be if former Mayor William Donald Schaefer, back in the 1970s, had started work on Harborplace, the Hyatt Regency hotel, and three office buildings along Pratt Street, all at the same time.)
For Port Covington, a one-time railyard and industrial zone, this critical mass of construction will transform the area into a cohesive neighborhood designed for the 21st century—and made all the more distinctive because of its location along the Middle Branch of the Patapsco River.
The five parcels now under construction are mostly along East Cromwell Street, the main road that runs parallel to the Middle Branch shoreline, east of the Hanover Street Bridge. The area today is, as Weller Development's community relationships manager Chenire Carter puts it, "a blank canvas waiting to be painted upon." 
"This is going to be a new beacon of hope and opportunity that will be visible for the 46 million cars that pass by the city every year," Carter added, "and for all of Baltimore to see."
At a time when the President Joe Biden is working to strengthen the economy and lead the country out of the COVID-19 pandemic, "Port Covington is Exhibit A as to how we can build back better," said Maryland Senator Benjamin Cardin, who chairs the senate's Transportation and Infrastructure subcommittee.
"Yes it will be important for Baltimore, but it will also be important for our nation," Cardin said at the groundbreaking. "It gives us the prime example of what we can do for America's future, starting in Baltimore City."
Here are some of the places and amenities to look for as the next phase of Port Covington takes shape:
Rye Street Market: The central gathering place for the district will be a 45,000-square-foot market and food hall that is connected to a building with office and meeting space. Just as Lexington Market is being rebuilt as a people magnet for Baltimore's westside, Rye Street Market will be a centerpiece for Port Covington. It's the first building in Baltimore designed by Morris Adjmi, a New York-based architect known for creating "people-friendly" gathering places.
Shops and Restaurants: A mix of local, regional, and national shops and restaurants, mostly on the first level of multi-story buildings, will add life to the street.
Affordable to high-end housing: Four hundred and fifty six apartments spread throughout three new buildings, including 367 market-rate dwellings and 89 apartments reserved as inclusionary housing for residents who earn below the median income.
Extended stay units: Eighty one suites for short-term stays in a building that also includes apartments.
Public spaces: The revitalized area will have 10 acres of parks, promenades, roads, and bike paths that will give people opportunities to explore Baltimore's waterfront. Liz Cornish, who has served as the executive director of Bikemore for the past six years, is starting a new position next month as Enhanced Services Director for the South Baltimore Gateway Partnership—a community improvement organization whose jurisdiction includes the Middle Branch waterfront. With Cornish at the helm, the area is sure to be pedestrian- and cyclist-friendly.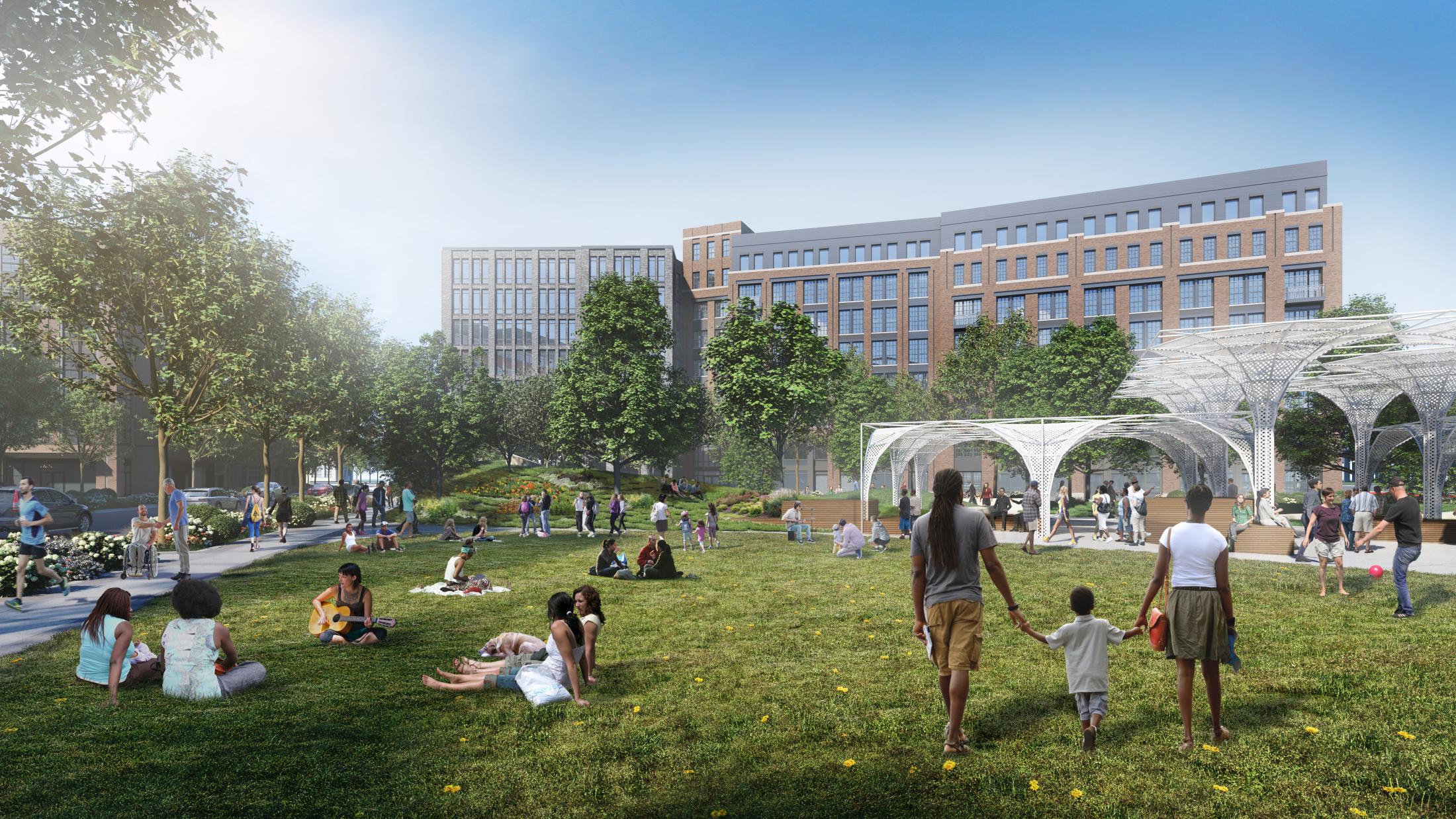 Offices: The redevelopment will provide 440,000 square feet of office space in two buildings, one of which will be attached to Rye Street Market. At one point, the developers had pitched Port Covington to Amazon and then as a hub for cybersecurity firms. Now they're marketing it as an ideal location for a wide range of companies.
Two marinas: For those arriving by water, there will be options for day-docking or long-term slips.
Party spaces: As the new place in town to check out, Port Covington will feature indoor and outdoor spaces available for corporate events, weddings, birthday parties, and fundraisers, many with waterfront views.
And there will be more to come. When complete, the $5.5 billion, 235-acre "city-within-a-city" is expected to contain 18 million square feet of residences, offices, and retail space, as well as 2.5 miles of restored waterfront—making it one of the largest urban revitalization projects in the country. What's underway now will be the heart of it all.