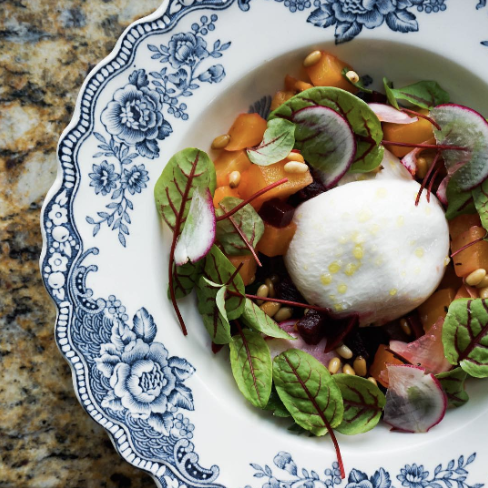 @gnoccobaltimore via Instagram
NAME CH-CH CHANGES
Gnocchetto: After some confusion arose with a restaurant of a similar name in New York City, Gnocco in Highlandtown recently changed its name to Gnocchetto—which translates to "small dumpling" in Italian. "We think it will just be easier in the long run," said general manager Sam White, in a statement. Despite the name change, the Mediterranean-inspired spot is sticking to its roots with worldly wines, antipasti, and a slew of locally sourced pastas that use milled rye and red wheat flour from Migrash Farms in Randallstown. In fact, chef Brian Lavin recently expanded the pasta offerings to include four options per evening. Be on the lookout for a new red beet tagliatelle with swiss chard or the Semolina trofie with arugula, basil pesto, pine nuts, and summer truffle. 3734 Fleet St., 443-449-6540
Sobeachy Haitian Cuisine: Festival-goers might be familiar with Green Grass Tall Trees, the Haitian-Caribbean purveyor that has served up its authentic eats at large-scale events including Light City, Artscape, and AFRAM. (It also routinely pops up at the Canton Waterfront, Fells Point, and Pratt Street farmers' markets.) Recently, husband-and-wife owners Leo and Chanel Fleurimond changed the pop-up's name to Sobeachy Haitian Cuisine to better reflect the vibe to their customers. "Everyone always confused us with a juice bar with wheat grass or a landscaping company," Chanel says with a laugh. "We wanted to have a name that connects to exactly what we are." Diners can catch Sobeachy at R. House throughout the weekend to sample signature dishes including smoked turkey sausage with sweet peppers, the "Taste of Haiti" plate with stewed chicken and plantains, and the customer-favorite "Endless Summer" refresher that combines pineapple, watermelon, lemonade, and tropical fruit juices. 301 W. 29th St.
NEWS
16 On The Park: Savor every last second of summer on the patio of this rooftop restaurant on the Johns Hopkins Medical Campus—which switched up its menu earlier this week. The new seasonal menu will be offered all day, and include a special list of late-night eats on Fridays and Saturdays from 10-11 p.m. New items to look out for include a seafood tower for two, a cobb salad with Old Bay ranch, and a house burger topped with cheddar and crispy tobacco onion. Pair all of the eats with new Charm City-inspired cocktails like the "Spirit of B More" (Maestro Dobel reposado, fruit rouge crush juice, and ancho reyes) or "A Little Crush in the Park," a spin on a classic Orange Crush with house tangerine foam. 800 N. Wolfe St. 443-524-8450
EPICUREAN EVENTS
9/5-12: Chef Wolf's Special Southern Menu at Charleston
Chef Cindy Wolf is celebrating the end of summer with a special Southern menu at Charleston in Harbor East. For one week only, diners are invited to feast on a prix-fixe menu highlighting buttermilk-marinated chicken, Gambian roasted eggplant and groundnut soup, Creole shrimp with andouille sausage, blackened red snapper, slow-cooked pork shoulder, and drunken peaches in a whiskey sorbet. Optional wine pairings will be available to help wash down all of the Lowcountry fare. 1000 Lancaster St. 410-332-7373. $94
9/12: Kitchen Table Series at Wit & Wisdom
This weekly series of intimate dinners is returning to Wit & Wisdom inside the Four Seasons Baltimore next week. The kickoff will have a family-style Italian theme and feature a menu executed by chef Randall Matthews. Snag a spot at the 12-seat table to indulge in white truffle arancini, wild mushroom polenta, hand-rolled spaghetti with crushed red pepper flakes, Mediterranean bass with San Marzano tomatoes, and chocolate and citrus cannolis. 200 International Drive. 6:30 p.m. 410-576-5800.
9/26: Sicilian Cooking Classes at Cosima
Throw on an apron and join chef Donna Crivello to learn about the flavors and cooking techniques inspired by her Sicilian heritage. The inaugural cooking class later this month will feature traditional Sicilian plates including seared scallops, saffron risotto, and limoncello ricotta cheesecake. The monthly series will continue with an Autumn Dinner in October, a small plates seminar in November, and a classic Feast of the Seven Fishes class to celebrate the holidays in December. Cosima, 3000 Falls Rd. 6:30 p.m. 443-708-7352, $85.
SHUT
The Fudgery: This weekend will be the last for Baltimoreans to hear the confectioners at The Fudgery sing while turning chocolate at Harborplace. After 33 years inside the Light Street Pavilion, the sweets shop will shutter its doors for good this Sunday, September 9. "Unfortunately, time changes things and there is not enough of our customer base to support a profitable operation," The Fudgery founder and CEO A.C. Marshall said in a press release. Aside from its house-made fudge and colorful candy apples, The Fudgery will be remembered for being the shop that spawned homegrown R&B sensation Dru Hill—whose members practiced their songs while working there in the early '90s. While Harborplace has seen many vendors close throughout its ongoing renovation process, new retailers including Build-A-Bear and Mason's Famous Lobster Rolls are planning to set up shop in the development in the coming weeks. 301 Light St.