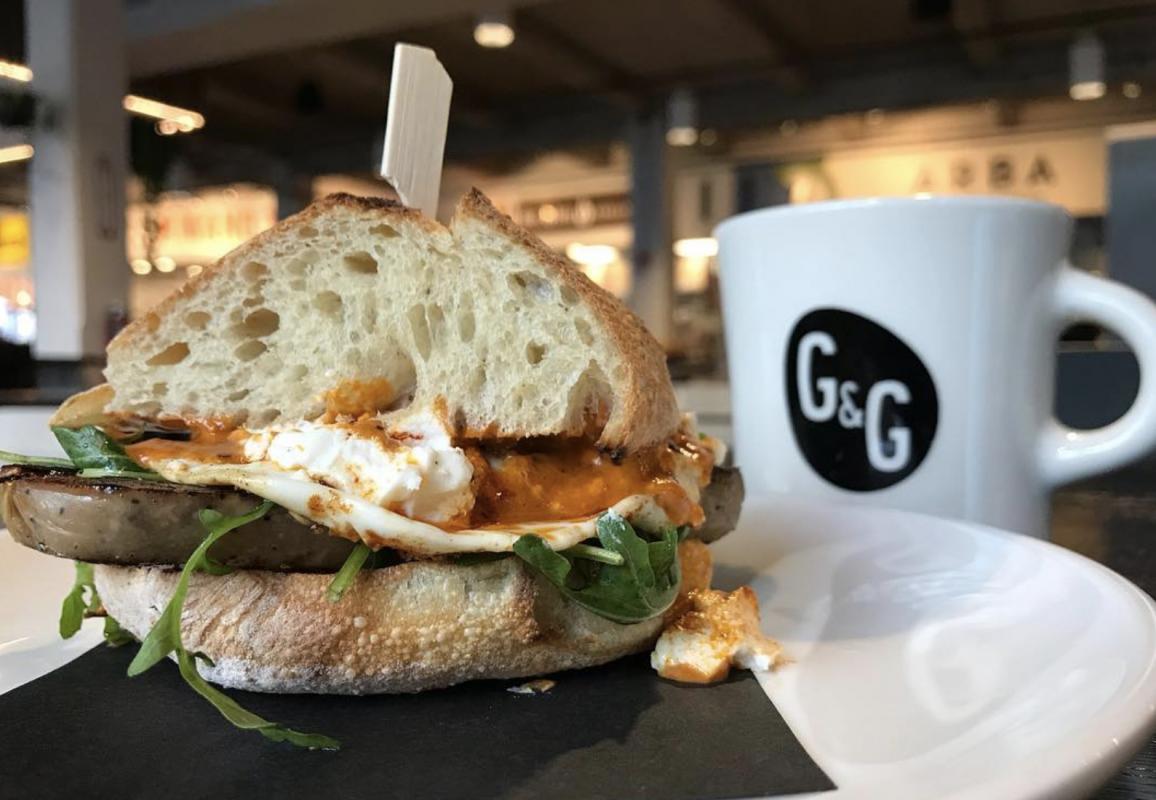 Ground & Griddled will serve the last of its famous egg sandwiches at R. House on December 30. —@gandgbmore via Instagram
SHUT
Ground & Griddled: Fan-favorite R. House stall Ground & Griddled will serve its last cups of coffee on Thursday, December 30. The coffee bar and griddle was the first concept to debut inside the Remington food hall in 2016. "We had a good five-year run," owner Dave Sherman tells us. "Obviously COVID has been a difficult environment, especially being in a food hall. We tried to make it work over the last year and a half to two years and change various models and things, but we just never returned to where we needed to be."
Sherman says that factor, along with Ground & Griddled's five-year lease being up at R. House, means he and his team are ready for a new challenge. "I've been so lucky with staff over the last five years and had really solid, amazing people surrounding me," he says. "I'm so grateful to them. And we've had an amazing community. Remington's really rallied around us and supported us. We're very appreciative of our time there. We're ready to move back into a more food-driven model." Stay tuned for more information about what Sherman has in store next.
Larder: The Old Goucher restaurant—a part of food-and-drink complex Socle from the owners of Clavel—announced its last service will be Sunday, December 19 from noon to 5 p.m. "After nearly two years of pushing through this pandemic, we have decided to close our doors at 3 W. 23rd Street," an Instagram post reads. But Larder, which serves up hyper-local dishes from chef Helena del Pesco, isn't gone for good. "In the new year, we'll continue to offer workshops, pop-ups, and small-scale catering as a nomadic entity that we are calling Larder At Home," the post continues. For updates on the new venture, Larder recommends keeping an eye on its Instagram page and signing up for its mailing list.
"We had only been open a year when the first shutdown was announced, and we are forever grateful to those that stood with us as we worked to keep each other safe and sane," the post concludes. "Food, farming, and the environmental impact of these activities are at the core of who we are, and we will continue to push for growth and change. Cheers to lessons learned, brighter days ahead, and the eternal quest for nourishment."
OPEN
Lisa's on Preston: There's a new concept in the former home of Joanne's Grille at 6 E. Preston St. in Midtown-Belvedere. Now, Baltimoreans can find American and Jamaican cuisine from Lisa's on Preston. Before opening in late November, husband-and-wife owners Lisa and Ivor Pryce ran Fusion Restaurant and Lounge in Culpepper, Virginia. Lisa, a Baltimore native, says this location on Preston Street was ideal because of the foot traffic. She says popular menu items—prepared by Ivor, a native of Portmore, Jamaica—so far have been jerk chicken, oxtail, and curry goat. Along with Jamaican delicacies, the menu includes American classics like mac and cheese, shrimp and grits, and chicken Alfredo.
"We just have a variety," Lisa says. "Most of the people that come in have been repeat customers…We did a soft test before we opened and a couple of people said things like, 'I've never had goat before.' If there's something [a customer] wants to try, they could get a sample. Just come in and try us out." Diners can dine in, grab carryout, or order for delivery via DoorDash.
COMING SOON
Cava: It's happening—Baltimore City will get its first fast-casual Cava sometime in 2022. Longtime city dwellers likely remember the sit-down Cava Mezze restaurant that previously operated in Harbor East. (The space on Fleet Street is now home to BLK Swan.) But now, the quick-service arm of the Mediterranean chain—which allows diners to mix-and-match proteins and veggies in a customizable bowl or pita—is headed our way for the first time. The Baltimore Business Journal reports that the Charm City location (which joins others in White Marsh, Timonium, and Owings Mills) will be housed inside a new retail center in Canton at 1201 S. Haven St. 
Shake Shack: Speaking of Canton, this beloved smash burger chain will expand its Baltimore City footprint with a location at 3902 Boston St. by the end of 2022, according to BBJ. Located in the same retail center as Cava, the new Shake Shack will also have a drive-thru lane, something the chain has only just begun offering in the wake of the pandemic. Featuring its signature burgers and chicken sandwiches, salted crinkle fries, and namesake shakes, the Canton Shake Shack will join one other city location in the Inner Harbor.
Common Ground Café: This staple coffee shop on The Avenue in Hampden is on the move to new digs just around the corner. Common Ground will operate normal hours through December 24, then close from Christmas Day until New Year's Day, with plans to reopen at its new location at 3453 Chestnut Avenue (the former home of SweetSide Café) on or around January 3. While the new building will give the cozy coffee shop more room to breathe, regulars can still expect the same reliable coffee drinks, loaded breakfast sandwiches, and fresh-baked muffins.
Ekiben: More of those delicious tofu nugs are on the way. The Baltimore Sun broke news this week that Ekiben plans to open a third location⁠—joining existing outposts in Fells Point and Hampden⁠—in South Baltimore's Riverside neighborhood. Co-owner Steve Chu confirmed to the Sun that the beloved Asian-fusion restaurant will take over the former home of Bar Licorice at 801 E. Fort Ave sometime next year. Construction is currently underway, though moving slowly due to supply chain issues. 
NEWS
Baltimore Spirits Co. Releases Four-Year Aged Whiskey: There's a new addition to Baltimore Spirits Co.'s award-winning Epoch rye whiskey line. The distillery recently released Post Epoch 4-Year Straight Rye Whiskey, which marks the first time a Post Epoch has been released at four years old. This particular iteration spent the final two years of aging in a barrel previously used to age maple syrup. "We always want to do something special for the holidays," said Baltimore Spirits Co. CEO and co-founder Max Lents, in a press release. "This is in some ways a throwback to our very first Post Epoch, which was also a maple barrel finish, but it's also a glimpse into the future of older expressions of Epoch Rye." The four-year aged whiskey is available at Baltimore Spirits Co.'s tasting room and its cocktail gallery, both located at Union Collective in Hampden. It's available for retail for $99.99.