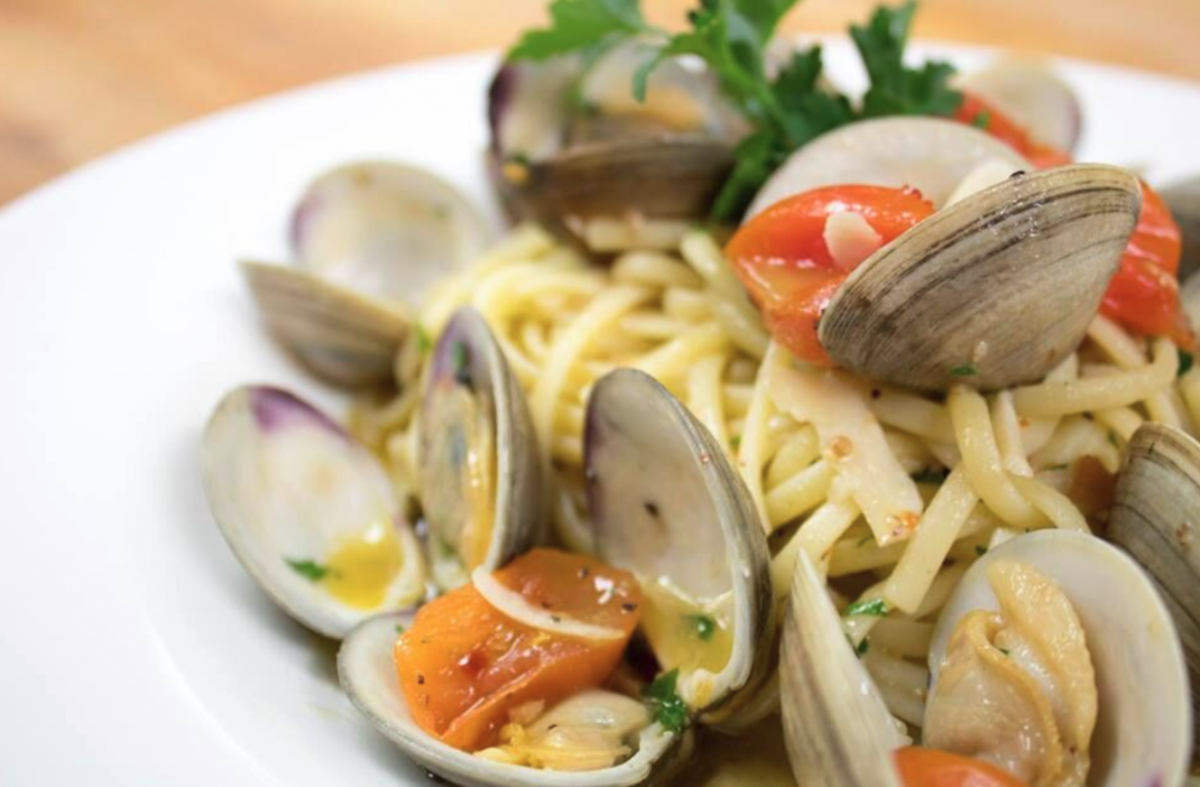 Courtesy of Limoncello
COMING SOON
Limoncello: The swanky Anthem House apartment and retail complex in Locust Point recently announced yet another restaurant tenant. Joining the likes of craft beer and coffee spot Amber and Korean fried chicken destination Jazz + Soju will be Limoncello, a casual Italian trattoria and wine bar whose flagship is in St. Michaels. Slated to open in summer 2018, the 120-seat restaurant will feature fresh seafood, an array of pastas (everything from gorgonzola gnocchi to penne caprese), and classic Neapolitan pizzas inspired by the Amalfi Coast. 900 E. Fort Ave.
Chez Hugo: It's been a few weeks since French-born chef Steve Monnier turned over the former Arômes space in Hampden to chef Chris Amendola. (Amendola's green-themed spot Foraged debuted in the space on Chestnut Avenue last week.) Since the transition, Monnier has been hard at work setting up his new 4,000-square-foot restaurant, Chez Hugo, which will open downtown at the corner of Calvert and Redwood streets next month. Featuring an open kitchen with its own hearth oven, the bistro will be divided into a 60-seat dining room, eight-seat tasting room, and 15-seat bar—which will be helmed by beverage director Adam Litchfield and serve French beers and cocktails. The space will have a belle époque vibe, and highlight Monnier's rotating menu of French classics like duck a l'orange and aged prime rib with pomme soufflé. Chez Hugo will open with a special tasting menu for dinner service on Valentine's Day. Stay tuned for more details. 206 E. Redwood St.
Waffie: Just when we thought Hampden had everything (from pizza and pasta to tacos and bubble tea), The Avenue will soon boast its own dessert waffle spot. Slated to debut later this month, the new shop from owners Minje Suh and Tommy Choe will feature handheld Liege-style waffles that diners can customize with toppings like buttercream, jam, and cookie butter. To wash down the eats, Waffie will also offer an array of coffees and hot chocolate. 839 W. 36th St.
CH-CH CHANGES
Ampersea: Best known for its sustainable focus and partnership with The Living Classrooms Foundation, Waterfront Kitchen in Fells Point has long been a destination for a seasonal harborside meal. But now, a major facelift is in the works at the property. Owner Chuck Nabit has enlisted the help of Fells Point designers PI.KL Studios and Seth Barkman of MiY Home to transform the space into Ampersea—a play on the word "ampersand" inspired by the restaurant's community-focused vision. The new concept will be headed by chef Nelson Morton, most recently of Bookmaker's, whose menu will offer Maryland classics such as Suckling Pig with pickled apples, and lump crab cakes with homemade tater tots and greenhouse greens. Although the theme will change, the restaurant will maintain its hyper-local spirit—with murals by local artist Kelly Walker—and preserve its ties to Living Classrooms' urban farming programs. In fact, Ampersea also plans to open an accompanying outdoor cafe in the courtyard of Living Classrooms' Frederick Douglass-Isaac Myers Maritime Park in the summer of 2018. 1417 Thames St., 443-681-5310
EPICUREAN EVENTS
1/15: Noodle and Dumpling Night at Wet City
Next week, The Local Fry owners Kevin and Elizabeth Irish are taking over Wet City for an evening of ramen and dumplings. Retreat from the cold temperatures and warm your soul by slurping down miso (yuksu bone broth, shiro miso, thick wavy noodles and sesame pork belly) or budae jigae (hot dog, thick noodles, spam, bean sprouts, and soft egg) ramen. There will also be plenty of pork, vegetarian, and shrimp dumplings to go around. Wet City, 223 W. Chase St., 6-10 p.m.
1/15: Haenyo Pop-Up at Dylan's Oyster Cellar
This Korean-fusion pop-up is back at it, this time putting its own spin on the Mid-Atlantic dishes at Dylan's Oyster Cellar in Hampden. Make your way over to the corner spot to feast on locally sourced offerings such as Korean spicy crab soup, clam pajeon, shrimp dumplings, and warm seaweed salad. All dishes will range between $8-20. Dylan's Oyster Cellar, 3601 Chestnut Ave., 5-10 p.m. 
1/18: Origins: A Speaker Series
Spike Gjerde's sustainable speaker series returns next week with special guest Michael Twitty, a culinary historian whose book The Cooking Gene delves into the true roots of Southern cooking. Listen to Twitty share stories of his research and travels before sitting down for a family-style meal in Artifact's private dining room. Artifact Coffee, 1500 Union Ave., 6:30 p.m., $60. 
SHUT
Ryan's Daughter: St. Patrick's Day won't be the same this year without this Belvedere Square pub, which will pour its final pints on January 21. For the past 14 years, the bar has been a gathering place for Irish eats, pints of beer, and game-day watch parties. Management took to Facebook to announce the closure earlier today, hinting that a new venture is on the horizon. "We see it as a chance to start something else, and we might see you sooner than you think in another location," the post reads. "From day one, we wanted the pub to serve as a place where friends and neighbors would feel at home—we feel that was accomplished." 600 E. Belvedere Ave.