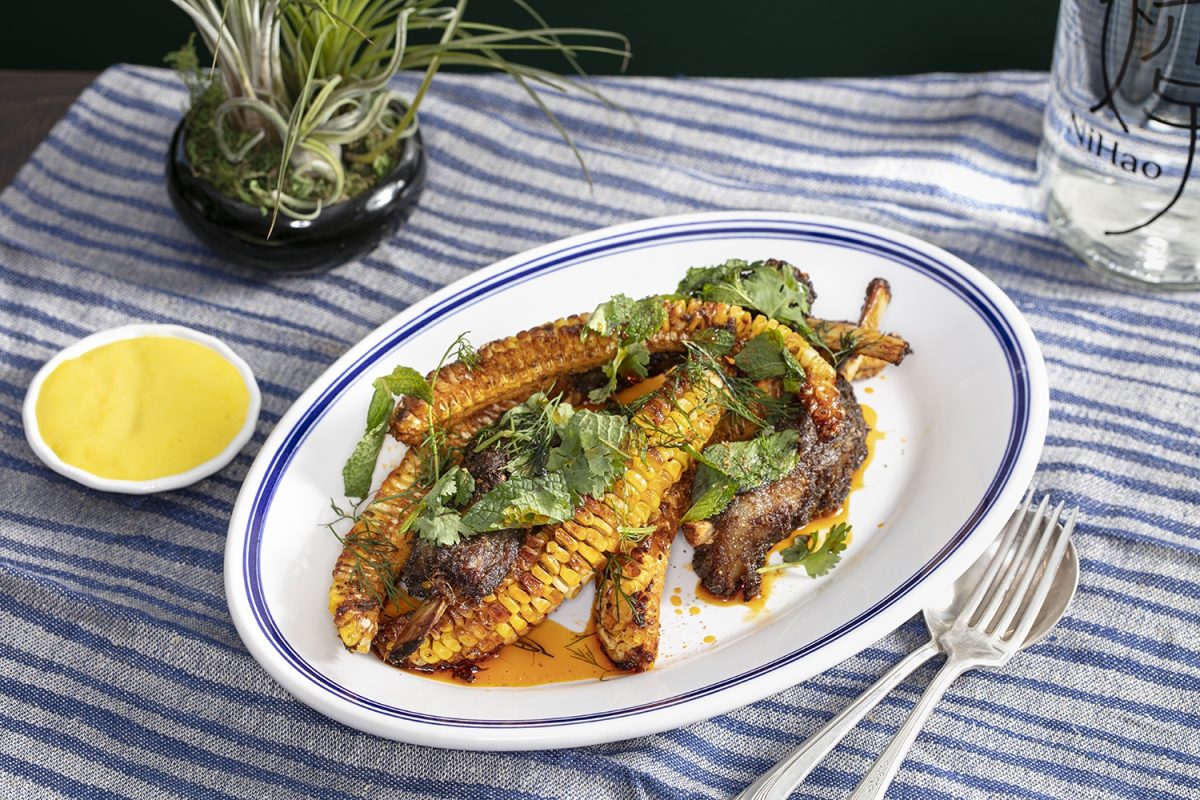 Photography by Melissa Hom
[Editor's Note: After taking some time off, we are happy to resume our recurring "Open & Shut" column chronicling the latest restaurant happenings. Throughout the past few months, we've pivoted our weekly food coverage to tell personal stories of how chefs, restaurant owners, and industry workers are faring throughout the pandemic. Our "Without Reservation" column will continue, and as the food scene continues to press on in the wake of ever-changing dining regulations, "Open & Shut" will also run on a bi-weekly basis. We deeply appreciate your readership and hope that this column reiterates the importance of supporting Charm City's unique array of restaurants, especially when they need it most.]
OPEN

NiHao: Perhaps the most highly anticipated local restaurant in years has officially made its debut in Canton. Culinary icon Peter Chang, along with his wife, Lisa, and daughter, Lydia, have brought on longtime friend Pichet Ong to collaborate on a menu of contemporary Chinese dishes that reflect both of the chef's styles. Now open for carryout and delivery, NiHao—the casual Chinese greeting that evokes a sense of connection, according to the owners—offers traditional options such as a whole peking duck, shrimp dumplings, and mapo tofu. And enticing dishes unique to the restaurant include cumin lamb and corn ribs, chicken and tofu skin salad, Grand Marnier prawns in lettuce cups, and crispy bamboo catfish. Beverage director Janet Cam, formerly of Le Pavillon in Washington, D.C., has curated a list of worldly wines, Asian beers, Baiju cocktails, and craft sodas made with house-made shrubs to pair with the food. As they continue with their phased opening plan, the owners are looking forward to unveiling the revamped interior of the former Fork & Wrench space when the restaurant opens for indoor dining in the months ahead.
Lexington Market: Lexington is the latest of the Baltimore Public Markets to reopen in the midst of the coronavirus. Effective today, the market will open with proper safety measures at 50 percent capacity on Thursdays, Fridays, and Saturdays from 8 a.m.-4 p.m. As shoppers return to visit their favorite vendors, developers with Seawall continue their redevelopment plans and will soon begin the vendor selection process for the revamped market set to open in 2022.
Sally O's: Diners got a taste of this new concept from Top Chef alum Jesse Sandlin when she popped up at Mr. Nice Guy Cocktails in April. Now, the chef is ready to officially open Sally O's on Friday, July 31. Set in the former home of The Laughing Pint in Highlandtown, the restaurant will offer an array of small plates, sandwiches, pastas, and hearty mains for carryout and outdoor dining. Dishes to look out for include crab-stuffed jalapeño poppers, a summer salad with nectarines and sweet peppers, crispy eggplant lasagna, and a buttermilk chicken sandwich with szechuan pickles. Though Sandlin is still awaiting liquor license approval, she will be featuring a few mocktails and coffee drinks from Black Acres Roastery to get started.
Until Conditions Improve: After a temporary closure a few weeks ago, the owners of The Bluebird in Hampden went back to the drawing board to think of a socially distanced pop-up concept that they hoped would be able to withstand the ever-changing dining restrictions. What they came up with is a burger-and-milkshake stand aptly named Until Conditions Improve. Starting this week, diners can order boozy amaretto milkshakes, burgers, BLT hot dogs, cornmeal-crusted fried pickles, and some of the bar's classic cocktails for to-go or outdoor patio service.
COMING SOON

Bmore Licks: Just as they did in Canton three years ago, Bmore Licks owners Kim Proctor and Barbara Maloni have commissioned a massive, hand-painted ice cream mural on the side of their new building in Federal Hill. Locals might have noticed the artwork at 901 Light St., which will soon open as Bmore Licks' second location. Expect the same fun flavors of homemade hard ice cream and soft serve (favorites include butter crunch, lemon ginger cookie, and Zeke's coffee toffee) to be delivered through safely distanced takeout windows when the shop debuts later this summer. Bmore Licks adds to the growing ice cream options in the neighborhood, which recently welcomed The Charmery and will soon host Taharka Bros. inside Cross Street Market.
Bushel and a Peck Kitchen & Bar: Iron Bridge Wine Company co-owner Rob Wecker is teaming up with chef Joe Krywucki to bring this Chesapeake Bay-inspired restaurant to the former home of Food Plenty in Clarksville this September. The Maryland natives and longtime friends plan to offer a menu that shows off the bounty of the Bay, with highlights including rockfish, shrimp, and, of course, Maryland crab. Wecker, who also happens to be a master sommelier, plans to create a list of local beer, wine, and cocktails to accompany all of the dishes.
CH-CH CHANGES

Di Pasquale's Marketplace: After more than 100 years in Highlandtown, this community staple is moving to a larger space in Brewers Hill next year. Taking over the former home of Ceriello Fine Foods on the bottom of The Porter apartment building, the Italian market will be able to grow its production and give customers more room to breathe while browsing its famous cheeses, meats, and prepared foods. In a note announcing the move on Facebook, the Di Pasquale family assured regulars that, despite moving a mile away, their hearts will always be in Highlandtown: "We may be moving some of our operations, but that does not mean we will divest our interest in the Highlandtown community that has taken care of us for over a century. We are excited to take this next step with you."
BAKERY BULLETIN

Kitsch: Pastry chef Jacqueline Mearman, most recently of Atlas Restaurant Group, took to Instagram last week to announce plans to open her own spot near the Johns Hopkins University campus. Slated to open in October, the shop will offer egg sandwiches, a curated coffee and tea program, and some of Mearman's signature sweets.
Ovenbird Bakery: Follow the smell of fresh-baked bread to find this new bakery in Little Italy. The handwritten list of artisan offerings rotates daily, highlighting rye, sourdough, ciabatta, and Italian loaves. There's also house-made scones, pressed paninis, and desserts like cheesecake and Key Lime pie.
Pekara Bakery: The spirit of European pastry palace Roggenart, which shuttered in Mt. Washington months back, now lives on in Roland Park. Serbian-born owner Radomir Mihajlovic and head baker Borislav Petkovic—both of whom previously worked for Roggenart—recently celebrated the grand opening of their new spot on Coldspring Lane. Carrying over many of their recipes featured at the old spot, Pekara features pastries such as butter croissants, walnut brioche, and a classic pain au raisin.
Pie Time Baltimore: The brick-and-mortar home for this farmers market favorite is getting close to opening in Patterson Park. Neighbors have likely seen the freshly painted storefront on the corner of East Baltimore and South Ellwood streets, where owner Max Reim plans to offer his sweet and savory pies along with the strong lattes, espressos, cappuccinos, and Americanos that fans know and love from his pop-ups.
EPICUREAN EVENTS

Ongoing: Johnny's Sunday Pop-Up Market
Foreman Wolf Restaurant Group is continuing its weekly Sunday markets in the parking lot of Johnny's and Petit Louis Bistro in Roland Park. From 8-11 a.m., shop fresh pastas and sauces from Cinghiale, empanadas and produce from Bar Vasquez, breakfast and coffee from Johnny's, and a selection of wines from all of the restaurant's cellars picked by co-owner Tony Foreman. Plus, produce from local farms and artwork created by Foreman Wolf employees.
8/2: Don't Know Community Pop-Up: Lucifero Loaves
Federal Hill's Don't Know Tavern is a prime example of the "a rising tide lifts all boats" mantra that has been practiced among industry workers since the shutdown. Starting this weekend, husband-and-wife owners John and Brittany Leonard are supporting fellow food businesses by hosting a different pop-up in one of their carryout windows on weekends. Kicking things off on August 2 will be artisan baker Lucifero Loaves, a regular at the Overlea and Baltimore Museum of Industry farmers markets. Be on the lookout for other purveyors including Codetta Bakeshop, Wild Berry Farm Market, and The Salad Lady scheduled to appear throughout the rest of the summer.
8/6: Takeout Thursdays With Dining Out For Life
Locals might be familiar with Dining Out For Life as the one-day-only promotion in which area restaurants donate a portion of their sales to Moveable Feast, which feeds those who are critically ill. But in the midst of COVID-19, organizers are vowing to give back to the restaurants that have supported the cause for the past 27 years. In addition to accepting individual donations through September 17, Dining Out For Life is streaming virtual concerts, seminars, and showcases on Facebook Live on Thursday evenings with the hope that diners will tune in while enjoying takeout from one of its many restaurant partners. Coming up on August 6 is a live performance by local acoustic band The Befuddlers, followed by composer Peter Dayton live from The Owl Bar, and a discussion on the future of the Black Lives Matter movement with community organizer Andre Robinson.
SHUT

Chez Hugo Bistro: It's no secret that the coronavirus has been devastating for the local restaurant scene, and among the latest spots that have announced closures is this beloved bistro in the historic Merchants Club building downtown. French-born chef Steve Monnier and co-owner Scott Helm announced last week that they made the decision to shutter the restaurant amid the restricted dining capacity and "enormous uncertainty around when these conditions might change." For more than two years, the cozy dining room has been a place to feast on escargot, steak frites, and Monnier's famous multi-course tasting menus served by stellar staff.