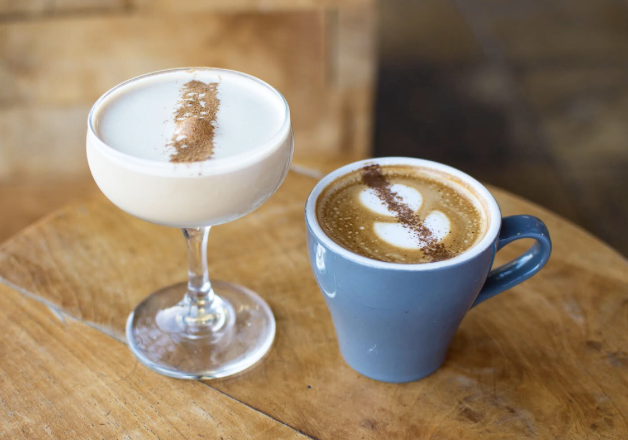 @ceremonycoffee via Instagram
OPEN
OneDo Coffee Roasters: The Canton neighborhood lost one java destination when Firehouse Coffee closed last December. But caffeine-addicts can now get their fix at OneDo Coffee Roasters, which is having a soft opening today through Saturday. Throughout the weekend, the shop will be offering free coffee and tea while supplies last, as well as a 20 percent discount off entire purchases. Menu offerings include lattes, mochas, pour over, affogato, and Japanese iced coffee. 913 S. Lakewood Avenue, 410-736-9084
Shoyou Sushi: Since opening in 2012, owner Bruce Lee—more fondly known as Sushi Bruce—has gained a significant following with his colorful rolls and overstuffed sushi burritos at this Federal Hill favorite. Recently, Lee ditched his baby-sized digs and moved the restaurant to a larger space across the street that has seating for 40. Lee recently told SouthBmore.com that the larger kitchen at 1450 Light Street will provide him with more space to serve his signature rolls, as well as new ramen offerings. 1450 Light St., 410-685-2989
NEWS
The Orient: When this York Road staple shuttered its doors two years ago, Towson locals were forced to search elsewhere for quality orders of shrimp fried rice and General Tso's chicken. But, as it turns out, owner David Huang chose not to renew his lease at the decades-old restaurant to focus on renovating a new space that he had purchased a few blocks up. And now, Huang is finally ready to reopen the celebrated Chinese food destination at 416 York Road—a storefront sandwiched between The Melting Pot and The Real Thing near Towson Circle. According to reports by The Sun, the 99-seat space will serve all of The Orient's signature sushi rolls and family-style platters. Look out for classics like lo mein, Szechuan-style meats and vegetables, and massive eggrolls when the spot opens its doors later this month. 416 York Road.
Baltimore Whiskey Company: This Remington distillery is celebrating a huge milestone this month. The brand is preparing to launch its oak-barreled Epoch Rye—which not only serves as its inaugural line of whiskey, but also marks the first rye whiskey distilled in Baltimore in nearly 75 years. The 100-proof spirit, which has been in the making since Baltimore Whiskey Company (BWC) debuted in 2015, combines a ratio of 70-percent rye grains to 30-percent rye malt, and has classic notes of cinnamon, clove, vanilla, and honey.  Epoch Rye officially launches at the Remington facility on March 17, and will be available at area bars and liquor stores soon after. The release comes at a transformative time for BWC, which is preparing to move its operations to the new Union Collective space in Medfield this spring. Says BWC co-founder Max Lents: "It's appropriate that our Epoch Rye being released right before we make such big steps forward."  2800 Sisson St., 443-687-9099
Bluegrass Tavern: A rebrand is on the horizon for this South Baltimore corner bar, which has long been a destination for whiskey cocktails paired with Southern comfort fare. (So long for now to the hot fried chicken and bacon mac and cheese.) Last week, management took to Facebook to announce that the restaurant is switching things up come spring. "Moving forward, we will have a new dining concept to serve our community better," the message reads. "Over the years we have made excellent memories and awesome friends. We look forward to the transition and continuing the opportunity to serve new dishes, innovative cocktails, and local craft beers." 1500 S. Hanover St., 410-244-5101
EPICUREAN EVENTS
3/13-18: Ekiben Turns Two
College buddies-turned-food entrepreneurs Steve Chu, Nikhil Yesupriya, and Ephrem Abebe changed the game two years ago when they found a permanent home in Fells Point for their Korean-fusion pop-up. Since then, they've not only been blessing the masses with their signature steamed buns and rice bowls, but they've also collaborated to create some epic food mashups with the likes of Clavel, Wet City, and The Local Fry. Next week, Ekiben is celebrating its big birthday in style with a weeklong pop-up series. Catch the guys at their shop to experience culinary collaborations with Tagliata, Blacksauce Kitchen, La Cuchara, Jumbo Seafood, and The Local Oyster throughout the week. The series will culminate with a special Filipino Kamayan (eat-with-your-hands-style) dinner prepared by Chu and chef Ben Lefenfeld at La Cuchara, featuring sticky rice, crispy suckling pig, grilled short ribs, and spring rolls. 1622 Eastern Ave., 410-558-1914
3/15: Bartenders vs. Baristas Cocktail Competition
Ceremony Coffee Roasters is getting in on the Coffee Fest fun by hosting this java-fueled cocktail competition next week. A handful of local bartenders and baristas will go head-to-head to create unique cocktails that combine Ceremony brews with any alcohol of their choice. The winning drink will be featured on the shop's spring menu and, to sweeten the deal, a portion of the proceeds from the drink will be donated to the Cystic Fibrosis Foundation throughout the season. Ceremony Coffee Roasters Harbor Point, 1312 Point St., 6:30-9:30 p.m., $10, 410-601-3561.
SHUT
Bruce Lee Wings: As Cross Street Market continues to trek forward with its restoration plans, this longtime vendor is on its way out. Owner Bruce Lee (unrelated to the aforementioned Sushi Bruce) took to Facebook last week to announce that his stall—a longtime destination for crispy wings and loaded burgers—would officially be closing on March 31 after a 27-year run in the market. But this might not be the last we see of Lee, as neighbors have launched a Kickstarter campaign to help him find a new spot to reopen. "I don't believe anyone is sadder about this than he is," longtime customer Megan Lafferty writes on the page. "The market has been his home for almost 30 years. This will be a hard chapter for Bruce to close." 1065 S. Charles St., 410-837-6081
The Bun Shop: The downtown location of this homegrown coffee shop has closed its doors. The artsy eatery and late-night study spot at 30 Light Street opened in 2016, and became a go-to for worldly eats and drinks like Hong Kong-style coffee and Paraguayan empanadas. Luckily, The Bun Shop's flagship in Mt. Vernon is still going strong, and an additional location in Towson is on track to open in the coming weeks.  30 Light St.
Play Cafe: After nearly three years, co-owners Ryan Sterner and Kathy Schott have made the decision to close their kid-friendly haven in Hampden on Friday, March 23. "It has been an agonizing decision to come to, both because we love what we do and feel the love from all of you," the duo posted to Facebook last week. "But, as many of you with young families can relate, other opportunities have arisen that are better suited for us at this stage of life." The business has been for sale since the fall, when Sterner announced that he would be moving overseas with his family. The owners hope that a new buyer will maintain the original concept, which has offered family-friendly food, games, and activities to the community throughout its run. 3400 Chestnut Ave., 410-469-9784
Wine Market Bistro: The days are also numbered for this Locust Point mainstay, which has paired its fancy fare with worldly wines for the past 13 years. "The bistro side was not hitting the necessary numbers," owner Chris Spann tells us. "I'm proud of the unique history that the Wine Market has in the hospitality industry in Baltimore, and I'm blessed to have worked with a who's who of talented chefs." Although the spot's front bar and wine shop will remain open, the dining room will close on Saturday, March 17. To commemorate the restaurant's history, Spann will be offering $13 off select bottles from now until the last night of service. 921 E. Fort Ave., 410-244-6166