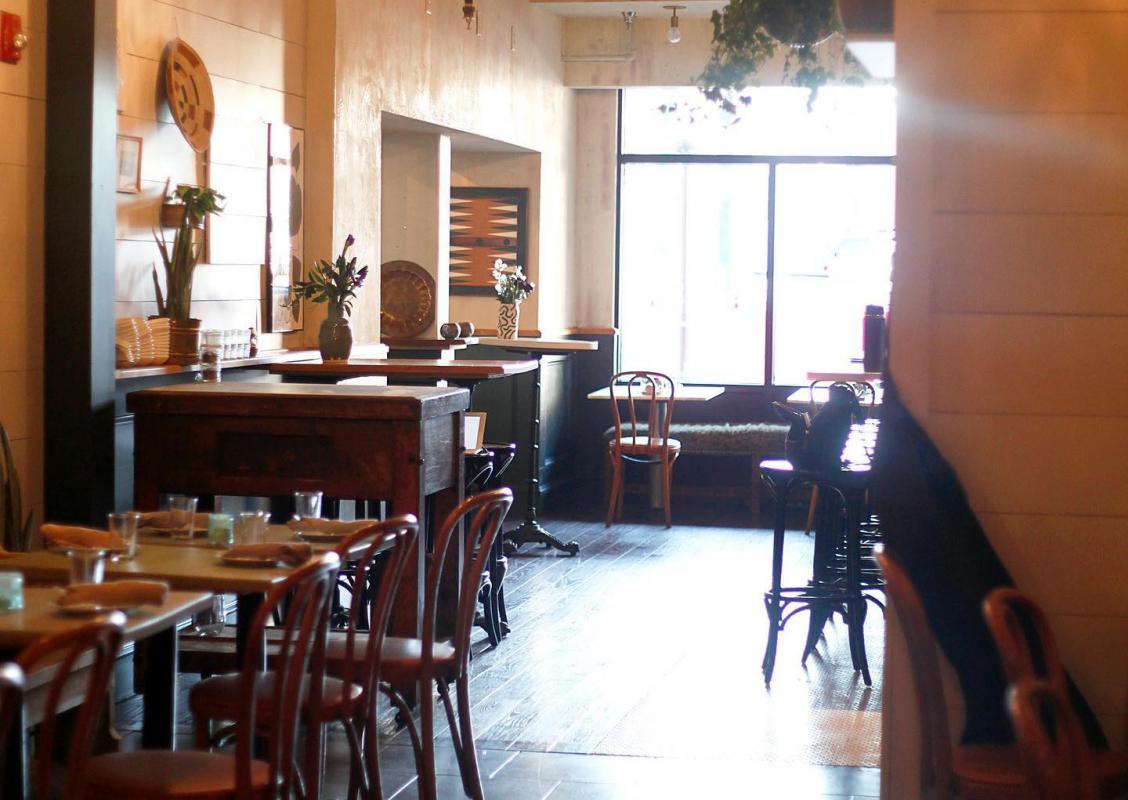 —Courtesy of Orto
SHUT
Orto: This Italian spot has served its final plates of pasta in Station North. Today, owner Elan Kotz announced that Orto has closed. He sold the North Charles Street space to another restaurateur, who will release plans for its latest concept in the coming weeks. "I am very happy for the new operators and their team," Kotz said in a statement. "They run an incredible restaurant with a unique menu and sourcing that routinely over-delivers for its customers. They will fit right into the neighborhood and add value to the block, surrounded by other great restaurants, including Tapas Teatro and Alma Cocina. I wish them nothing but the very best." The statement goes on to share that current Orto staffers will meet with the new owner to evaluate employment opportunities at the forthcoming restaurant. "A sale had been considered for the last 18 months," Kotz said. "Several offers have been received, particularly during the pandemic. The accepted offer feels right for the neighborhood, as well as timing." Stay tuned for more details. 
Village Square Cafe: Last week, this community cafe ended its 13-year run at the Village of Cross Keys. Husband-and-wife owners Robert and Roseann Glick, along with their son, Matthew, took to Facebook to announce that the closure was due to a lack of employment. "We simply cannot find qualified kitchen staff to keep up with the volume of business," the post reads. "With no end in sight to the present employment crisis, we can no longer compromise and disappoint you, our wonderful friends. Unfortunately, what we have so lovingly built is simply no longer sustainable." Roland Park regulars will miss the reliable breakfast and lunch dishes, strong coffee, and expansive outdoor courtyard.
EPICUREAN EVENTS 
9/25: Rox & Friends Collab and Beer Release
Highlandtown neighbors Off the Rox and Monument City Brewing Company have teamed up with Blacksauce Kitchen to launch a new German smoked lager, fittingly named Rox & Friends. The 5.7 percent ABV rauchbier was inspired by Off the Rox's location on the former site of legendary Baltimore dining destination Haussner's—which is fondly remembered for its German delicacies and famous artwork. On Saturday from 4-8 p.m, the team is celebrating the release the best way it knows how—with eats, drinks, and neighborhood pride. Check out the special Blacksauce pop-up menu to pre-order dishes such as a rauchbier-brined fried chicken sandwich, St. Louis-style ribs in an ancho peach barbecue sauce, and a smoked shiitake melt on mushroom brioche. Then, grab a six-pack and pull up an al fresco seat to enjoy. Off the Rox. 3232 Eastern Ave.  
To 9/26: Maryland Restaurant Week
Just when you thought Restaurant Week season was over, this statewide dining deal organized by the Restaurant Association of Maryland has returned for its second run. Throughout the weekend, hundreds of participating spots will continue to offer prix-fixe menus, specials, discounts, and seasonal fare for dine-in and carryout. The options are truly endless, but standouts include free kids meals with the purchase of an adult meal at Abbey Burger Bistro, 50 percent off French toast at Home Maid, a three-course prix-fixe at The Tilted Row, and $5 off when you spend $25 at THB Bagelry & Deli. Browse more deals, here.
GRAND OPENINGS 
Guilford Hall Brewery: This Greenmount West brewpub has technically been open since Memorial Day, but it's raising pints to celebrate its official grand opening this weekend—just in time for Oktoberfest. Not only does the industrial building on Guilford Avenue—which honors its roots as the original 1898 Crown, Cork, and Seal factory—brew its own beers using Bavarian techniques, but it also puts its own spin on classic European dishes, thanks to chef Malcolm Mitchell. (Think: fish and chips with spicy tartar sauce, schnitzel with potato dumplings, a short rib stroganoff, and duck confit poutine.) Snag tickets for the grand opening event this Saturday to sample bites from a Munich-inspired menu while downing $5 half-liter drafts, including the new Oktoberfest Marzen lager and Hefeweizen. Plus, VIP ticket holders can really get into the spirit with a live performance by Bavarian band Alte Kumpel. 
Vegan Juiceology: In a matter of weeks, Howard Row in downtown's Bromo Arts District has turned into a bonafide destination for plant-based products. On the heels of vegan ice cream shop Cajou Creamery's grand opening at 411 North Howard Street, juice genius Dominique Allen has unveiled a permanent home for her fresh-pressed varieties next door. Designed by Tiffanni Reidy, the new storefront features white walls with minimalist touches and, of course, pops of color from all of the bottled juices stocked in the fridge. Stop by to try options such as "Pineberry" (pineapple, strawberry, blueberry, and lemon,) "Beet Lemonade" (beetroot, pineapple, apple, orange, ginger root, lemon,) and "Good Morning Greens" blended with kale, spinach, cucumber, and celery. 
COMING SOON
Bandito's Towson: In recent years, Towson has become quite the destination for city spinoffs. We've seen Nacho Mama's, The Point in Fells, and C&R Pub all open Baltimore County outposts in the area, and soon, Federal Hill staple Bandito's Bar + Kitchen will join that list. The bar—which also operates a location in White Marsh and is widening its footprint to Arlington, Virginia—will open in the former home of Cafe Troia on Allegheny Avenue next year. Towson locals: get ready to wash down Bandito's tacos, burritos, quesadillas, and Monster Nachos with its signature tequila and mezcal drinks when the new location cuts the ribbon. 
Bmore Taqueria: Speaking of tacos, chef Valentino Sandoval—formerly of Mexican restaurant La Calle downtown—is venturing out on his own to open this traditional taqueria in Upper Fells Point. Slated to debut at 1733 Eastern Avenue in late October, the spot will emphasize recipes that pay homage to Sandoval's upbringing in Puebla, Mexico. "Growing up in Mexico, I learned how to put food together," Sandoval, who previously worked under the likes of Italian chef Marc Vetri and Michelin-rated chef Walter Abrams, told us in 2018. "But here in America, chefs are more like artists. I've learned how to be creative and put little touches here and there. I want to do something different and fuse all of the techniques that I've learned—from French and American to Italian and seafood—into classic Mexican cuisine." A sample menu lists al pastor and ceviche tacos, as well as desserts like flan and tres leches cake. 
NEWS
Center Cut Doughnuts Plots Return: Local doughnut lovers probably remember Center Cut Doughnuts, the tenant that operated at 3528 Chestnut Avenue after B. Doughnut and before Full Circle Artisan Palace. (In fact, the pink metal doughnut sculpture that still sits outside of the shop is a remnant of Center Cut.) Owner Josh Kowitz—who was known for his experimental flavors ranging from apple streusel to peanut butter chocolate pretzel—took to Instagram earlier this week to tease a comeback. Though Kowitz remains tight-lipped about the return, he confirms that Center Cut is planning to get back to its pop-up roots this fall. Keep an eye on Center Cut Doughnuts' Instagram page for more details.