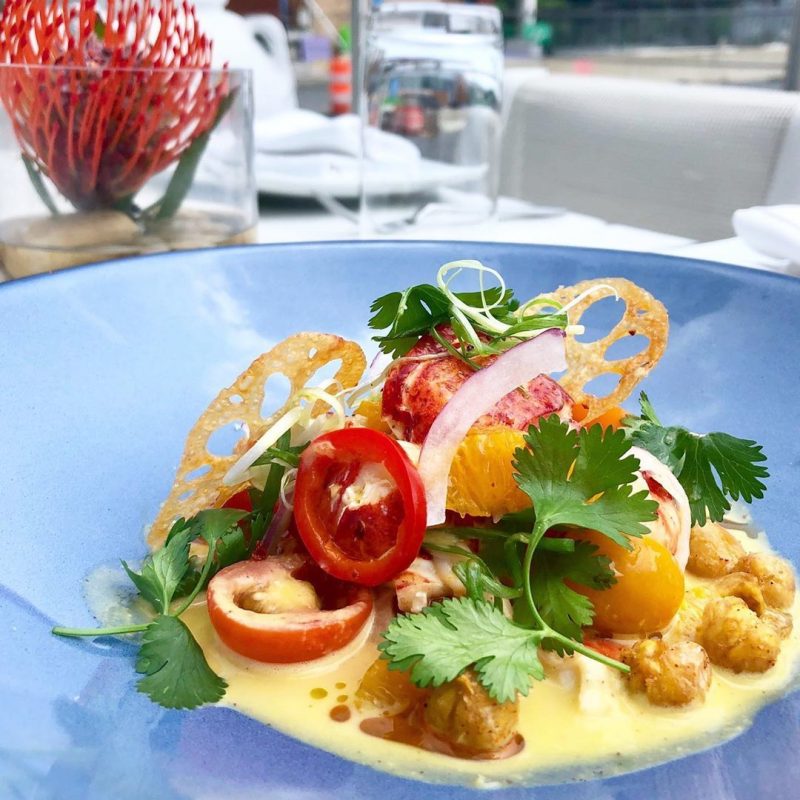 @chefmattoetting via Instagram
OPEN
Ouzo Beach: Ouzo Bay in Harbor East is furthering its Mediterranean mission with this new outdoor venue, which is now up and running just across Lancaster Street. Decorated with palm trees, blue stone, a wooden trellis, and tons of tropical plants, the new spot is meant to give off major villa vibes. The menu includes summer snacks such as salmon poke, Maine lobster ceviche, grilled lamb sliders, and date and goat cheese spread. Sample the dishes while sipping wines by the glass, bottled and canned beers, and signature cocktails like the Shot Tower-infused "Gin and Juice" and a "Cold Fashioned" slushie.
Polar Roll Creamery: The rolled ice cream trend is finding its footing throughout the city. Two summers ago, we welcomed Roll Ice Cream & Coffee to Highlandtown, and now, another spot serving the cold-slabbed dessert has arrived in the Inner Harbor. Located inside the America's Best Wings storefront on the corner of East Pratt Street and Market Place, the shop freezes its liquid cream at -25 degrees before mixing in special toppings and scraping it into rolls. The Instagram-worthy treats come in signature varieties including "Stylish Strawberry" (strawberry ice cream with Pocky and condensed milk), "Oreo and Juliet" (cookies and cream with crushed Oreos and shaved white chocolate), and "Matcha Made in Heaven," which tops green tea ice cream with grass jelly and whipped cream.
Hive Baltimore Bistro: This new Perry Hall hangout is serious about supporting local. Not only does the restaurant offer an impressive list of Maryland beer and wine—think Calvert Brewing, Manor Hill, RAR, and Boordy Vineyards—but its food menu also pays homage to our homegrown traditions. (It even features clever subheads like "Before Supper, Hon" and "Really Lil' Ittly.") Start off with a "Hampden Negroni" or "Canton Sunrise" before digging into eats like shrimp salad sandwiches, crab toast, and "Bawlmer" mussels sauteed in Old Bay butter sauce.
CH-CH CHANGES
Ropewalk Tavern: A night out in Federal Hill certainly won't be the same without the strong drinks and popping piano bar at this South Charles Street staple, which is closing for renovations from July 1 through September or October. On the bright side, when it opens back up in time for its 24th anniversary this fall (a grand reopening soiree is scheduled for October 18), the revitalized spot will boast games, a new tavern menu, and its own four-lane bowling alley upstairs. Though the Ropewalk flagship will be sorely missed this summer, it's a great time to visit the bar's sister locations in Ocean City, Fenwick Island, and Bethany Beach if you're heading "downee ocean."
NEWS
Lexington Market Town Hall Meeting: For nearly 240 years, Lexington Market has been a landmark for food and community to intersect in the heart of Baltimore City. As Seawall Development and Baltimore Public Markets take steps to redevelop the property, the team is hosting a series of town hall meetings to give the community a voice throughout the process. The first will take place at the market on Wednesday, June 26 from 6-7:30 p.m. (Organizers are even offering childcare throughout the meeting in order to make it more convenient for families.) Items to address during the inaugural gathering will include vendor recruitment, community programming, the legacy of the market, and the design and format of the new building—which is slated to be complete by mid-2021.
EPICUREAN EVENTS
6/22: The Market at Montebello
After the success of the inaugural Market at Montebello, the monthly community get-together returns this weekend with composting demos, yoga on the lake, eats and drinks, and plenty of handmade wares for sale by local artisans. This time around, look out for gifts from Orange Scissor Art, vintage pieces from A Day N June, local greens from farmer Dominic Nell of City Weeds, and, of course, dairy-free sundaes from organizers Nicole Foster and Dwight Campbell of Cajou Cream.
6/22: Papi's Falls Road Fiesta
Throw a lawn chair over your shoulder and head to Papi's in Hampden for this parking lot party to benefit BARCS and the Maryland SPCA. The $5 price of admission includes your first drink, live music, contests, and tons of giveaways. There will also be margaritas, cervezas, sangrias, and tons of food specials for purchase throughout the day.
6/22: Maryland Foodie Fest
The Restaurant Association of Maryland is bringing eateries from all over the state together for this epic food event at Ripken Stadium in Aberdeen, which will feature samplings, craft beer and wine, cooking competitions, and a fun zone for kids. Arrive hungry to enjoy dishes from local favorites like Jimmy's Famous Seafood, Kooper's and Waffie, as well as county destinations like Omma's Korean Barbecue from Frederick and Uncle's Hawaiian Grindz from Fallston.
SHUT
Della Rose's Avenue Tavern: It's been a sad couple of months for the Della Rose family. Back in April, owner Tony Della Rose shuttered Della Rose's Local Tavern in Bel Air. And last week, Tony's brother, Joe, announced that the family's sister-spot in White Marsh would be closing on June 24. "While this chapter has closed, we take comfort in knowing that only these four walls will be left behind," reads a heartfelt message posted to Facebook. "The true spirit of Della Rose's will always exist because of the people within those walls. From our incredibly loyal staff, to our patrons who have helped us forge a community that has brought us two decades of happiness. You are what truly makes Della Rose's." After 20 years of happy hours, fundraisers, and Orioles and Ravens watch parties, the owners are throwing one final farewell bash this Saturday. Luckily, the newest addition to the Della Rose restaurant family in Perry Hall is still going strong.