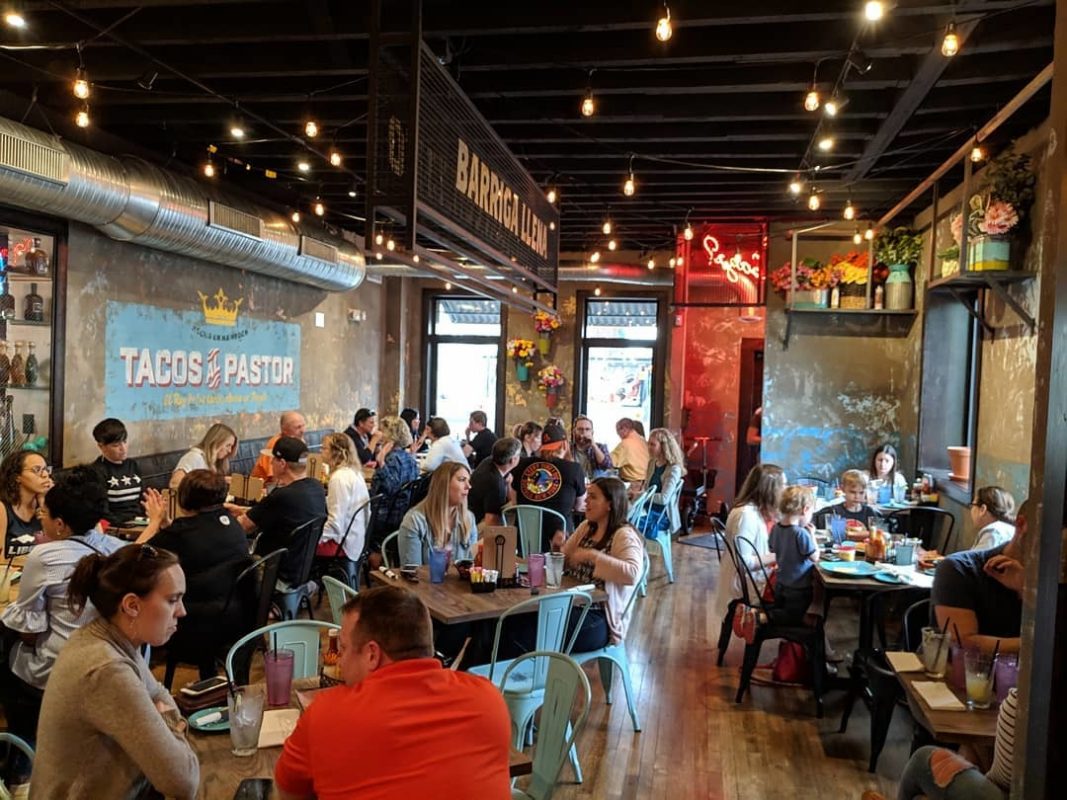 @bmoreinterested via Instagram
OPEN
Papi's Tacos Hampden: We've been patiently waiting for the day that we could finally move this one into the 'open' category. After weeks of delays, the owners of Papi's Tacos in Fells Point have officially opened the doors to their new sister location on Falls Road in Hampden. The former home of longtime dive bar Dimitri's Tavern has been transformed into a modern-industrial taqueria with wooden floors, strung lights, and colorful flowers. Diners in Hampden can now enjoy the same Mexican street food that they have come to know and love at the Fells Point flagship, including grilled elote, queso fundido, loaded quesadillas, and tacos al pastor. Of course, the bar will also be serving up massive margaritas in signature Papi's flavors like prickly pear and cinnamon peach. 3820 Falls Road. 443-449-5796
Nalley Fresh: Don't be surprised to see a familiar logo while strolling through Baltimore Washington Thurgood-Marshall International Airport (BWI) this summer. This fan-favorite local salad chain opened its latest location—marking its eleventh eatery in Maryland—in between Gates A and B earlier this week. Fuel up for your flight with Nalley's signature DIY salads, wraps, and bowls made with a range of proteins and more than 100 toppings.
COMING SOON
The Bluebird Pub: This new extension of the Bluebird Cocktail Room in Hampden will official debut on Friday, May 10. Housed in the subterranean space below the bar that previously operated as European cafe Little Bird, the pub is expected to feel "handsome and familiar," featuring walls lined with playful sketches of speakeasy bartenders that date back to 1932. With a strong emphasis on whiskey, the bar program will spotlight a signature Old Fashioned made with Old Grand-Dad bonded bourbon, a reliable Rusty Nail, and a barrel-aged Cachaça Sour shaken with lemon juice and sugarcane. Chefs Chance Jones and Bri White will serve up a menu of elevated pub fare to pair with all of the drinks. Be on the lookout for a foie gras burger, vegetarian broccoli sandwich with lemon aioli, and French toast with cherry cream cheese during brunch. 3600 Hickory Ave. 667-303-3263
Twisted Teahouse: In other Hampden news, local baker Angela Vogel will officially cut the ribbon at this new teahouse on the Avenue on Wednesday, May 8. It won't be long before the bright blue storefront becomes a go-to for private tea parties, fair-trade teas, organic coffees, and custom cakes. The traditional tearoom will also offer fresh-baked scones, vegan pastries, and specialty sweets like banana rum crunch cupcakes. The spot is a spinoff of the original Twisted Teahouse, a tea parlor and consignment shop that Vogel previously operated inside the historic Savage Mill complex in Howard County. 813 W. 36th St. 410-991-2776
CH-CH CHANGES
Indochine: Mt. Vernon locals might have noticed a sign posted to the door of this Vietnamese eatery last week, in which owners Amy Nguyen and Alawi Akbar announced that they had sold Indochine. "Mt. Vernon welcomed my family with open arms and for that I will be forever grateful," Akbar wrote in the message. "We have developed many friendships and loyal customers over the years, but the time has come for me to take a little break and devote some time to my family." A new team is expected to reopen the shop under the same name with a similar menu (think pho, banh mi sandwiches, and crispy spring rolls) on Friday, May 2. There's also a happy ending in store for Nyugen and Akbar, who are planning to open a new location in Patterson Park called IndoViet this November. Stay tuned for more details. 1015 N. Charles St. 410-539-4636
NEWS
The Elephant: Speaking of happy endings, this Mt. Vernon gem got one earlier this week. After a drawn-out saga between the owners and an investor who took legal action to seize the building, the team has confirmed that The Elephant is in it for the long haul. Crediting "strong and strategic legal representation" and "an outpouring of support from guests and the community," the owners have resolved the conflict and reopened the historic mansion for dinner service Tuesday-Saturday. "We are so excited that we will continue to serve our cuisine and cocktails in this magnificent building," the owners wrote in a statement." 921 N. Charles St. 443-447-7878
Josh White Moves on to White Oak Hospitality: Local food lovers are still reeling from the loss of chef Josh White's barbecue concept Smoke, which closed its doors in Cockeysville last month. But, luckily, White's cooking will still be well within reach. The chef recently joined the team at White Oak Hospitality—the restaurant group behind Wayward Smokehouse, Bandito's Bar + Kitchen, and 101 Baltimore in Federal Hill. It's fortunate timing, as the team is also preparing to debut a second Wayward with an adjoining raw bar concept called The Curious Oyster in White Marsh this summer. In the meantime, head to Federal Hill to experience White's innovative style showcased in new dishes like the korean cheesesteak at Wayward, and the "Hokey Poke" bowl at 101. "We're ready to show Baltimore that Fed Hill isn't just a bar scene anymore," White said in a statement. "It's a dining scene, as well."
EPICUREAN EVENTS
5/2: Atwater's 20th Anniversary
Back in 1999, this local cafe chain began as a small bakery making only one kind of bread. Now, 20 years, one big commissary kitchen, a farm, and six retail shops later, Atwater's has grown into a Charm City staple. To celebrate its big birthday, all locations will be giving away free cupcakes while supplies last. Plus, the cafe is bringing back one of its first-ever breads, the sunflower flax loaf, at its original price of $2.50 for one day only. Multiple locations including 3601 Boston St. 667-309-7146
5/3-5: Sandlot Grand Opening Weekend

Baltimore's beach makes its big return this weekend with plenty of festivities to kick off its third season in style. Head to Harbor Point on Friday night to watch the sunset while dancing to live tunes spun by DJ Sean. On Saturday, play some Splash City Golfwhile listening to the soulful sounds of Funsho performing from 6-9 p.m. And on Sunday, Sandlot will host a Cinco de Mayo fiesta with salsa lessons, Barr Hill gin and tonics, and a swing combo salsa band from 2-5 p.m. Throughout the weekend, stop by the shipping containers-turned-kitchens to stock up on summer snacks like soft pretzels, chicken wings, nachos, and eats on a stick. 1000 Wills St.