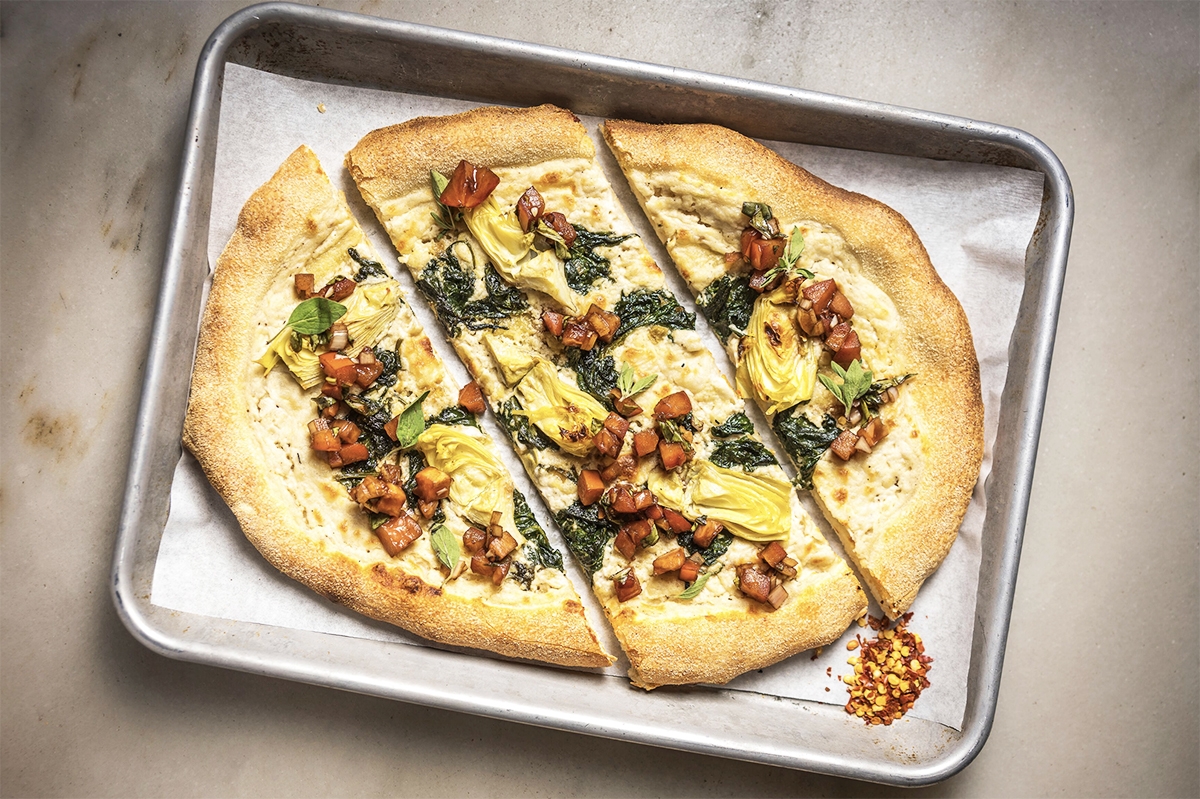 Double Zero Pizza
COMING SOON
Plant Food + Wine and Double Zero Pizzeria: Best known for his seasonal vegan philosophy, Los Angeles-based celebrity chef Matthew Kenney is making his mark on Charm City by bringing two of his plant-based restaurants to the ground floor of the 414 Light Street building downtown. The first will be Plant Food + Wine, a sit-down spot featuring artful vegan dishes like aromatic squash with roasted fennel and kelp noodle cacio e pepe. Double Zero Pizza will neighbor the restaurant, serving up vegan pies topped with cashew mozzarella, eggplant bacon, and farro-fennel sausage. Both concepts, which will join Ramen Utsuke from the owner of Kippo Ramen in the building, will be designed by local firm SM+P Architects and are slated to open this summer.
Stephen Gorn, president and CEO of developer Questar Properties, says that the restaurants are meant to be on brand with what 414 Light Street offers its tenants. "The restaurant component really dovetails into the theme of our building," Gorn told us last year. "We have a health and wellness program, and a quality concierge that will cater to the living experience of our residents. And food is a big part of that experience." 414 Light St.
Motzi Bread: Be on the lookout for this upcoming bakery from Charles Village locals Maya Muñoz, a Baltimore City school teacher, and Russell Trimmer, a former Woodberry Kitchen baker and farmer at Next Step Produce in Charles County. The owners, who live above their street-level storefront on the corner of Guilford Avenue and East 28th Street, will focus on locally sourced loaves that use freshly milled flour and grains including corn and buckwheat from Migrash Farm in Randallstown. Although the shop isn't expected to open until the fall, Motzi, which gets its name from the Hebrew blessing over bread, launched a weekly subscription service earlier this week. Featured loaves include a sprouted five-grain, focaccia topped with sunflower oil, and a caraway beer bread made with suds from neighboring brewery Peabody Heights. 2801 Guilford Ave.
Baltimore Seafood: Crab purists might have a tough time grasping this new concept that is on its way to Canton. Taking inspiration from The Shaking Crab, an East Coast chain with locations spanning from Boston to Brooklyn, the restaurant serves crab and other crustaceans in a plastic bag that diners shake up with signature spices and sauces. (Think crawfish with cajun seasonings and mussels with sweet chili miso.) Set to open in the former La Tolteca space on Boston Street this May, the spot will offer a wide range of oceanic offerings, as well as seafood-boil sides like steamed corn and red potatoes. 2324 Boston St.
OPEN
Pillion Tea: Local tea houses seem to be on the up and up. Emma's Tea Spot opened to rave reviews in Hamilton last year, Twisted Teahouse is expected to debut in Hampden this spring, and now, Midtown-Belvedere locals have this new shop to turn to when they're in need of a strong brew. Pillion Tea opened its doors earlier this month, offering local Wight Tea Co. varieties, craft sodas, and sweet pastries like cherry scones and lemon-strawberry pound cake. Spring specials include a vanilla-mint matcha latte, Ceylon black iced tea with lemon, berry Sencha green tea lemonade, and a house chamomile-strawberry soda. 42 W. Biddle St. 443-759-5430
Green House Juice Cafe: Regulars were ecstatic when this Charles Village staple, formerly Grind House Juice Bar, reopened earlier this week. The fuel-up fixture closed for "rejuvenations" in December, but is now back up and running with an updated name and new partner Flourish Baltimore—a holistic lifestyle brand that features organic herbal teas, essential oils, soy candles, and other wares that are handmade by Maryland merchants. Swing by to check out the updated digs, while also grabbing a few self-care products, a blended smoothie, or vegan snacks like the fan-favorite goddess kale salad. 2433 St. Paul St. 410-366-2441
NEWS
The Elephant: The past week has been an emotional rollercoaster for fans of this storied spot in Mt. Vernon. After announcing that they were forced to close the restaurant due to ongoing financial struggles, the owners recently decided that they will be able to open on Thursdays, Fridays, and Saturdays throughout the entire month of April. Not ready to give up hope, the team has also launched a GoFundMe campaign to save the building—a posh, 19th-century mansion complete with Tiffany stained glass, intricate teak woodwork, dangling Waterford crystal, and golden chandeliers. "Today, The Elephant is in jeopardy of closing," reads a post to the fundraising page. "And the historic architectural elements may soon be ripped out and sold piece-by-piece due to a hostile takeover by one of our initial investors." In only one day, the page raised $4,500 of its $600,000 goal. 924 N. Charles St.
James Beard Finalists Announced: Earlier this week, the James Beard Foundation narrowed down its list of semifinalists to determine which national names would be honored as nominees at the esteemed awards gala in Chicago on May 6. For the eighth time, chef Cindy Wolf of Charleston in Harbor East has been named a finalist in the Best Chef Mid-Atlantic category. Although the bar team from Clavel in Remington was named a semifinalist for Outstanding Bar Program this year, they unfortunately didn't make the cut for the final round. After 12 nominations total (eight being finalists nods), chef Wolf has yet to bring home the medal. As always, we're crossing our fingers that this is her year.
"I am so honored, happy, and excited to be nominated again," Wolf said in a statement. "There is so much inspiration in this world of ours. I just want to keep absorbing it, to keep learning and moving forward. But in the end, the best food is made with love and care."
Sagamore Whiskey Wins Best Rye: Speaking of national acclaim, Sagamore Spirit's Port Finish whiskey recently won the Double Gold medal and the distinction of Best Rye Whiskey at the prestigious San Francisco World Spirits Competition. The award is a huge win for the local distilling community, especially after Sagamore's Cask Strength Rye won a Double Gold in 2017 and Baltimore Spirits Company's Epoch Rye took home the prize last year. All of the acclaim goes to show that Baltimore is officially back on the map as a whiskey-distilling powerhouse.
EPICUREAN EVENTS
3/29: Anatomy of a Chicken Box Part Two
Two years ago, crowds formed lines around the block for part one of this epic mashup between Ekiben and Blacksauce Kitchen at the old Union Craft Brewing space. Now, in celebration of Ekiben's third birthday, the crews are teaming up to do it all over again. For part two, everything is expected to be bigger and better. Head to Union's massive Medfield digs to enjoy live music, cold beers, and, of course, a next-level menu from Ekiben and Blacksauce. Although details are typically under wraps until the day of, it's safe to say that the drool-worthy dishes will pay homage to the iconic Baltimore chicken box. 1700 W. 41st St. 4-10 p.m.
3/29-30: Beer, Bourbon & Barbecue Festival
For the 13th year, this all-out smoke show is returning to the Maryland State Fairgrounds with—you guessed it—more than 60 beers, 40 bourbons, and lots of fingerlickin' fare. While strolling around the festival, keep your eyes peeled for local brands including Monument City Brewing, Raven Beer, Sagamore Spirit, HarborQue, and Char'd Barbecue. Throughout the weekend, there will also be special events such as bourbon bingo, distilling seminars, and a jam-packed live music lineup. 2200 York Rd. $40-125