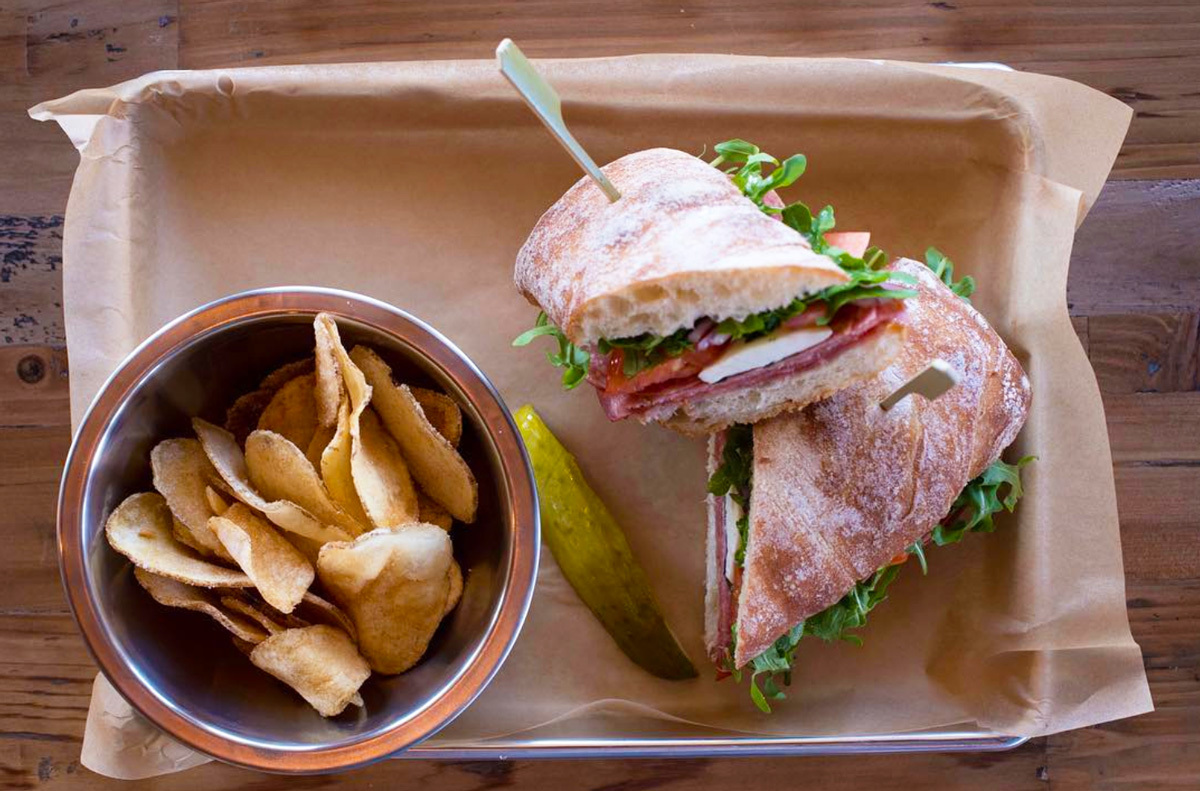 @regionalesandwich via Instagram
COMING SOON
RegionAle: Ellicott City locals have fallen for this elevated soup and sandwich spot that pairs its menu with regional beers from the likes of Union, Monument City, Jailbreak, and Oliver Brewing. Beginning this summer, Baltimore dwellers will no longer have to make the drive west to get their fix. On the heels of its second birthday, RegionAle is expanding with a new location inside the Canton Can Company. The eatery highlights odes to classic American sandwiches, from a melty Wisconsin grilled cheese to a pressed Florida Cubano. (Of course, the spot also celebrates its local roots with a Maryland crab cake with Old Bay remoulade.) Within the next few months, be on the lookout for the changeover in the former home of Pasticcio's—which closed its doors in the Can Company last year. 2400 Boston St. Ste. 120
Full Tilt Brewing: This homegrown brewery scored a win this week when the Baltimore City Liquor Board approved a Class B license for its new facility on the ground floor of the Accelerator Building in Govans. With liquor board approval, the team is hoping to tie up loose ends and debut to the public on December 14. The permanent space has been a long time coming for Full Tilt, which has been contract brewing out of Peabody Heights for the past five years. "We're excited for people to finally see what we had in mind," says co-owner Nick Fertig.
Aside from the signature brews (think the Hops the Cat IPA and Berger Cookie chocolate stout), the taproom will feature a small menu of its own, as well as pop-ups from the vendors that operate out of B-More Kitchen inside the Accelerator Building. The spot will also feature 10 flat screens, custom-made furniture, a colorful wall mural by graffiti artists Brad Turner and Derrick Noel, and old-school arcade games such as Skee Ball and NBA Jam. "It's going to be a unique experience," Fertig says. "People will be able to find their own vibe in any corner of the space." 5604 York Rd.
OPEN
Bodhi Corner: With the recent arrivals of Foraged and Prime Corner, Chestnut Avenue in Hampden has a whole new vibe. The owners of Khun Nine Thai in Mt. Vernon added to the fresh feel earlier this month when they debuted this new Thai destination in the former home of Cafe Cito. Bodhi Corner is now open, offering a menu of salads, noodle bowls, curries, and signature plates such as Pad Thai and baked duck in a chili-mango sauce. The cozy restaurant is also vegan-friendly, highlighting a variety of dairy-free dishes including mock crab fried rice and tofu rama with steamed vegetables and peanut sauce. 3500 Chestnut Ave. 443-438-4068
Get It Inn Island Cuisine & Bar: Since opening in Locust Point last year, this island oasis has become a go-to for Jamaican delicacies, reggae music, and strong rum drinks. This weekend, the eatery is expanding across the harbor with a second location in Canton. Set in the former home of Fredericks on Fleet and Lucy Bar, the spot will serve up authentic dishes such as jerk wings, curry shrimp, braised oxtail, and fried plantains. The official grand opening on November 30 will feature food and drink specials until close and live music spun by DJ Sean Nice. 2112 Fleet St. 410-814-0585
EPICUREAN EVENTS
12/1: Hygge Mood
A handful of local food favorites are coming together to kick off the holiday season in style at Prime Corner—the new bodega conveniently located just across from the Miracle on 34th Street lights in Hampden. Head over to the store to indulge in Filipino comfort food from Calasag Pop-Up, cozy cocktails from R. Bar, and samples of Small Wave Brewing's Winter Chai Stout made in collaboration with our own Wight Tea Co. Plus, peruse holiday products from local purveyors including Wild Kombucha, Baltimore Spirits Company, Vent Coffee Roasters, The Charmery, Jinji Chocolate, Sacré Sucré, B. Willow, The Ivy Bookshop, Le Monade, Taharka Brothers, and more. 3400 Chestnut Ave. 8 p.m.
12/4 & 12/9: The Charmery Goes Wonka: A Full Sensory Movie Experience
It's no secret that The Charmery's master creamer, David Alima, is a Willy Wonka fan. Hosting a sensory screening of the original Gene Wilder film has been a dream of his for a while, and now that the shop's new factory is up and running inside Union Collective, the event is finally within reach. Join David and Laura Alima as they transform the space into a magical movie-watching experience. There will be special Wonka-inspired flavors served throughout the film (think snozzberry sorbet), along with plenty of other whimsical moments that engage all five senses. The two-night screening will be the first of the shop's new immersion film series, which will continue with other movies in 2019. "In this fast-paced world, we often don't take the time to stop and really experience the moment," David says. "We hope this series will awaken the senses for an experience of 100-percent joy." 1700 W. 41st St. Ste. 400. Times vary. $30