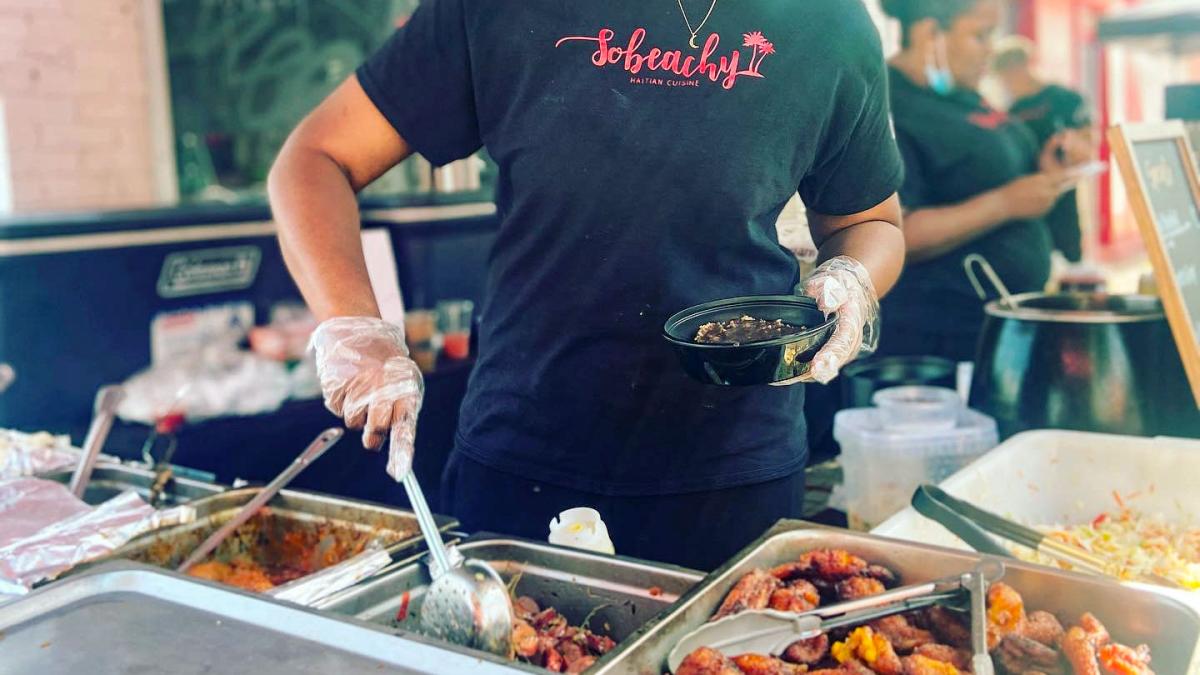 One of the many vendors returning to the weekly Pratt Street pop-up lunch market is SoBeachy Haitian Cuisine. --Courtesy of DPOB
NEWS
Pratt Street Market Returns: Exciting news for those who live, work, and play in the downtown district—this pop-up lunch market is officially back every Thursday from 11 a.m.-2 p.m. through September 29. Grab friends or co-workers and head to 10 E. Pratt Plaza (on the corner of Light and Pratt streets) to explore a rotating lineup of local vendors including Craving Potato Factory, Dear Globe Coffee, Delmarva Popcorn, Lattimore's Funnel Cakes, SoBeachy Haitian Cuisine, Wonderbooks, and Vegan Soul Bakery. Though the purveyors will change from week to week, you can count on a regular roster of baked goods, specialty foods, and artisan products. 
"In years past, the Pratt Street Market has served as a fun way to break up the traditional work day for those who live and work in the Central Business District, and we're thrilled to announce it's officially back," Downtown Partnership of Baltimore president Shelonda Stokes said in a statement. "As Downtown Baltimore continues to welcome its businesses back in the offices, we're excited to bring this initiative back—to promote community and foot traffic in the heart of our city."
OPEN
Current Space Launches Outdoor Bar: Thanks to a newly granted liquor license, you can now enjoy a beer, glass of wine, or refreshing cocktail outside at Current Space in the Bromo Arts District. Starting tonight, the bar—which will help subsidize and expand programming at the artist-run gallery and studio—will be open in Current Space's greenery-filled courtyard Wednesday through Saturday from 5-11 p.m. Special festivities planned to celebrate the grand opening include performances by trumpeter Brandon Woody, DJ Brooks Long, and DJ Ned Ryerson. 
"This license is a big deal for us," Current Space co-director Michael Benevento said in a press release. "It can provide financial sustainability and resilience for the art space operations, employment opportunities, funding for the arts, and more regularly scheduled programming. We will be open additional evenings so you [can] also just meet up with friends for a drink in the courtyard and check out the exhibition."
Open seasonally from April through October, the bar will offer a menu of local craft beers, natural wines, and seasonal cocktails like the Full Bloom—a hibiscus-rose creation with Oaxacan rum and fresh mint. 
"Our menu is inspired by our travels and road trips," co-director Julianna Hamilton said. "We've been recipe testing for months…We wanted to offer things that feel relaxed and summery—like you're hanging out in a friend's backyard."
COMING SOON
Papi Cuisine: Baltimore County locals went nuts when co-owners Alex Perez and Berry Clark recently dropped the news on Instagram that they would be expanding their Afro-Caribbean, Latin-influenced restaurant to Owings Mills in the coming months. According to reporting by the Baltimore Business Journal, the second Papi Cuisine location—the restaurant currently operates out of South Baltimore in Riverside—will take over the former Don Pablo's space on Restaurant Park Drive. Not only does this mean that the vacant space will boast a new tenant, but it will bring some local flavor to an area historically dominated by chain restaurants. Though grand opening details haven't yet been confirmed, we can expect the restaurant will feature fan-favorites like its crab cake eggrolls, mac and cheese, and honey-jerk lamb chops. 
EPICUREAN EVENTS
8/5-8/28: Maryland Vegan Restaurant Month
Baltimore Restaurant Week may have just come to an end, but another dining-out promotion is just getting started. Maryland Vegan Restaurant Month returns for its tenth semi-annual campaign, in which a slew of Baltimore- and D.C.-area eateries will offer plant-based dishes for vegan and omnivore diners alike. Unlike a traditional restaurant week that provides a prix-fixe menu, participating spots are encouraged to create a selection of plant-based items to offer specifically throughout the vegan weeks.
"We're just excited to promote plant-based eating however we can," said organizers Samantha Claassen of Golden West Café and Naijha Wright-Brown of The Land of Kush in a joint statement. "We started it because we wanted a way to highlight all of the veg-friendly restaurants in our area, and it's since grown to incorporate omni restaurants who are now seeing that there's a huge demand for plant-based dishes."
So far, participating restaurants include Golden West Cafe, The Land of Kush, Miss Shirley's, Gangster Vegan, Cafe Fili, Treehouse Café and Juice Bar, Harmony Bakery, Roland Park Bagels, WOW Vegan Treats, Underground Pizza, The Verandah, Liora, Double Zero, and Johnny Rads. Visit mdveganeats.com for more info.
8/4-8/7: Guinness Open Gate Brewery's Four-Year Anniversary Party
The party celebrating four years of the Guinness Open Gate Brewery—which kicked off with its first round of celebrations at the end of July—continues this weekend with a full lineup of events. A four-year anniversary is often thought of as the "fruits or flowers" anniversary, and Guinness is taking that theme to heart with the release of a Fruits & Flowers line of experimental beers. Among them are a Lemon Lavender brewed with dried lavender, lemon puree, and black tea; and a Passionfruit Jalapeno beer inspired by a mixer of the same name from CAnE Collective. 
All weekend long, patrons can enjoy these sips, live music, custom anniversary beer-inspired chocolate truffles by Charm City Chocolate, and exclusive anniversary merch at the retail shop. Plus, stop in Sunday for a beer-themed dinner. Admission is free, but entry to tours and the beer dinner must be purchased in advance.
8/6: Summer Luau with Chuck's Trading Post and Baltimore Spirits Co.
Hampden restaurant and bodega Chuck's Trading Post will team up with neighboring distillery Baltimore Spirits Co. this Saturday to host a summer luau. Expect a suckling pig and a small menu of fun cocktails to match. The event takes place 4-8 p.m. at Union Collective, where the distillery resides.
8/13: The Charmery's Ninth Anniversary Menu
Happy birthday to The Charmery! The beloved Baltimore ice cream company celebrates nine years this summer. And specifically for the occasion, the team is rolling out a special menu of limited-edition flavors—some supporting local community causes—that are all a nod to the number nine. On Saturday, August 13, the fun menu will include The GOATstachio #9, created in collaboration with Ravens kicker Justin Tucker, featuring pistachio, raspberry, and white chocolate (10 percent of the proceeds will go to Baltimore School for the Arts). You'll also find the new Head Like a Mole, made in collaboration with Clavel chef-owner Carlos Raba. With a name that's a play on the Nine Inch Nails track "Head Like a Hole," the flavor features chocolate mole ice cream with canelitas cinnamon cookie pieces. (Ten percent of the proceeds will go to Guardian Gym, Raba's community jiu-jitsu nonprofit).
"We just want to do our part in supporting this amazing community," The Charmery owner David Alima said in a statement. "If that's through our ice cream or supporting local nonprofits through special flavors, it's all part of our love for Baltimore."
Patrons who visit any Charmery location on August 13 will not only get to try these limited-time flavors, they'll also get a free baby scoop with a purchase, as well as free ice cream-themed temporary tattoos.