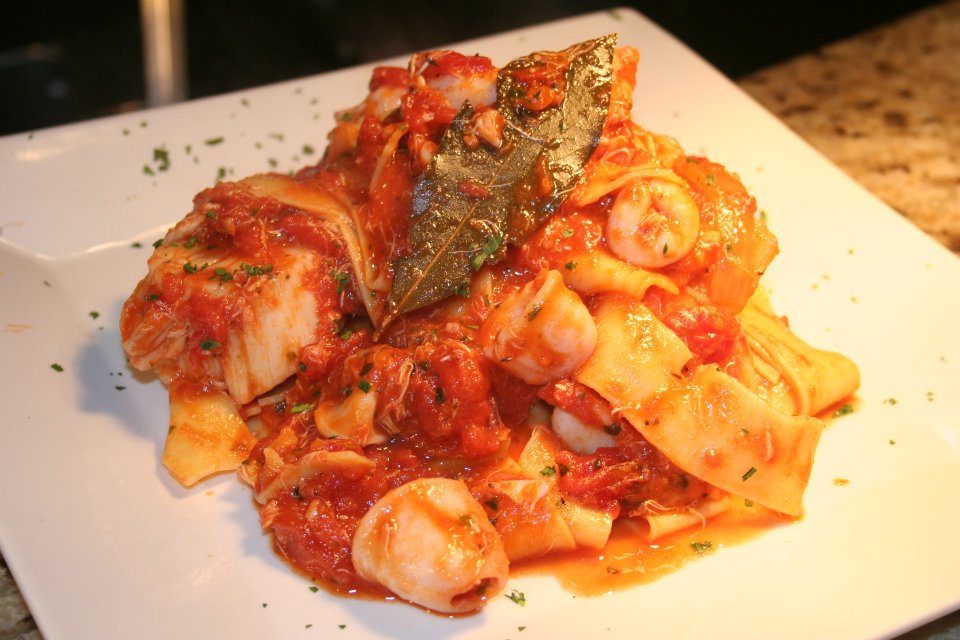 Courtesy of Sammy's Trattoria
COMING SOON 
Sammy's Trattoria II: Baltimore County residents will no longer need to venture to Mt. Vernon to get their fill of pizza, pasta, pesto, and prosciutto from this authentic Italian eatery. Come spring, Sammy's Trattoria will debut a second location in Hunt Valley Towne Centre. Featuring both indoor and outdoor service, the restaurant will offer its curated wine selection and dishes that celebrate owner Sammy Curreri's familial roots in the regions of Sicily and Abruzzo. Among favorites are a burrata caprese salad, classic margherita pizza, duck ravioli with brown butter and sage, and Petro's Veal Involtini in a marsala mushroom sauce. For Curreri, the mission of the restaurant is all about family: "Family is very important to me, which is why I'm proud to share the vision of this new restaurant with my wife and six children," he said in a statement. "We are excited to bring the food, service, and welcoming atmosphere to Baltimore County." 
Fuzzie's: The latest local purveyors getting in on the ghost kitchen trend are brothers Josh and Brad Vecchiolla, Bel Air natives who have more than 20 years of combined experience in the hospitality industry. This weekend, the two are launching a pop-up burger concept that will operate out of Old Line Spirits in Highlandtown. "Old Line was the perfect match for us," chef Josh Vecchiolla said in a statement. "In an unusual time in the world and with even more COVID restrictions, we wanted to offer a little piece of comfort." The nostalgic menu—available for curbside pickup and delivery Wednesday-Sunday—will do just that with eats including beef and vegetarian burgers, fried chicken sandwiches, footlong hot dogs, and orders of fries topped with housemade sauces. Another perk: diners will also be able to add Old Line bottles (the American Single Malt whiskey is an ideal winter warmer) to their to-go orders.  
HalfSmoke: Baltimoreans will soon be able to get a little taste of D.C. by way of Canton. This Shaw-based eatery puts its own spin on the Capitol's classic delicacy—a smoked sausage that is traditionally split down the middle before being thrown on the grill—with iterations that are topped with everything from beer cheese to peanut brittle. And founder Andre R. McCain has even added a few odes to Charm City (think crab fries and deviled eggs topped with Old Bay shrimp) to the menu in honor of the new spot's debut. To pair with all of the eats, diners can indulge in a full bar and signature milkshake station. 
OPEN
Franklin's Market and Mulberry's Bar: Vendors at the recently updated Hollins Market officially welcomed some new stalls this week. Neighborhood resident Lara Sumerson, who co-owns The Back Yard bar and restaurant across from the B&O Railroad Museum, has unveiled two new concepts inside the community hub. The first, Franklin's Market, will highlight local artisan products from the likes of Dear Globe Coffee, Cane Collective, and Trial by Fire Candle Co. Another tenant, Mulberry's Bar, will feature wine, cocktails, and craft beer to accompany a menu of seasonal soups and sandwiches. Both of the stalls serve as a way for Sumerson to support the community that she loves. "My partner, Mike Cavanagh, and I are committed to providing for our Hollins Market neighborhood," she said in a statement, "and to enhancing its vitality and the quality of life for residents." 
HOLIDAY HAPPENINGS
Atwater's Offers Cookie Kits for a Great Cause: From chocolate brittle to eggnog cappuccinos, Atwater's is pulling out all of the stops this month. And, in the spirit of the holidays, one of its most festive offerings is giving back to a great cause. A new DIY cookie decorating kit—which is available for pickup or delivery via online ordering—features a mix of 18 gingerbread, snickerdoodle, and sugar cookies with all of the requisite frosting and sprinkles. The best part? Five dollars from every box sold will be donated to Promise Heights—a University of Maryland School of Social Work program whose team has been working tirelessly to organize food distributions and essential services for children and families in West Baltimore during the pandemic. 
The Charmery's Christmas in Mexico: Speaking of take-home kits for a great cause—buddies David Alima of The Charmery and Carlos Raba of Clavel are teaming up for their fifth-annual collab honoring Raba's Christmas traditions in his native Sinaloa, Mexico. Instead of whipping up their fan-favorite fried ice cream this year, they're featuring to-go boxes that include two buñuelos (fried dough fritters) dipped in chocolate and cinnamon sugar, one quart of The Charmery's famous hot chocolate, and two Mexican-spiced marshmallows. Proceeds from the boxes, available for pickup from all of The Charmery's locations beginning Dec. 18 at 5 p.m., will benefit Guardian Gym—Raba's Brazilian jiu-jitsu center that offers free classes to Baltimore youth. 
SHUT
Eddie's Market of Charles Village: After 58 years, this St. Paul Street staple is closing its doors for good on Dec. 30 as owner Jerry Gordon prepares to retire. Gordon has agreed to sell the property to Charles Village-based developer MCB Real Estate, whose principal David Bramble told the Baltimore Business Journal earlier this week that the firm is "looking forward to being involved in its next iteration." Throughout the years, generations of residents have relied on the store for their grocery, bakery, deli, seafood, coffee, and prepared food needs. As councilwoman Odette Ramos summed up in a tweet: "This store is a staple in our family and in our community."