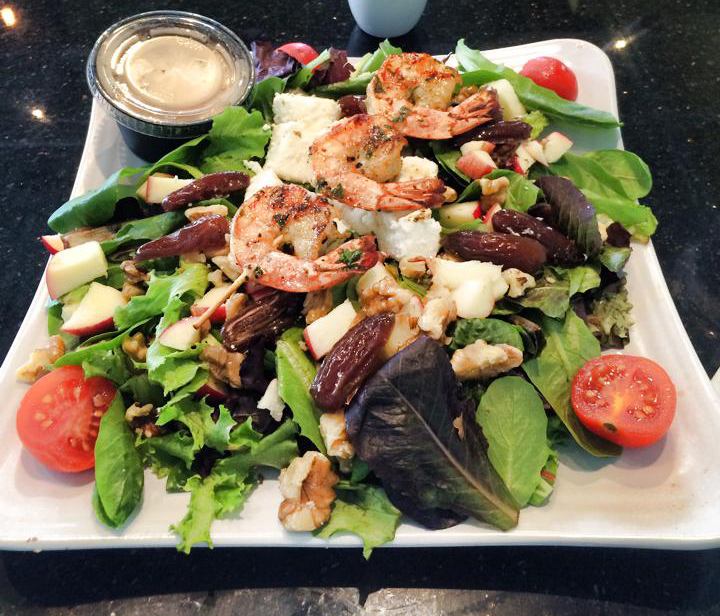 Courtesy of Samos Greek Island Grill
OPEN:
Boiler Room: The team behind Bookmaker's in Federal Hill recently opened this laid-back neighborhood bar that emphasizes pub grub and shot-and-beer combos. In addition to snacks like hot dogs and pierogies, the menu highlights boozy pairings ranging from Old Grand-Dad whiskey and Miller High Life to Yellow Chartreuse and Allagash White. Located just two doors down from Bookmaker's, the spot also features old-school arcade games like a claw machine, Skee-Ball, and the original Space Invaders. 27 E. Cross St., 443-253-8002
COMING SOON:
Blaze Pizza:This fast-casual pizza chain is making its way into town with an Inner Harbor location slated to open next month in the former Famous Footwear space on Pratt Street. Adding to the area's recent influx of DIY pizzerias (like Pie 5 and Bagby Pizza Co.), the eatery will serve customized personal pies and signature salads.600 E. Pratt St.
Texas Roadhouse: Cockeysville will see yet another big-name chain restaurant join the scene when this Kentucky-based steakhouse makes its debut in Hunt Valley's Executive Plaza this summer. The restaurant, known for its meat-and-potato combinations, highlights an assortment of steaks, ribs, burgers, and chicken sandwiches. 11350 McCormick Rd.
CH-CHANGES:
Huck's American Craft: Although Charlie Gjerde's long-awaited beer bar opened its doors with a limited menu back in July, the kitchen officially got the ball rolling earlier this week. Now open for lunch and dinner service, Huck's full menu highlights comfort foods like chicken and waffles, pretzel-dough pizzas, and the signature Minnesota Juicy Lucy burger stuffed with Muenster cheese. The rustic space also offers expansive drink offerings, including craft beers, infused bourbons, and signature cocktails. 3728 Hudson St.
Loch Bar: This
yet-to-open seafood spot, which is set for a March debut on the ground
floor of the Four Seasons Baltimore, recently appointed Matthew Oetting
as its head chef. Oetting, a graduate of Le Cordon Bleu College of
Culinary Arts in Arizona, has made his mark on the New York City
restaurant scene with stints at trendy spots like STK, Scarpetta, and
the Trump Soho hotel.
280 International Dr.
Mobtown Fermentation: After outgrowing their production space in Hampden, the team behind Wild Kombucha—a fermented concoction fusing green tea, distilled water, probiotic cultures, and natural fruit juices—is expanding into the 'burbs. Partners Adam Bufano, Sid Sharma, and Sergio Malarin recently signed a lease to set up shop in the former home of Michele's Granola in Timonium. Mobtown Fermentation's signature sips are currently available at more than 35 local markets, and the team hopes that the new space will allow for regional distribution in 2016. 9 W. Ayelsbury Rd.
Samos Greek Island Grill: South Baltimore residents will be happy to hear that this
Greektown fixture is bringing its Old World classics to Locust Point
later this year. The restaurant, which will join the likes of Harris
Teeter, Jimmy John's, and World of Beer at McHenry Row, will serve Greek
salads, pita wraps, gyros, and traditional
souvlaki platters. 1703 Whetstone Way
SHUT:
Donna's Charles Village: After 18 years in Charles Village, Donna's will shutter its doors this weekend. Co-owners Alan Hirsch and Donna Crivello recently decided not to renew their lease at the St. Paul St. staple, which was known for its house-made soups, salads, pizzas, and pastas. News of the closure comes on the heels of the opening of Cosima, Hirsch and Crivello's new Sicilian spot, which will soon debut in Woodberry. Donna's in Cross Keys is still going strong. 3101 St. Paul St., 410-889-3410