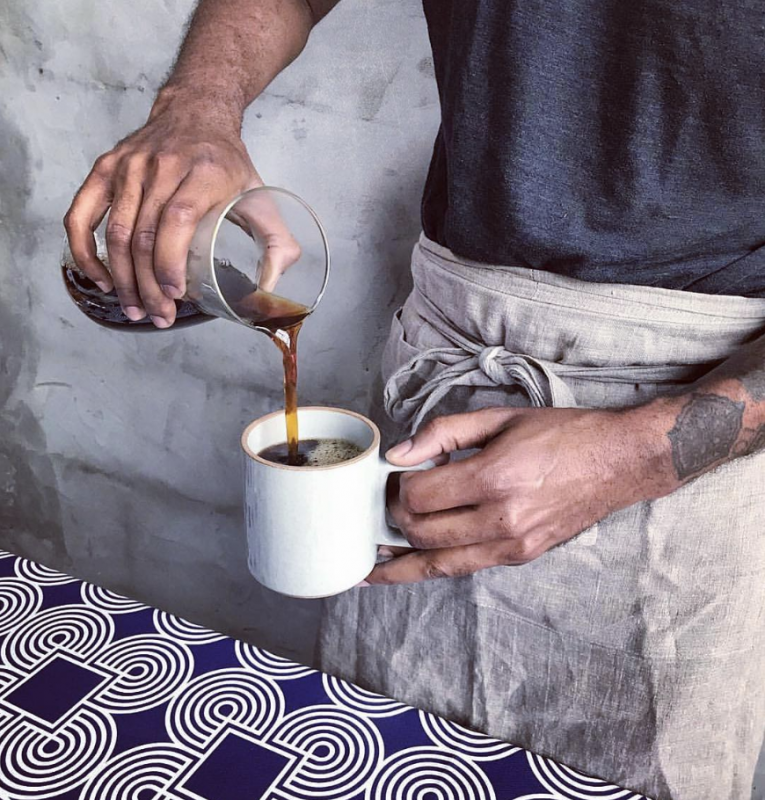 Photography by Amy Langrehr
OPEN
Sophomore Coffee: This inviting coffee shop is the latest concept to debut at Socle—the Old Goucher food and beverage complex from the team behind W.C. Harlan and Clavel. Joining natural wine bar Fadensonnen and yet-to-open cafe Larder, Sophomore Coffee will offer a single-origin house drip, espresso drinks, and flash brew options when it officially opens its doors to the public this Saturday, April 13. Owners Kris Fulton and Ann Travers Fortune, two of the original founders of Charmington's in Remington, created the inclusive space with amenities for working, an area for small gatherings, retail shelves stocked with goods from Hunting Ground in Hampden, and a courtyard shared with Fadensonnen.
The inclusive vibe goes along with the shop's mission to combat the snobby stigmas in coffee culture: "If there isn't an overarching energy that promotes discovery and learning, it can be very off-putting," Fulton told us last summer. "But if you create an environment that is inviting, people are going to feel comfortable taking that journey with you." 2223 Maryland Ave.
The Urban Oyster: In only a few short months, chef/owner Jasmine Norton has transformed the old Ruby 8 space in Locust Point from a trendy sushi spot into a bright, airy homebase for her seafood pop-up The Urban Oyster. Boasting white walls, pops of bronze, and beautiful oyster canvas paintings by Annapolis artist Kim Hovell, the McHenry Row eatery will offer Norton's famous raw and chargrilled oysters alongside other oceanic fare. Officially debuting on Friday, April 12, the spot will feature shrimp tacos, burgers topped with crab dip, fried cod sandwiches, and a hyper-local drink menu. (Look out for cans of Union Skipjack, a rosé spritzer from Old Westminster Winery, and cocktails curated by local bartender Aaron Joseph.) "A lot of things we're incorporating in our menu are from local businesses that have opened their platforms for us to do pop-ups in the past," Norton says. "It's nice that we now have the opportunity to return the favor." 1704 Whetstone Way.
Akira Ramen & Izakaya: From barbecue bites to Greek gyros, The Shops at Canton Crossing already offers plenty of dining diversity. But this week, the development added even more to love with the premiere of this Rockville-based ramen spot. Now operating in soft-opening mode, Akira's second location specializes in steamy bowls filled with house-made noodles, bean sprouts, scallions, pork, fish cakes, eggs, and Wood Ear mushrooms. The menu also offers other snacks like pork gyoza, vegetable spring rolls, and yellowtail carpaccio. 3501 Boston St.
Garden Party: Now that it's finally starting to feel like spring, it's high time that this outdoor bar made its return to The Rotunda in Hampden. The team behind Avenue Kitchen & Bar has officially reopened Garden Party, which debuted last summer and quickly became a go-to for adults in need of a refresher while watching little ones run around the Rotunda's green space. Returning menu highlights include Avenue Kitchen's signature frosé, wines by the glass, Orange Crushes, crab cakes, charcuterie, and salads. 711 W. 40th St.
TinyBrickOven: This new Federal Hill pizza shop gives the term "fast-casual" a whole new meaning. Owner Will Fagg fires up the artisan pies using his titular invention—a portable brick oven that cooks personal-size pizzas in less than two minutes. Taking over the former home of Grilled Cheese & Co. on Light Street, the spot offers customizable vegan and non-vegan pizzas, as well as authentic gelato. Save room for flavors including strawberry, pistachio, dulce de leche, and vegan vanilla. 1036 Light St.
COMING SOON
Raw Bar: Canton locals will be happy to hear that the former Boathouse space at Tindeco Wharf is getting reactivated this summer. Pending liquor board approval, the team from Bond Street Social and Barcocina in Fells Point will be opening this new seafood spot on the dockside property, which features a massive outdoor patio and modern-industrial interior. According to a statement from Bond Street Social general manager Shane Gerken, Raw Bar will offer fresh takes on seafood dishes in an "upscale, yet approachable social environment." 2809 Boston St.
EPICUREAN EVENTS
4/12: Harbor Market Kickoff
This seasonal lunch market, which assembles at McKeldin Square on Wednesdays and Fridays from 11 a.m. to 2 p.m., is starting up three weeks earlier than usual this year. Launching in conjunction with Maryland Food Truck Week, the inaugural event will feature free food samples, live music, dessert options, and, of course, plenty of outdoor lawn games to make your lunch break feel more like recess. Throughout the season, be on the lookout for food trucks including Farm to Charm, The Smoking Swine, Mexican on the Run, The Green Bowl, Wild Thyme, and more. 101 E. Pratt St.
4/13: Wild Kombucha UpBeet Flavor Release Party
It's been an exciting year for this local kombucha purveyor, which recently moved into a new 13,000-square-foot production space in northwest Baltimore and is now distributing across the Mid-Atlantic. To celebrate its latest flavor UpBeet—fermented with organic beets apple, ginger, and lime juice—the brand is teaming up with Mouth Party Caramel and the Chesapeake Bay Foundation to host a celebration at Mobtown Ballroom this weekend. Swing by to sip UpBeet cocktails while enjoying eats from Pablo's Toc O's and live music by Bedlam Brass. A portion of proceeds will benefit the Chesapeake Bay Foundation's mission to reduce pollution in our waterways. Mobtown Ballroom, 861 Washington Blvd. 7-11 p.m. $12
SHUT

Smoke: When this Cockeysville spot landed on the scene four years ago, it quickly became known for putting a creative spin on classic barbecue. Chef Josh White captivated diners—not only with his catchy music videos promoting daily specials—but also with frequent pop-ups and fingerlickin' fare including sticky spare ribs and smoked wings with thyme bleu cheese. Sadly, Smoke served its final meal last week. "The decision to close was not an easy one, and comes with a very heavy heart," White and co-owner Hope Seidl announced last week. "We are trying to focus on all the happiness we were able to bring our community over the last 3.5 years, rather than on how heartbreaking it truly is." The post goes on to thank the local dining community for its support, and teases that this won't be the last we see of Smoke in the future. "This is not goodbye," the owners write. "This is thank you, we love you, and we'll see you later."