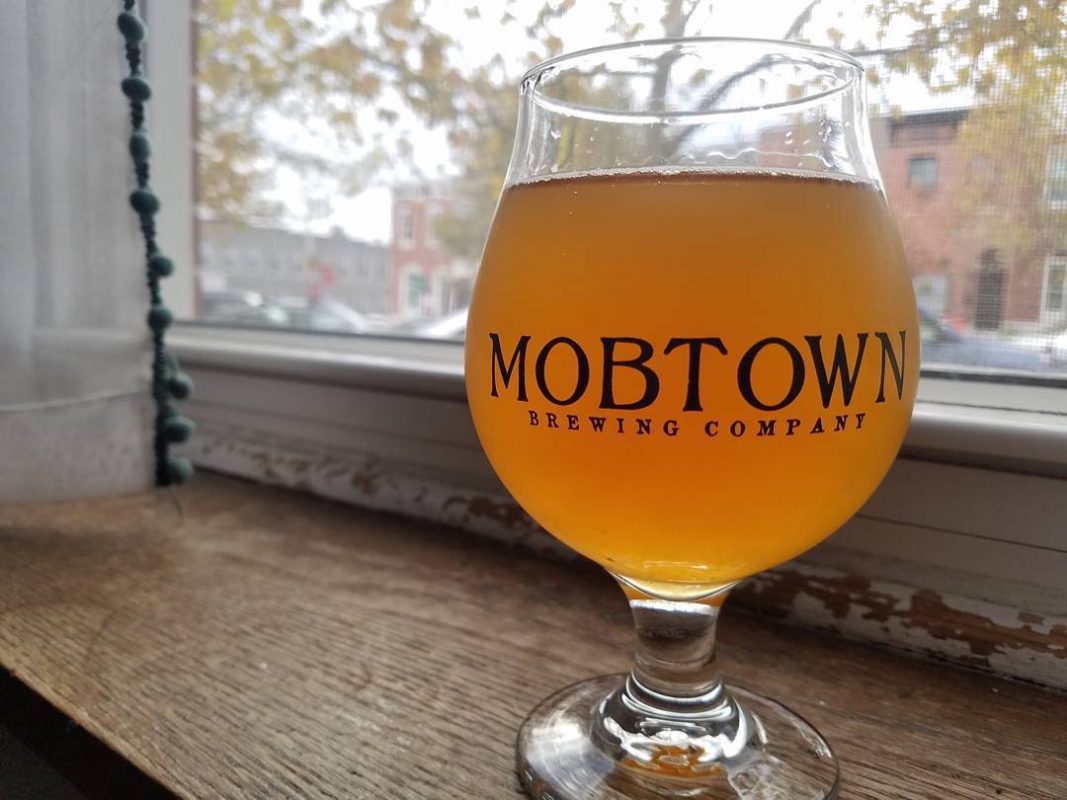 @mobtownbrewing via Instagram
OPEN
The Civil: From its gold interior accents to its gold-encrusted "24K wings," the touches at this new Mt. Vernon spot exude elegance. The restaurant premiered last weekend in the building at 518 North Charles Street, which formerly operated as the famed Louie's Bookstore Cafe before transitioning into Ware House 518 and G.A.Y. Lounge. Now, The Civil offers New American brunch and dinner dishes, live DJ entertainment, and a private VIP dining section on its mezzanine level. Menu highlights include lemon-pepper cauliflower bites, drunken chicken and waffles, banana pudding-flavored French toast, and Cajun fettuccine alfredo with shrimp and smoked sausage. A craft cocktail list includes sweet sips like strawberry mules and Southern peach sangria by the pitcher. 518 N. Charles St. 443-682-8792
Plantbar: It's no secret that plant-based options are on the rise, and this week, Belvedere Square's one-stop-shop for vegan, paleo, and gluten-free snacks expanded to yet another new neighborhood. On the heels of opening at Harbor Point last year, Plantbar debuted a third eatery on the ground floor of The Porter apartment building in Brewers Hill earlier this week. Tenants and locals alike will be able to indulge in the shop's array of wellness elixirs, fresh-pressed juices, bottled liquids, smoothies, and acai bowls. Among the fan-favorites is the X Factor smoothie, which incorporates almond butter, cacao, avocado, and medicinal mushrooms. 3700 Toone St. 410-646-8196
Mobtown Brewing: Plantbar isn't the only big opening happening in Brewers Hill this week. This new brewery is also celebrating its official debut in the neighborhood on Friday, April 26. Fittingly named after one of Baltimore's many monikers, Mobtown takes inspiration from the area's brewing culture (the neighborhood was formerly home to the National Brewing Company) and also makes use of locally sourced ingredients. The 6,000-square-foot facility and taproom will produce signature releases including the Silver Dollar saison, Calvera American IPA, and the 41 Year Lapse—an American pale ale that Mobtown has deemed the first beer to come out of Brewers Hill in the 41 years since Natty Boh operations moved out of state. Sample the beers, tour the space, and enjoy eats from Wild Thyme Baltimore at the kid-and-dog-friendly grand opening party on Friday. 4015 Foster Ave. Ste. 400, 667-309-3653
COMING SOON
Bodhi Corner: Good news for Thai fans in South Baltimore. The owners of Khun Nine Thai in Mt. Vernon and Bodhi Corner in Hampden are bringing their authentic delicacies to Light Street this summer. According to SouthBMore.com, Bodhi is planning to open in the former home of Liv2Eat and In Bloom—the adjoining concepts formerly run by husband-and-wife team Kevin Perry and Cecilia Benalcazar—and offer a menu similar to its sister restaurants. Be on the lookout for favorite dishes including steamed dumplings, "drunken" noodles, spicy curries, baked duck, and vegetarian mock meats. While the Bodhi Corner in Hampden is BYOB, the new spinoff plans to serve beer and wine. 1444 Light St.
New Tenants Headed to Cross Street Market: Another week, another Cross Street Market update. As the first three tenants get ready to open in the renovated property next month, developers at the Federal Hill market have announced even more local concepts rounding out its roster. Navy veteran-turned-food truck champion Joey Vanoni will sling his footlong "Monster Slices" and at brick-oven pizza stall Pizza di Joey, which will be equipped with its own takeout window for late-night slices. In addition, Pennsylvania-based chain Gangster Vegan Organics will offer plant-based smoothies, juices, wellness shots, salads and its popular "Swizz Beets" burgers with cashew nacho cheese on dehydrated bread.
Another great addition: The team from Old Line Spirits in Highlandtown has collaborated with the market to debut a cocktail and wine bar in the space. The 30-seat bar will be a go-to for sipping cocktails made with Old Line's award-winning whiskies and rums (think everything from classic to frozen cocktails and Crushes), while also exploring a lineup of local beer and wine. "It seemed like a really natural fit for us to collaborate with the market," Old Line co-founder Arch Watkins tells us. "We're big fans of the Maryland beer, wine, and spirits industries, and this is going to be a great way to showcase all of that." 1065 S. Charles St.
EPICUREAN EVENTS
4/28: Guinness Beer Dinner Supporting Maryland Food Bank
Halethorpe neighbors Guinness Open Gate Brewery and the Maryland Food Bank (MFB) are teaming up to host this five-course beer dinner at the brewery, which will benefit the nonprofit's culinary training program. Enjoy passed appetizers during a welcoming "beer hour" before settling on the tented patio for dinner. Prepared by executive chefs Kevin McCarthy of Guinness and Manny Robinson of MFB, the spring-inspired menu will feature charcuterie paired with Guinness Blonde, petite tender roasted filet served alongside Guinness milk stout, and strawberry cheesecake paired with Guinness' Foreign Extra Stout. 5001 Washington Blvd., Halethorpe. 6:30 p.m. $75
4/28: April in Paris
Head to Roland Park for the return of this annual springtime festival at Petit Louis Bistro, where guests can expect plenty of French flair like bright balloons and staff outfitted in Parisian berets. Admission to the all-ages festival includes two drinks and a buffet spread showcasing charcuterie, grilled meats, and classic pastries for dessert. 4800 Roland Ave. 410-366-9393. 12-3 p.m. $29-49
SHUT
Della Rose's Local Tavern: The Bel Air community is reeling from the loss of this neighborhood staple—and Washington Capitals hub—owned by husband-and-wife team Tony and Linda Della Rose. The owners posted a heartfelt message to Facebook earlier this week announcing the closure of their two-year-old spot. "We took a bad deal out of emotions," the message reads. "This is the only reason we are closing the doors." Tony goes on to share some of his favorite memories of the tavern's run, including charity nights for schools and youth leagues, live music performances, tailgates, and, of course, watching the Caps raise the Stanley Cup. "We just ask whenever you think of Della Rose's, just put a smile on your face," he writes. "It was a great two years." Della Rose's Avenue Tavern in White Marsh, operated by Tony's brother Joe, is still going strong.