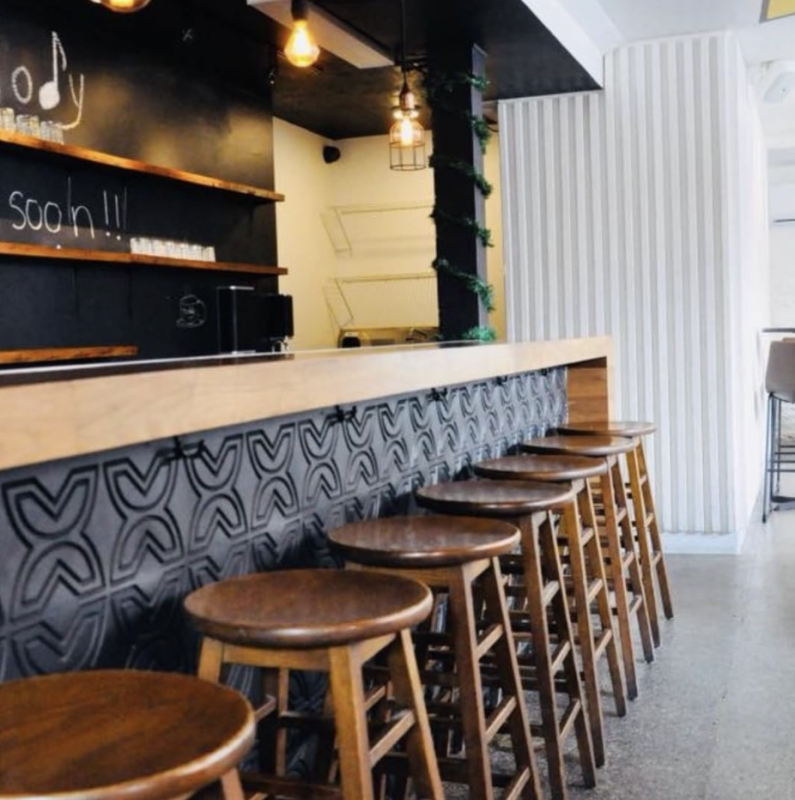 @melodybaltimore800 via Instagram
OPEN
The Melody Cafe: With the holiday season in full swing, it seems like everyone has presents on the brain. Especially local dad Darryl Strange, who recently took over the former home of The Room in Mt. Vernon as a Christmas and graduation gift for his 17-year-old son, Juwuan Davis. "We took him to see the space after he graduated, but he didn't realize what was happening," Strange says. "We went inside and I just said, 'Here it is, it's yours.'" Davis recently completed Harford Community College's culinary arts program in conjunction with his work at FreeState Challenge Academy in Edgewood. He is putting his cooking skills to the test at his new cafe, which is currently in soft-opening mode serving coffee and pastries. Strange says that he hopes to add salads, sandwiches, and soups to the menu by the official grand opening after the New Year. Locals can also look forward to family-fun days, karaoke nights, art shows, and open mic performances. 800 St. Paul St.
Moby Dick House of Kabob: This highly anticipated Persian palace has finally opened the doors to its 23rd eatery, located at The Rotunda in Hampden. You can't go wrong with the array of dips, colorful salads, falafel sandwiches on house-baked naan, and namesake kabobs in varieties ranging from spicy chicken and tender beef to marinated salmon and grilled lamb. Moby Dick joins CineBistro and MOM's Organic Market in the mixed-use development, which will soon house a new location of Federal Hill favorite The Local Fry. 727 W. 40th St.
COMING SOON
Back Yard: Regulars were at a loss when Patrick's of Pratt Street—lauded as one of the oldest Irish pubs in the nation—shuttered its doors in the Hollins Market neighborhood last year. But now, two local bartenders are stepping in to revive the spot. Lara Sumerson and Mike Cavanagh, who met working at The Elephant in Mt. Vernon, plan to transform the bar—as well as the space next door that will connect to an adjoining courtyard—into a new concept with an outdoor beer garden this spring. The bar will offer 18 local brews, craft cocktails, and a wine program headed up by Cavanagh. Stay tuned for more updates.  934 W. Pratt St.
Bygone: Atlas Restaurant Group has done it again. The company behind Harbor East hotspots Ouzo Bay, Azumi, Loch Bar, and Tagliata will soon reveal its Gatsby-themed concept on the 29th floor of the Four Seasons Baltimore. "There's something really intriguing and cool about that era," Atlas owner Alex Smith tells us. "It was a carefree time. Human beings were different back then, especially in the way that they socialized." Aside from the Prohibition-era cocktails and 360-degree views of Baltimore and beyond (you can see as far as Towson if you look closely), the French-influenced menu will be a huge draw for diners. Executive chef Matthew Oetting presents everything from fried lobster tail and Maryland crab cakes to Amish chicken and rotisserie duck flambé for two. The spot is celebrating its grand opening, fittingly, on New Years Eve. 400 International Drive.
Shake Shack: Though The Mall in Columbia boasts plenty of dining options, a burger and fries can be tough to resist. Now, shoppers can enjoy the classic combo at this beloved burger joint, which opened near the mall's outdoor plaza earlier this week. The spot offers all of the Shake Shack favorites including double-stacked burgers, flat-top hot dogs, crinkle-cut fries, and hand-spun milkshakes. 10300 Little Patuxent Parkway, Ste. 3040
NEWS
Cross Street Market Goes Retro: Earlier this week, Towson-based developers Caves Valley Partners gave locals a sneak peek at the renderings for the massive revitalization project in the works at Cross Street Market in Federal Hill. Slated to be complete in 2019, the remodel will yield an updated interior, stalls with takeout windows, and plenty of al fresco seating. The retro design aesthetic will harken back to the early 1950s, when the market was rebuilt after a fire burned down the original structure. Vendors—including new pop-ups like Smoke, Prescription Chicken, Cookie Dough & Co., and Sundays Bakehouse—will remain open throughout construction. 1065 S. Charles St.
Victory for Food Truck Owners: Last year, local food truck owners Joey Vanoni of Pizza di Joey and Nikki Marks of Mindgrub Cafe teamed up with the Institute for Justice to challenge legislation banning mobile vendors from operating within 300 feet of a brick-and-mortar business selling a similar product. The case headed to trial in August, and earlier this week, Baltimore Circuit Court Judge Karen C. Friedman ruled that the ban had a "lack of standards" and was "too vague for the city to enforce." Friedman is giving the city 60 days to stop enforcing the law. "I'm happy that this ruling will let me operate more freely in the city," Vanoni said in a statement. "But I look forward to a day when laws like these no longer exist."
Baltimore Tops Zagat's List of Exciting Food Cities: The Charm City dining scene got some well-deserved recognition this week, as Zagat ranked us among the country's 30 most exciting food cities of 2017. The piece specifically calls out old gems like Charleston and Woodberry Kitchen, as well as new concepts including Rye Street Tavern, Tagliata, Sandlot, Dylan's Oyster Cellar, and Ida B's Table. 
SHUT
Firehouse Coffee Co.: Come 2018, O'Donnell Square will lose this longtime coffee shop. Owner Evan Dilks recently told The Baltimore Business Journal that he chose not to renew the lease on the property, stating that he and his family are pursuing other ventures in the New Year. It's unclear whether a new coffee shop will move into the space, which sits inside an early 20th-century fire station and has long been a go-to for  pastries, pour-overs, smoothies, and sandwiches. 1030 S. Linwood Ave.
Metropolitan Coffeehouse & Wine Bar: Federal Hill locals are already mourning the loss of this 13-year-old South Charles Street spot, which will host a closing party on New Year's Eve. Owner Bruce Dorsey took to Facebook earlier this week to announce the closure. "We are heartbroken by this decision," the post reads. "But the last few years have been difficult for our business, our city, and our neighborhood." Locals say that they'll miss the breakfast and coffee service, top-notch beer and wine program, and inviting neighborhood vibe. 902 S. Charles St.