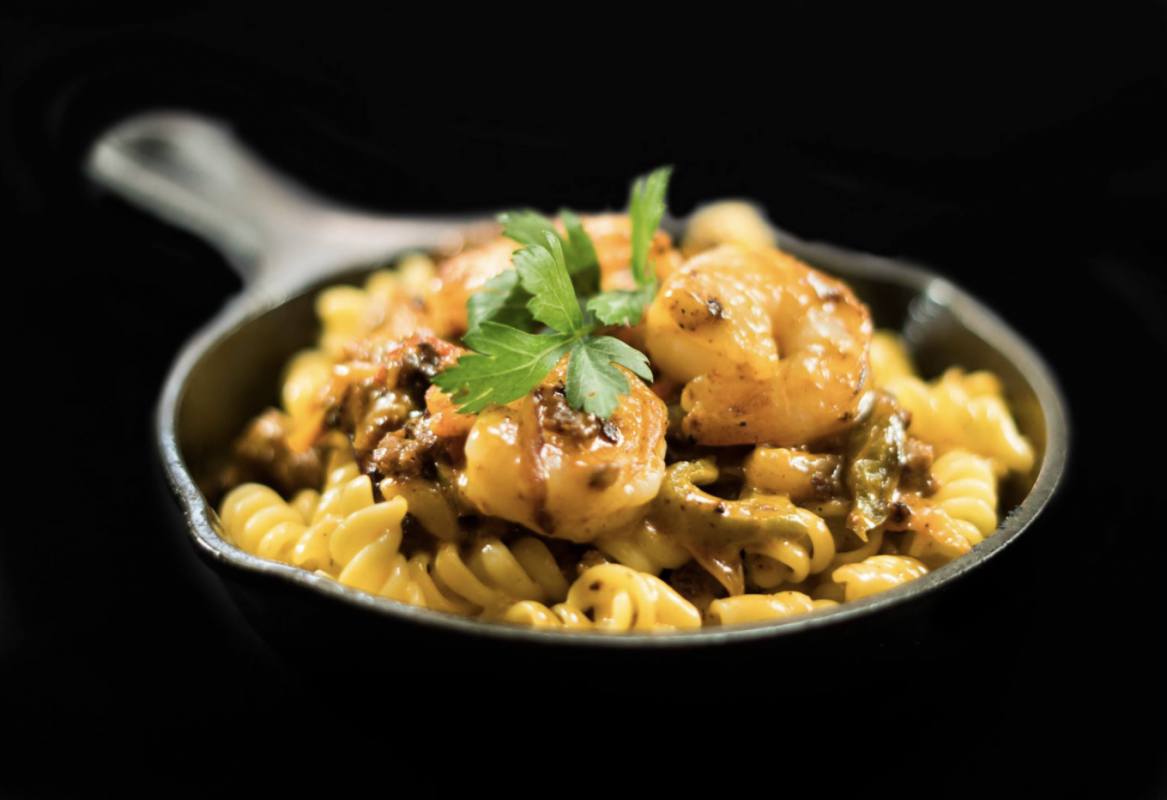 Courtesy of The Point in Towson
OPEN
The Point in Towson: Baltimore County revelers no longer have to Uber to the city to enjoy the laid-back vibe of The Point in Fells, now that the popular watering hole has finally unveiled its second location in Towson. Set in the former home of The Crease on York Road, the chic spot features modern hanging light fixtures, exposed brick, and flat screens around every corner. The eats and drinks mimic the Fells Point flagship, with fine-tuned pub fare including moules frites and shrimp croquettes. There are also local beers on tap, and, of course, plenty of Orange Crushes to go around. 523 York Road, Towson, 410-327-7264
COMING SOON
Giada De Laurentiis Announces Horseshoe Casino Concept: A few months back, celebrity chef Giada De Laurentiis excited local foodies when she—fairly vaguely—hinted that she would be opening a restaurant in Baltimore while filming a Facebook Live video. Recently, the famed Food Network star confirmed the news, announcing that she will open a brand new eatery inside Horseshoe Casino in 2018. The Italian restaurant, whose concept has yet to be fully fleshed out, will take over the former Johnny Sanchez space on the casino's second floor. The cantina from celebrity chefs Aaron Sanchez and John Besh shuttered its doors in September, shortly before a Times-Picayune report was published alleging sexual harassment by Besh. 1525 Russell St.
CH-CH CHANGES
Arômes: After three years of operating this charming French dining destination in Hampden, executive chef Steve Monnier is ready to switch things up. In a post to Facebook last week, he announced that he would be closing Arômes on November 11 in order to focus on another downtown concept, Chez Hugo. Stay tuned for updates. 3520 Chestnut Ave., 410-235-0035
Parts & Labor: Spike Gjerde's restaurant group Foodshed is changing up the vibes at this meat-centric sister-spot. Starting on Friday, November 3, the Remington restaurant will ditch its fine-dining feel in favor of more casual sandwiches, soups, snacks, sides, and beer. The space will also reflect the relaxed atmosphere, with a new chalkboard wall and games like Ping Pong and cornhole for diners to enjoy outside near the communal firepit. To celebrate the relaunch, Parts & Labor is hosting a block party on Sunday, November 5, featuring new sandwiches, local beer, and live music by Super City. 2600 N. Howard St., 443-873-8887
One Star Country Club: Federal Hill's casual cantina No Way Jose is now home to this bar that wants its patrons to leave it one-star reviews on Yelp. (Yes, you read that correctly.) In a time where everyone's a critic, the concept encourages bar-goers to come see the space for themselves, rather than making a judgment based on others' online reviews. Swing by the new spot to crack open a can of beer, down a specialty shooter, and chow down on eats like pulled pork nachos and French dip sandwiches. 38 E. Cross St., 410-727-5102
The Elephant: Following a nationwide search, husband-and-wife owners Steven and Linda Rivelis have found an executive chef to oversee culinary operations at this Mt. Vernon mansion. They landed on Venezuelan-born chef Orlando Amaro, a Culinary Institute of Mexico grad who most recently served as executive chef of D.C. hotspot Station 4 Restaurant. Chef Amaro's experience cooking in kitchens everywhere from Miami Beach to Venezuela will be reflected in the restaurant's new menu of worldly dishes, which premieres on Wednesday, November 8. 924 N. Charles St., 443-447-7878
EPICUREAN EVENTS
11/4: Taste of the Marketplace
Mount Vernon Marketplace has organized this fun tasting event in an effort to help diners sample all of its stalls without breaking the bank. This weekend, bounce around to taste $5 snacks from the communal food hall's participating vendors. Look out for favorites like charcuterie from Cultured, burgers from Between 2 Buns, dumplings from Pinch, and shrimp salad from The Local Oyster, as well as offerings from newbies like Mr. Souvlaki and Cucina Al Volo. 520 Park Ave., 11 a.m.-11 p.m., Free.
11/4: Waverly Brewing Company 2nd Anniversary Party
We can't believe this Woodberry hotspot is already two. To celebrate its big birthday, the brewery is hosting an all-out bash featuring 20 draft beers and savory bites from neighbors Blue Pit BBQ. Plus, get down to tunes spun by DJs James Nasty, Graham Hatke, and Mom Jeans. 1625 Union Ave., 7 p.m., Free.
11/6-11/12: Baltimore Food Truck Week
More than 50 local kitchens-on-wheels are gearing up for the inaugural Baltimore Food Truck Week, which will feature specials from individual trucks and a handful of community events celebrating the area's mobile vending scene. A culminating festival will be held at Patterson Park on Friday, November 10, featuring live music, local beer and wine, and, of course, fare from local trucks.
SHUT
The Room: We barely got to know this little subterranean space in Mt. Vernon, which closed for good earlier this week after owner Andre Mazelin announced that he would be exploring a new opportunity at Motor House in Station North. The spot was best known for its coffees, community events, and colorful ceiling mural by local painter Wendell "Solely Supreme" Shannon. "Together, we have played, jammed, discussed, laughed, cried, rallied and provided space for community," Mazelin said in a farewell message posted to Facebook. "What a sweet, rollercoaster of a ride it's been!" 800 Saint Paul St.