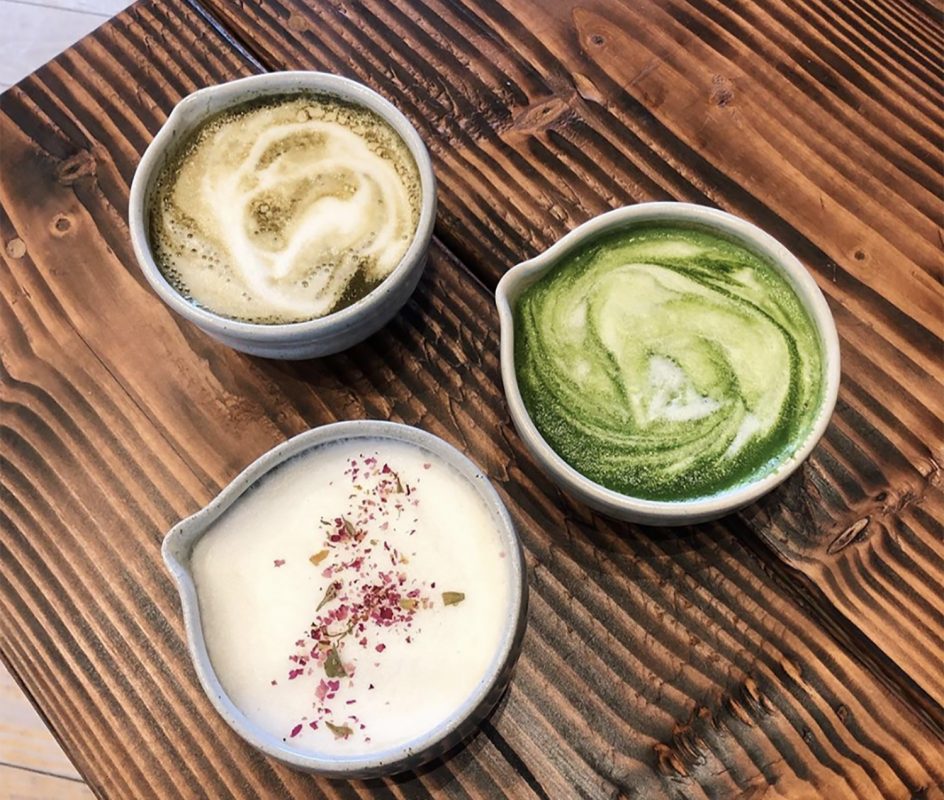 The Reister's Daughter
OPEN
The Reister's Daughter: The 200 block of Main Street in Reisterstown has long been a destination for frozen custard and Italian ice at The Cow. And now, there's even more to love in the area with the opening of this new coffee shop just across the street. Set in the historic Beckley House property that formerly operated as The Ski Shoppe, the cozy spot offers grinds sourced from Gracefully Coffee Roasters in Windsor Mill. Look out for nitro and cold brew on tap, espresso, and specialty drinks like matcha lattes and a soothing London Fog. The pastry program is also sourced locally, featuring sweets from Diablo Donuts in Federal Hill and JeannieBird Baking Company in Westminster.
Dutch Courage: Veteran bartenders Brendan Dorr and Eric Fooy have started 2020 off right with the opening of their highly anticipated gin bar in Old Goucher. Filled with vintage interior touches—try to spot treasures like the silver cash register or red velvet sofa—the bar offers a menu of innovative gin drinks alongside a seasonal list of cocktails showcasing other spirits. To get the full experience, enjoy gin-forward options including the "Jefferson Sour" (sage-infused gin with lemon and honey) and the "Lady Mercy," which mixes genever with mezcal and orange bitters. Pair all of the libations with bites from the food menu, which lists charcuterie, deviled eggs, pickled veggies, and warm sandwiches.
COMING SOON
Rita's at The Rotunda: The first day of spring is still a couple months away, but when March 19 crops up, so will this new kiosk at The Rotunda in Hampden. Stationed just off of the family-friendly playspace in the center of the retail-and-residential district, the dessert chain will offer its wide range of Italian ice flavors (everything from mango and cherry to blue raspberry and Swedish Fish) and swirls of frozen custard.
NEWS
The Phoenix Emporium: As we reported back in 2018, this neighborhood staple on Main Street in Ellicott City is among the 10 properties slated for demolition in accordance with Howard County's "Safe and Sound" flood mitigation plan developed by County Executive Calvin Ball. The Phoenix Emporium owner Mark Hemmis recently took to Facebook to confirm that he has entered into an agreement with the county to sell his interest in the property effective April 1. Though this means The Phoenix will close at the end of March, there is a silver lining to Hemmis' plan. As chef/owner Richard Winter of Ellicott Mills Brewing Company (located just up the street from The Phoenix) prepares to retire, Hemmis plans to purchase the brewpub—where he once worked and met his wife more than 20 years ago.
Hemmis, along with the existing management team at Ellicott Mills, are working together to merge the spirits of the two establishments under one roof. "Ellicott Mills Brewing Company will operate as normal as we figure out our next steps together," he wrote. "The floods of 2016 and 2018 have taken a financial, physical, and emotional toll on my family, our staff, and all of our families, friends, and community that we continue to process to this every day. But we do not stop. We are eternally grateful for the support of our community and are overjoyed with the opportunity to remain a part of Ellicott City's resurgence."
SHUT
Edmart Deli: Baltimore lost yet another one of its Jewish deli institutions earlier this week. Edmart, which has been a go-to for classics like chopped liver, corned beef, and hand-sliced lox since 1958, closed its doors in Pikesville on New Year's Eve. Owner Shelley Lev Wiseman, who inherited the business from her father, made the decision to shutter the store in an effort to spend more time with family. "I haven't seen my grandchildren," she told The Sun. "And they just grow up so fast." Regulars have long frequented Edmart for its holiday trays, desserts, and array of deli meats. (Duff Goldman even gave the brisket a shout-out on an episode of Food Network's "The Best Thing I Ever Ate.") Though Wiseman has expressed interest in selling Edmart, the future of the deli is still up in the air.
Vaccaro's Italian Pastry Shop Bel Air: Sadly, New Year's Eve was the last day for Bel Air locals to grab a cannoli at Vaccaro's in Harford Mall. According to a message posted to the shop's Facebook page last week, the decision was made quickly. "We did not want to close, however we cannot afford to keep the location running and the mall has signed a new lease for our space," the Vaccaro family wrote. "We are very sad to close this chapter. Thank you to all of our loyal customers." Luckily, the beloved sweet shop's other locations in Little Italy, Canton, and Hunt Valley remain open with plenty of almond macaroons, gelato, and pignoli cookies to go around.