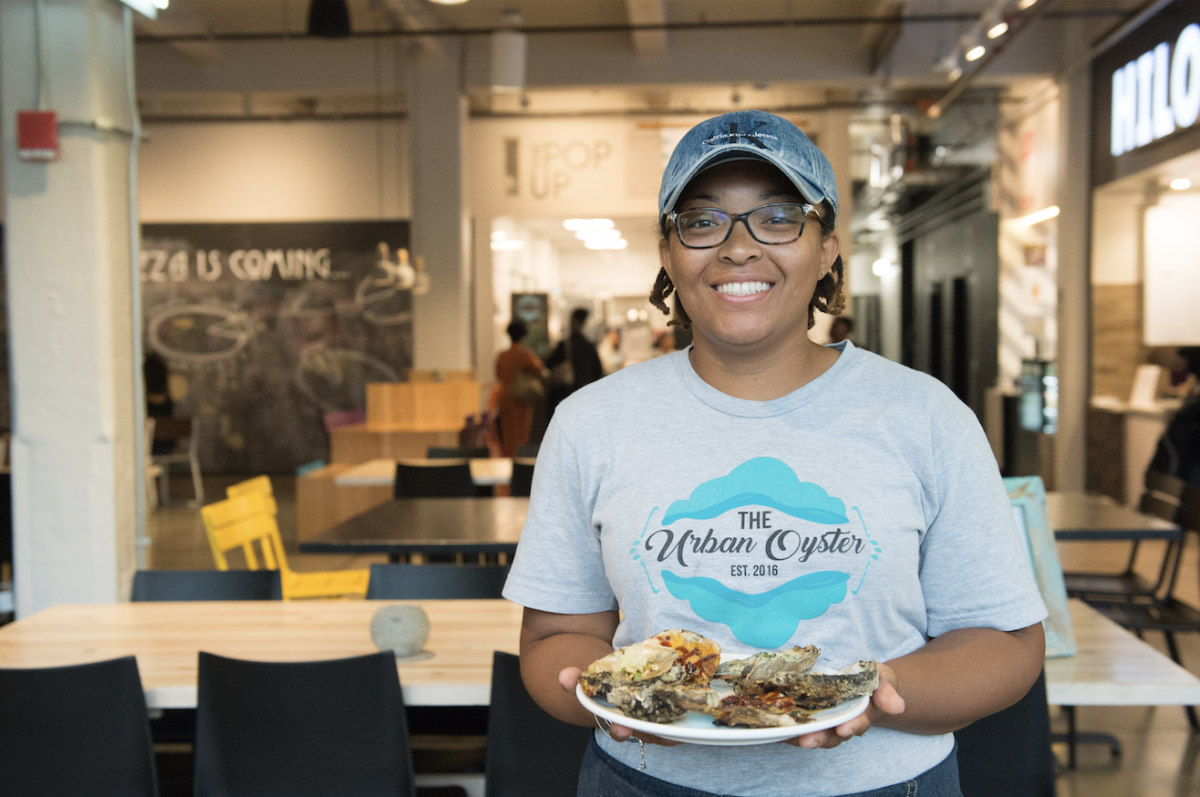 Dave McIntosh Photographics
COMING SOON
The Urban Burger Bar: It's going to be a great year for Jasmine Norton, the local chef who you've most likely seen shucking shells and slinging po' boys around town with her pop-up The Urban Oyster. Come March, Norton is expected to open a brick-and-mortar home for the concept at McHenry Row in Locust Point. But before she settles down at the seafood spot, she's switching things up with a burger concept in R. House's rotating pop-up stall from January 28-February 3. "I love that R. House provides this platform so that chefs don't have to be married to one thing," Norton says. "It allows people to see I'm not just oysters. I'm a chef who can cook lots of things." Swing by to sample a variety of different patties, including the "Simpleton" with cheddar cheese, "Bacon Bae" with thick-cut bacon, a portobello mushroom burger with Swiss and caramelized onions, and The Urban Oyster's smoked salmon burger—which uses fish that is smoked and flaked in house before being formed into a patty topped with Old Bay aioli. The pop-up will also offer seasoned fries and additional toppings like avocado and fried eggs. 301 W. 29th St.
OPEN
Charmed Restaurant: Just when we thought the local restaurant scene couldn't get any more "charming," this Mt. Vernon newbie opened its doors on the 800 block of North Calvert Street earlier this week. Not to be confused with Charmed Kitchen—which debuted in Butcher's Hill last month—the neighborhood spot from industry veteran Danae Schrock opens bright and early at 6 a.m., offering rotating baked goods and a full menu of breakfast and lunch fare. Decorated with pops of Orioles orange and Ravens decals, the Baltimore-themed eatery features Old Bay omelets, chocolate chip pancakes, yogurt parfaits, and tater-tot waffles topped with fried eggs and avocado. Lunch specials range from a veggie wrap and champagne spinach salad to a fiesta burger with chipotle mayo. The dining destination fills a void on the block that was left by Brew House No. 16, which closed its doors just across the street last month. 824 N. Calvert St. 443-835-2803
NEWS
Garden & Gun Praises The Bluebird Cocktail Room: Hampden's own literary-themed haven was given a serious shout-out earlier this week, when it was named one of the Best New Southern Bars by Garden & Gun magazine. Bluebird was the only Maryland bar mentioned among the 25 sipping spots scattered everywhere from Virginia and Washington, D.C. to Tennessee and Texas. "The cocktails at the Bluebird are as sturdy as a three-legged stool, served in a room with the feel of a well-funded library at a small but prestigious school," wrote reporter Wayne Curtis, referring to the shelves stocked with vintage literature donated by The Book Thing in Waverly. Though Bluebird has gotten plenty of local love since it opened in 2017, we couldn't be happier that the next-level spot—whose menu currently includes winter options like a house eggnog and hot toddy with whiskey and ginger—is getting some national attention. 3600 Hickory Ave. 667-303-3263
Dining Discounts for Furloughed Workers: As the government shutdown persists, more than 172,000 federal workers throughout the state are struggling to make ends meet. But the local dining scene is lending a hand by offering discounted meals for those who have been furloughed. At Pinch inside Mount Vernon Marketplace, federal employees can enjoy half-off dumpling specials with valid government ID. Ejji Ramen is also paying it forward with free rice bowls at both of its locations in Belvedere Square and in Bethesda. Local dessert pop-up Love Puddin' is hoping to lift spirits by offering free pudding delivery(think flavors like Oreo-topped "dirt" and sweet strawberry-crunch) throughout the end of this week. And, in an effort to help families continue to dine out, Mr. Y's Pizza n Fries in Fallston is gifting free kids meals for all children of federal employees until the end of the shutdown.
Heavy Seas Offers Twists on Uncharted Waters Series: This year, Heavy Seas is having some fun with its "Uncharted Waters" series of limited releases, which includes favorites like the Siren Note chocolate stout and Great'er Pumpkin ale. Throughout 2019, the Halethorpe brewery plans to unveil draft-only twists on some of the beers. The first will be a salted caramel version of Blackbeard's Breakfast, a bourbon barrel-aged imperial coffee porter. The updated release is a non-coffee variant brewed in a tank with house-made caramel and imported sea salt. "It has a more pronounced vanilla aroma, along with a rich toffee, caramel flavor that is balanced nicely with the hint of salt," said brewmaster Chris Leonard, in a statement. "There are still some coffee-like roasted notes, but they provide a much subtler layer to the flavor profile." The beer will be available on draft in select markets starting in February. 4615 Hollins Ferry Rd., Halethorpe. 410-247-7822
EPICUREAN EVENTS
1/19: Minnow's Bombtastic Drag Brunch
This South Baltimore hangout is kicking off its first drag brunch of 2019 in style. Settle in with a first round of bottomless Bloody Marys and mimosas before the fabulous Bombalicious starts the show with special guests Sarabesque and Betty O'Hellno. The tapas-style bottomless brunch includes plates like crispy oysters, shrimp ceviche, pastrami-cured salmon, sour cream doughnuts, French toast, and more. (If you need to brush up on your drag brunch etiquette for this weekend, we've got you covered.) 2 E. Wells St. 11 a.m.-2 p.m. 443-759-6537. $59
1/24: Yeast Meets West Maryland Beer Dinner

Some might be familiar with Federal Hill's Don't Know Tavern as a go-to for day-drinking and game-watching. But next week, the bar is switching things up with a four-course prix-fixe menu paired with beers from RAR in Cambridge and Union Craft Brewing in Hampden. Be on the lookout for Chesapeake-inspired dishes like pan-fried coddies paired with RAR Bucktown Brown ale, pit beef with smoked tomato chutney alongside Union's Dark Sour, and Smith Island Cake with candied popcorn paired with Union's AM Gold vanilla latte. 1453 Light St. 6:30-9:30 p.m. 410-539-0231. $69