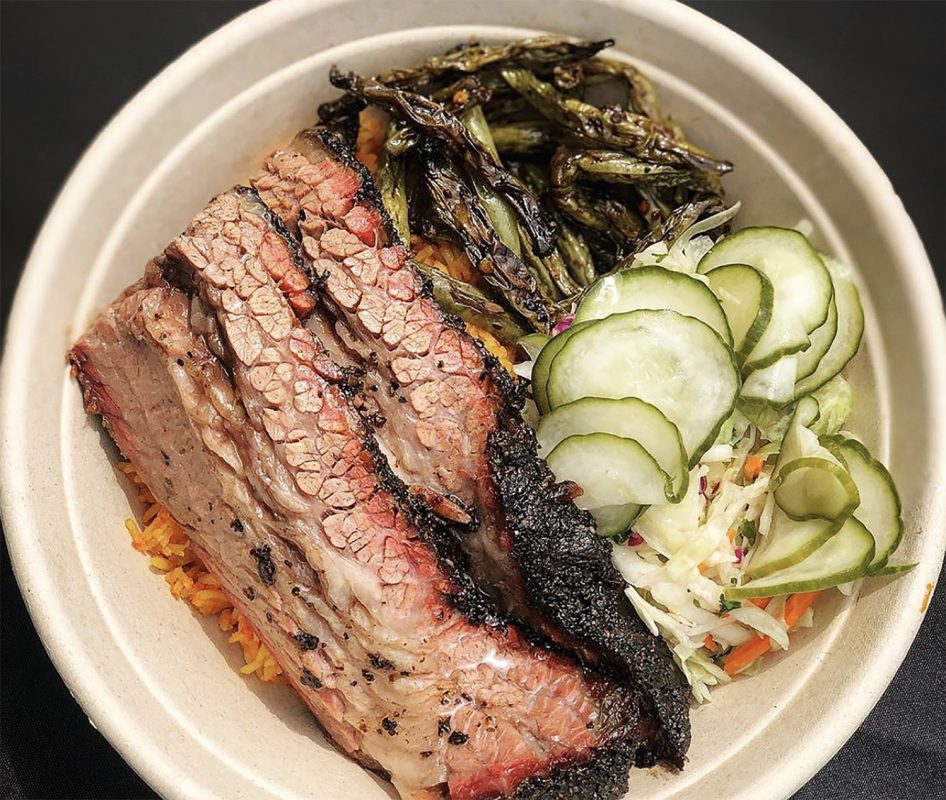 Bark BBQ
COMING SOON
Tire Shop Pop-Ups at Parts & Labor: We've been keeping tabs on this former car-and tire-repair-shop-turned-Remington restaurant since Parts & Labor served its last cuts of meat in the space last summer. A new pop-up series is preparing to reactivate the space with public food events featuring local purveyors. The first of many such events is scheduled for August 10 from 12-5 p.m., when the barbecue buffs with Bark BBQ will serve up their Texas-style smoked meats with signature sides like pickled cucumbers and corn on the cob. Joining them for the inaugural celebration will be Locust Point's Diamondback Brewing and R. House's R. Bar. Hopefully we'll see a more permanent revival soon, but, for now, it will be nice to see (and smell) meats being smoked in the space again.
Koba BBQ: It's been quite some time since we've seen a restaurant operate inside the standalone building at Belvedere Square—which has become notorious for its turnaround rate throughout the years. North Baltimore locals might remember as far back as 2004, when it operated as Taste. Concepts that followed included Crush, Demi, Spike Gjerde's Shoo-Fly, and, most recently, Starlite Diner. Now, the space is straying from its previous life as a cocktail bar and diner with an entirely new on-trend theme. Koba BBQ, a locally owned Korean barbecue concept is slated to open in the space by the end of this year. The spot adds to the development's diverse lineup of food offerings, which include Ejji Ramen, Atwater's, Grand Cru, and Neopol Smokery.
Brazil Gourmet Marketplace, Cafe, and Coffee Bar: Baltimore's Brazilian food offerings will expand in the coming weeks with the arrival of this multi-use concept on Eastern Avenue. The Fells Point shop will be home to a market featuring authentic Brazilian grocery items like coffee, yucca and tapioca flours, smoked and dried meats, and mango and guava fruit juices. After stocking up on the comestibles, patrons are invited to stay for a meal in the cafe, which will highlight delicacies like classic empanadas, açai bowls, cachaça-infused caipirinha cocktails, and Pão de Queijo (Brazilian cheese bread).
EPICUREAN EVENTS

TO 8/11: Baltimore Restaurant Week
The city's annual dining-out promotion is officially in full swing with an array of participating places to choose from. Treat yourself to two-course lunch and brunch menus ranging from $12-20, or a three-course dinner for $20-35. Newbies including Blackwall Hitch, Noona's, The Tilted Row, and Orto are all participating for the first time this year if you're hoping to try something new. But it's also a great opportunity to revisit old standbys like Tio Pepe's or Annabel Lee Tavern. (You can find our globally inspired suggestions here.)
8/3: Vegan SoulFest

This plant-based party returns to Clifton Park for its sixth year with a jam-packed lineup of speakers, cooking demonstrations, live DJ entertainment, shopping, and, of course, plenty of vegan eats to go around. Local vendors to look out for include L'Eau de Vie Organic Brasserie, The Greener Kitchen, Refocused, and The Land of Kush—whose co-owner Naijha Wright-Brown organizes the event each year.
SHUT
TigerStyle: Earlier this week, diners devoured the last of the steamed buns and stir-frys at Chad Gauss' wok-inspired outpost in Hampden. The chef and Food Market owner recently confirmed to us that the restaurant has closed for good. Gauss says the closing is not for lack of business. The space was simply sold to another buyer who expressed interest in taking over the former commissary kitchen. "It was a fun place and exactly what we wanted it to be," he tells us. "We have a few bigger projects coming our way, and it just made sense to let this one go since we had someone that was interested in the location." There's no word yet on who, exactly, will be taking over the carryout—which Gauss opened only six months ago and named after the lyrics of a popular Wu Tang Clan song.