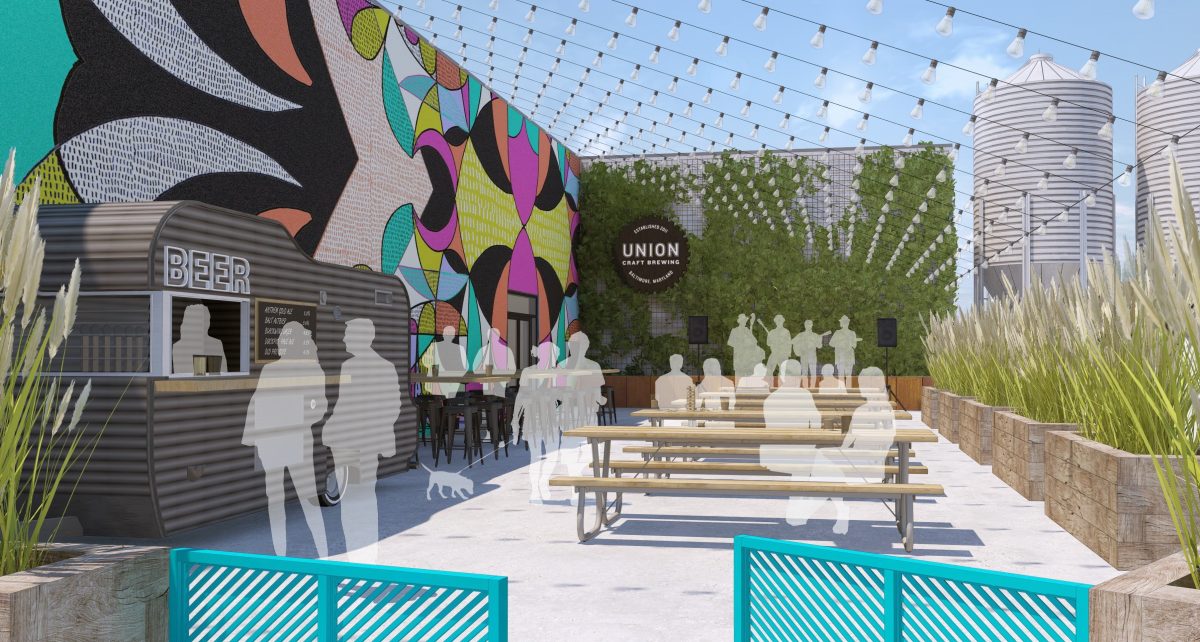 Ziger/Snead Architects
COMING SOON
Union Collective: Locals have been patiently awaiting the arrival of Union Craft Brewing's communal makerspace since it was announced last spring. The 138,000-square-foot Medfield warehouse will not only be home to eight small businesses including The Charmery and The Baltimore Whiskey Company, but it will also house Union's brand new taproom, event space, and production facility. Though brewing isn't expected to begin until the spring of 2018, earlier this week Union released renderings that give locals a sneak peek at what the space is going to look like. The plans by Ziger/Snead Architects depict a spacious taproom complete with interior greenery and glass windows overlooking the brewery. Also of note is the outdoor beer garden, which boasts a performance space for live music and strung lights overhead. 1700 W. 41st St.
Gordon Ramsay Steak: Celebrity chef Gordon Ramsay is preparing to debut this new steakhouse inside Horseshoe Casino next Wednesday, November 29. The restaurant, which will take over the space that formerly housed Jack Binion's on the first floor, will mark Ramsay's first East Coast concept and feature an array of dry-aged beef and seafood dishes that serve as nods to his British roots. The chef joins other television personalities Guy Fieri and Giada De Laurentiis, who are also tied to the casino's dining scene. 1525 Russell St., 443-931-4386
CH-CH CHANGES
Lee's Pint & Shell: At a grand opening party last week, this rebranded Canton hangout (formerly Saute) debuted a state-of-the-art second story. Opening just in time for peak football season, the new space is equipped with 13 big screens, glass garage-style doors, a 38-foot bar with individual charging ports, and its own raw bar and oyster station. 2844 Hudson St., 410-327-2883
Riptide by the Bay: This Fells Point seafood stalwart is headed to auction next month. Husband-and-wife owners Roger and Meredith Rippel recently told The Sun that they are selling their 10-year-old restaurant to focus on raising their children. The duo hopes that the new owners will keep their current staff, and say that they are open to sharing some of Riptide's signature recipes. The on-site auction will occur on December 14 at 11 a.m., with a starting bid of $750,000. 1718 Thames St., 410-732-3474
EPICUREAN EVENTS
11/29: Traditional Basque Cider Dinner
Inspired by a recent trip to the Sagardotegis region of Basque Country, the team behind La Cuchara in Clipper Mill is recreating a traditional dinner with special cider pairings. The menu will highlight dishes including wood-grilled wild mushrooms, whole grilled rockfish with a burnt garlic vinaigrette, bone-in ribeye, and cider-poached pears. La Cuchara, 3600 Clipper Mill Road, Ste. 125, 6-8:30 p.m., $79, 443-708-3838.
12/10: St. Jude's Benefit Dinner with Chef Chad Gauss
Chef Chad Gauss of The Food Market in Hampden—who recently released his own cookbook—is teaming up with Pottery Barn at Towson Town Center for this fundraising feast. Diners will enjoy pre-dinner shopping and cocktails, followed by a three-course meal prepared by Gauss. Fifty percent of all the event's proceeds will be donated to St. Jude's Children's Hospital. Pottery Barn, 825 Dulaney Valley Road, Towson, 7-10 p.m., $150.
SHUT
Center Cut Doughnuts: The revolving donut door at 3528 Chestnut Avenue in Hampden has spun around yet again. Sugar fiends probably remember farmers' market-favorite Center Cut Doughnuts taking over the shop from B. Doughnut last year. And now, Center Cut owner Josh Kowitz is passing the torch to local baker Courtney Fix, who will open her donut shop Full Circle in the space next month. "We have decided to move on to other opportunities that will be better for our family," Kowitz posted to Facebook earlier this week. "These words cannot convey the amount of appreciation we have for every single customer we've ever served." Center Cut's last day of service will be Sunday, November 26. The shop was best known for its fun flavors (favorites included brown butter, s'mores, and the pink-glazed "Homer" with rainbow sprinkles) and walls boasting local art. 3528 Chestnut Ave., 667-303-3604.