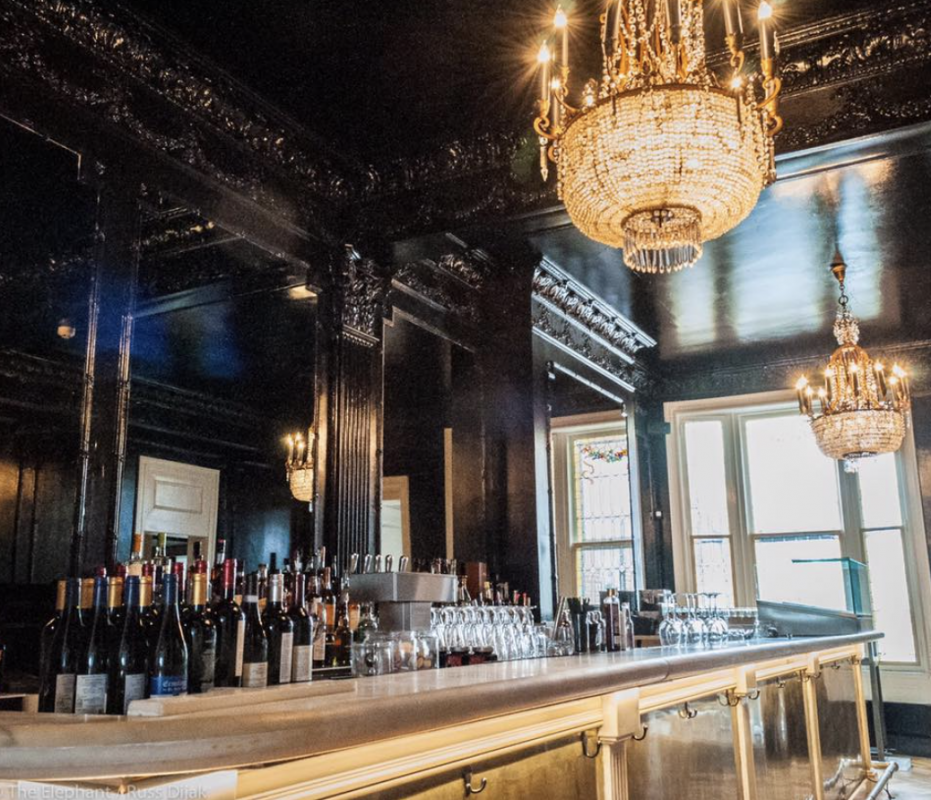 Courtesy of The Elephant
OPEN
Upstairs at The Elephant: We were thrilled when husband-and-wife owners Steven and Linda Rivelis decided to restore this Mt. Vernon mansion back to its former glory last year. This week, the owners are adding to the allure of the famed restaurant by rebranding its second floor as Upstairs at the Elephant. Head up the staircase (past the dangling crystal and intricate teak archways) to snag a seat in the billiard room, one of two cozy upstairs lounges, or at the restaurant's 32-inch white Italian-marble bar. There's also a new menu with signature cocktails like the "Metamorphosis" (rum, butterfly pea tea, and lime juice), "Lady Day" (gin, tequila, orange curacao, and honey thyme syrup), and the "Secret Knock," combining bourbon, amaro, almond syrup, and spiced cherry. Among the featured bites are street foods like shrimp dumplings, seafood ceviche, and gnocchi spoons with tomato and basil. 924 N. Charles St., 443-447-7878
Holy Frijoles: Foodies rejoiced as Taco Tuesdays rightfully resumed at this Hampden hotspot earlier this week. One year after an undisclosed electrical fire broke out in the building, owner Geoffrey Danek has officially reopened the cantina—serving its signature tacos, quesadillas, chimichangas, and other Tex-Mex fare out of a brand new kitchen. Although the space suffered severe smoke and water damage in the wake of the blaze, Danek was able to salvage some of its former artwork and reuse it in the space. Aside from the familiar decorations, regulars will also recognize a collection of the spot's signature pinball machines. 908 W. 36th St., 410-235-2326
Iron Rooster McHenry Row: The newest location of this breakfast-all-day chain served its inaugural brunch last weekend. The Annapolis-based restaurant, which also operates locations in Canton and Hunt Valley, has officially launched its latest eatery at McHenry Row in Locust Point. The restaurant highlights the brand's signature comfort foods (think burgers, benedicts, and chicken and waffles) and boasts its own pastry station where guests can see their biscuits and pop-tarts being made. The spot takes over the former homes of The Greene Turtle and Piaza Fresh in the mixed-use retail and residential development. 1606 Whetstone Way, 844-852-1410
Share Kitchen: Local food truck aficionados Nikki Marks and Brian Mathias (the owners of Mindgrub Café and Bistro Lunch Box, respectively) recently debuted this new shared commercial kitchen in Locust Point. Equipped with plenty of prep tables, shelving units, grills, and ovens, the 300,000-square-foot space provides the means for five local food businesses to produce their gourmet goods. Aside from the kitchen, the incubator also boasts space for events, business meetings, and Marks' community cooking classes. 1215 E. Fort Ave., Ste. 004
COMING SOON
Mason's Famous Lobster Rolls: Inspired by the ethos of Maine's lobstermen, veteran seafood buyer Dan Beck launched this concept on Main Street in Annapolis in 2014. Now, the lobster roll restaurant is making its mark on the local dining scene with a stall landing in Belvedere Square Market this fall. The menu features hearty rolls served both classic (warm with melted butter) or salad (chilled meat with mayo, celery, and lemon) style, along with lobster bisque and classic clam chowder. If you can't wait for the grand opening in a few weeks, Mason's will be appearing at the Baltimore Seafood Festival on September 16. 529 E. Belvedere Ave., 410-464-9773
NEWS
Food & Wine Applauds Royal Farms: Our own chicken-box chain scored major praise last week when it made Food & Wine's list of the country's top 10 gas station foods that are worth the detour. The magazine gave love to some RoFo's best sellers, including the flaky biscuits, thick-cut western fries, and, of course, crispy fried chicken. (See our ranking of all RoFo locations in and around the Beltway, here.)
EPICUREAN EVENTS
9/9: So-Buf Fall Festival
Canton neighbors El Bufalo and Southern Provisions are coming together to host this all-ages festival in O'Donnell Square Park this weekend. The event boasts something for everyone, with activities ranging from bouncy houses and balloon animals to craft cocktails and a beer garden. Other highlights will include an outdoor session in the square with M. Power Yoga, and live music by local groups John Nichols Band and Honey Extractor. 2921 O'Donnell St., 410-814-0594, 10 a.m.-10 p.m., Free.
9/11: Never Forget Memorial at Mission BBQ
In keeping with its objective of honoring local veterans, Mission BBQ will be offering all law enforcement, firefighters, and EMS workers free sandwiches at all locations on September 11. In addition, the brand's Red Hometown Heroes cups will return to all locations—with $2 from each cup purchased donated to local fire and police departments. Multiple locations including 3701 Boston St., 443-955-6807
9/17: Tour de Farms
Spike Gjerde's restaurant group Foodshed has teamed up with Race Pace Bicycles to organize this annual ride that stops at a number of the city's urban farms. The route begins at Bird in Hand in Charles Village, and takes riders on tours of Whitelock Farm, Boone Street Farm, Real Food Farm, and Living Classrooms before descending into Sandlot at Harbor Point for a post-race pig roast. Tickets include snacks, lunch, and supper, with a portion of proceeds benefitting the featured farms. 11 E. 33rd St., 9 a.m., $65-75
9/19: Origins: A Speaker Series
Since launching in 2015, this ongoing sustainable speaker series has explored everything from pickling and fermenting to Chesapeake Bay aquaculture and women who farm. Next week, Origins returns with an informal discussion about GMO's with Spike Gjerde and McKay Jenkins, professor of journalism, English, and environmental humanities at the University of Delaware. As always, the presentation concludes with a family-style meal inspired by the evening's topic of discussion. 1500 Union Ave., 410-235-1881, 6:30 p.m., $60
9/26: Cooking Classes at The Corner Pantry
Throw on an apron and join chef Neill Howell for these themed cooking classes returning to The Corner Pantry this fall. The series begins on Tuesday, September 26 with a hands-on tutorial exploring cheese, milk, fudge, and cheesecake with guest Pam Miller of Charlottetown Farm. Plus, Peter Wood from French Paradox Wine Shop in Stevenson Village will be on hand to recommend varietals that pair well with the featured dishes. Other tutorials to follow include a seminar on sauces in October, Thanksgiving demo in November, and cookie class in December. 6080 Falls Road, 667-308-2331, $40-65
SHUT
The Harp Restaurant & Catering: St. Patrick's Day surely won't be the same next year without this Perry Hall mainstay, which closed its doors with little explanation last week. The owners took to Facebook to announce the closure, describing the decision as a painful one. "Thank you everyone for all of the amazing memories," the post reads. "You will all be missed."  The neighborhood spot—which we have touted over the years—was known for its frequent drink specials, live music, karaoke nights, and menu of classic Irish staples. 8706 Bel Air Road, Nottingham.
Pie 360: The Shops at Canton Crossing lost its pizza purveyor last week, after this DIY chain shuttered its doors for good due to lack of business. Throughout its two-year run, the spot served up salads, wraps, and its claim-to-fame personal pizzas that diners could customize themselves. There's no word yet on what will become of the space, which neighbors other eateries Mission BBQ, Iron Rooster, On the Border, and Samos Greek Island Grille in the retail development.  3501 Boston St.