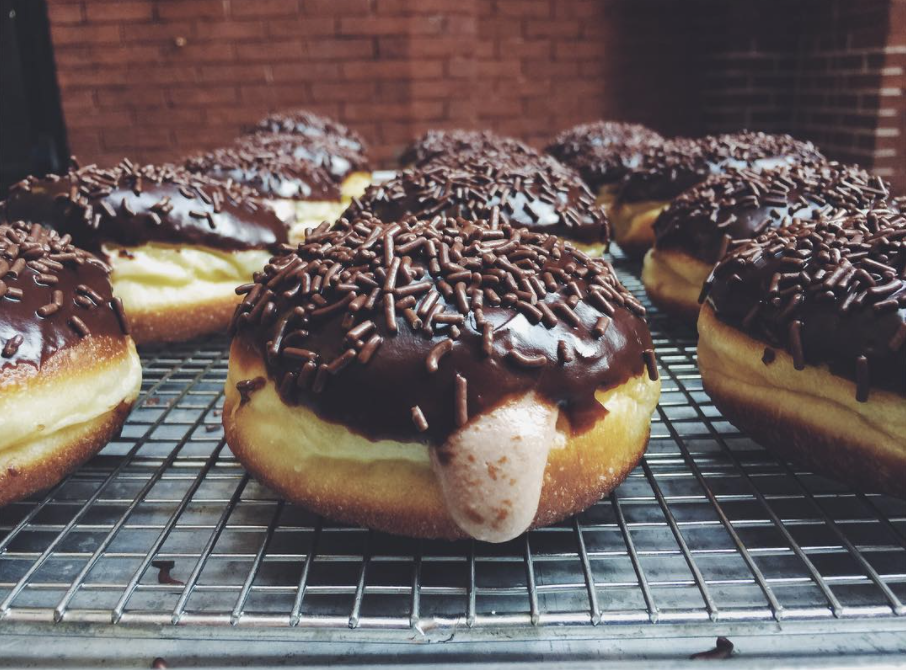 @sundaysbmore via Instagram
COMING SOON
Vent Coffee Roasters: Union Craft Brewing's new communal makerspace in Medfield is already 80 percent leased. Since Union Collective was announced last May, the 138,000-square-foot warehouse—which will be home to the brewery's brand new production facility and taproom—has attracted tenants including Earth Treks, Huckle's Gourmet Hot Sauce, and The Baltimore Whiskey Company. The latest to join the lineup is Vent, a small-batch roastery from longtime barista and coffee connoisseur Sarah Walker. Slated to open in spring 2018, Walker's stall will have a "garage-chill vibe" with a roll-up door, picnic tables, a full coffee and espresso bar, and two skylights. Be on the lookout for traditional espresso drinks, nitro cold brew on tap, and even Chemex and Aeropress offerings. The menu will also highlight locally sourced pastries, teas, and baklava and Greek butter cookies made from Walker's family recipes. 1700 W. 41st St.
Cowboys & Rednecks:We thought that this Federal Hill favorite was a goner. The honky-tonk hangout closed its doors last year, after owner Guy Naylor sold the property to the owners of neighboring bar Banditos. The South Charles Street space has since been rebranded as Wayward Smokehouse, but plans are in the works to revive the Cowboys & Rednecks (C&R) concept—this time in Towson. C&R is expected to open on the first floor of the mixed-use Towson Commons development along York Road in the coming months. The spot will join other restaurant tenants including Brown Rice Korean Grill and a yet-to-open Insomnia Cookies. Here's hoping the bar brings back its signature barbecue fare, Southern soundtrack, and life-sized Jenga. 1 W. Pennsylvania Ave., Towson
Dutch Courage: Veteran bartenders Brendan Dorr and Eric Fooy are opening this gin bar in Old Goucher next year. The spot—whose name refers to the confidence that 17th century British soldiers would gain after drinking Hollands gin—will offer a list of classic cocktails, as well as an array of rotating options. The space will feature a main bar, relaxing parlor room, and its own lush courtyard outside. 2220 N. Charles St.
SOUTH BALTIMORE BEAT
Baltimore Soup Company: This Towson-based cafe will be bringing its hearty soups to Federal Hill just in time for the winter weather. A second location of Baltimore Soup Company is expected to join Minnow on the bottom floor of the 2 East Wells apartment complex within the next six weeks. As its name suggests, the cafe emphasizes its soups (think chicken and rice, hearty vegetable, and Maryland crab), but also offers a variety of salads and sandwiches to satisfy hunger pangs. 2 E. Wells St.
Hair of the Dog Pub & Grub: The blue and white mural that formerly advertised No Idea Tavern on the brick facade of 1649 South Hanover Street in Federal Hill will soon have a new logo. No Idea owners Jon Ferguson and Stacy Lynch recently launched this new concept, which features a fresh menu by chef Kenya Butler. Among the new dishes are additional quesadillas, salads, and signature sandwiches like the "Dogwood" with roast beef, turkey, and Applewood smoked bacon. The neighborhood spot will maintain its sports bar feel, boasting nightly specials and 20 screens. 1649 S. Hanover St., 410-814-0342
Diablo Doughnuts: This fan-favorite Fells Point shop will be peddling its colorful confections across the harbor next year. Diablo Doughnuts—which currently shares its Broadway Square shop with pizzeria Hot Tomatoes—is moving into its own digs in the Federal Hill space that formerly occupied Felici Cafe on Light Street. Expected to debut in January, the larger space will make way for owner Michael Roslan to expand his hours (Hot Tomatoes operates in the current space during the evenings), as well as his menu. But—not to worry—the signature s'mores, maple-bacon, and cereal-crusted "Unicorn Farts" donuts will remain staples. 1035 Light St.
Sundays: In other donut news, this offshoot of Mt. Vernon mainstay Dooby's will be debuting inside Cross Street Market later this month. The stall will feature breakfast sandwiches, as well as its signature brioche and cake donuts in fun flavors including French toast, strawberry shortcake, matcha green tea, and honey oat goat cheese. Sundays will join other pop-ups including Cockeysville barbecue joint Smoke, D.C-based soup purveyor Prescription Chicken, yogurt parfait producer Gertie's Yummy Yogurt Bowls, and regional chain Cookie Dough & Co. in the market—which is in the midst of a multi-million dollar redesign by local developer Caves Valley Partners. All merchants will remain open throughout construction, which is slated to be completed by 2019. 1065 S. Charles St.
VETERAN'S DAY OBSERVANCES
11/11: Mission BBQ
In keeping with its patriotic mantra (each location stands to recite the pledge of allegiance at noon daily), this beloved barbecue chain will honor all local veterans and active military duty personnel with free sandwiches and cake on November 11. All locations, scattered everywhere from Canton to Owings Mills, will be participating. Multiple locations including 3701 Boston St., 443-955-6807.
11/11-18: Feeding the Homeless: A Veteran's Day Tribute and Thanksgiving Dinner
Now in its fourth year, this community gathering has grown into a two-day event. On November 11 and November 18, locals will gather to feed more than 1,000 of the city's displaced citizens in honor of Veteran's Day and Thanksgiving. In order to produce the home-cooked meal, organizers are collecting contributed food, soft drinks, and serving supplies. Other donations that are needed include personal hygiene items, winter clothing, blankets, and coats. 420 Fallsway, 2 p.m.
CH-CH CHANGES
Grand Cru: On the heels of launching a rebrand at Remington hotspot Parts & Labor, Spike Gjerde's restaurant group Foodshed has made the decision to sell Grand Cru. The team took over the Belvedere Square wine bar in 2014, after owner (and Gjerde's business partner) Nelson Carey passed away suddenly. Now, the bar is in the process of being turned over to former Foodshed employee Jayce Flickinger. Foodshed managing partner Corey Polyoka recently told The Sun that the decision to sell the spot comes as the company focuses its attention on A Rake's Progress, a new restaurant expected to open in the Adams-Morgan neighborhood of Washington, D.C.  by the end of the year. 527 E. Belvedere Ave.