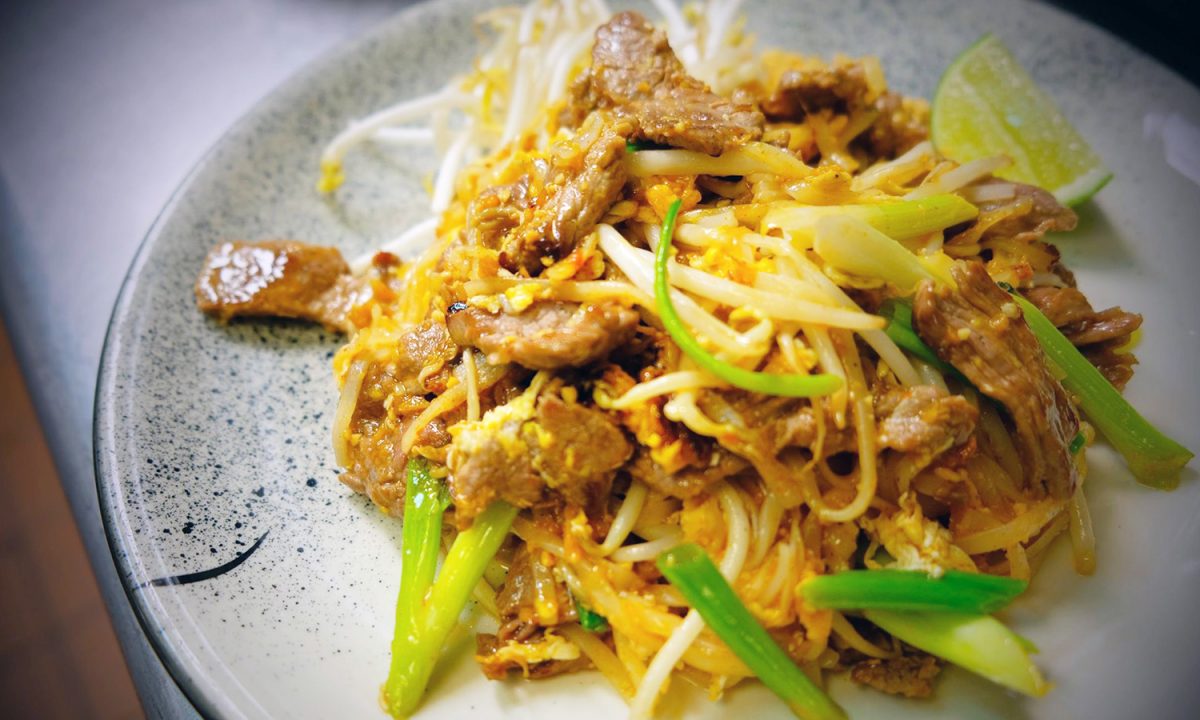 Dee at Thai
COMING SOON
Whitehall Food Market: It's been several years since we first heard murmurs of a food hall taking shape inside Whitehall Mill—the historic property located along the Jones Falls in Hampden. Now, the lineup of Maryland producers moving in to the revamped space has officially been finalized. In addition to True Chesapeake Oyster House—an anchor restaurant from the brains behind The Local Oyster and True Chesapeake Oyster Co.—the culinary offerings will include java from Ceremony Coffee, cheese and charcuterie from Deep Creek Lake's FireFly Farms, small-batch blends from Wight Tea Company, prepared meals from Gundalow Gourmet, and European pastries from Roggenart. In addition, look for authentic eats from Heritage, a new concept from former Ouzo Bay chef Rey Eugenio—who also operates the popular Masarap Filipino pop-up. Developers with Terra Nova Ventures are preparing for a late-fall grand opening.
Miss Shirley's: Get ready to see some familiar food-and-drink logos while strolling through BWI this summer vacation season. Frederick's Flying Dog Taphouse has become a favorite since it opened inside the airport two years ago, and recently, Nalley Fresh joined the pack with a salad stall inside the food court on Concourse A. The local restaurant presence will continue to expand in 2020, when Baltimore breakfast behemoth Miss Shirley's is expected to open a 100-seat restaurant inside the global gateway. To accommodate travelers at any hour, the spot will offer dinner and late-night options, as well as its signature pancakes and Southern-style breakfast dishes.
OPEN
Dee at Thai: Mt. Vernon locals were at a loss when Stang of Siam closed abruptly last December. A sign posted to the door informed regulars that a changeover was imminent, and now, a new Thai restaurant is back in its place on North Calvert Street. Dee at Thai opened earlier this month, offering a wholesome array of soups, curries, vegetarian options, and traditional pad Thai dishes. In keeping with the holistic mission, the menu also breaks down the health benefits of cooking with Thai herbs such as lemongrass and sweet basil, which have both been known to help strengthen the immune system.
NEWS
Heavy Seas Releases "Bmore Snoball Ale": On the list of things synonymous with Charm City, egg custard snowballs rank pretty high. So it's no wonder Halthorpe-based Heavy Seas' Beer decided to create a new brew inspired by the iconic summer treat. At a 5.5 percent ABV, the Egg Custard Blonde Ale uses a malt base, Strisselspalt hops, and lots of vanilla to replicate the classic snowball flavor. It will be available in cans and on draft exclusively in the brewery's taproom starting next Friday, July 26.
EPICUREAN EVENTS
7/20: SauceScape at North Avenue Market
Throughout Artscape weekend, there will be plenty of opportunities for diners to get a sneak peek of the proposed plans for North Avenue Market. The former home of Red Emma's in Station North is expected to house multiple food concepts in the coming months. Among them will be Secret Sauce Co., the craft ketchup brand that served its burgers and fries at an extended pop-up inside Lost City Diner a few months back. This Saturday night, Secret Sauce Co. is taking over the space to launch its new hot sauce collaboration with Jones Falls Sauce Company. Stop by to sample the concoction, enjoy tacos from Cocina Luchadoras, play some classic arcade games, dance to live funk music, and—perhaps most importantly—take advantage of the free air conditioning.
7/20: Inaugural Highlandtown Crab Feast
The recent influx of Chesapeake Bay blue crabs calls for a new Charm City crab feast. Enjoy the summer tradition at this inaugural event benefiting the Highlandtown Community Association. Captain Frank's Seafood will provide the crabs and savory sides, such as steamed corn, tomato and cucumber salad, and hush puppies. And Highlandtown's own Monument City Brewing will be handing out cold cans to wash down all of the eats. Following dinner, partake in dessert, games, a 50/50 raffle, and a block party from 7-9 p.m.
SHUT
Atwater's Falls Road: Early risers on the hunt for avocado toast on Falls Road will now have to venture to one of Atwater's other nearby locations. After seven years, the cafe recently came to the end of its lease, and management decided not to renew. The neighborhood go-to became known for its piping-hot soups, irresistible baked goods, and hearty sandwiches. Luckily, Atwater's locations in Belvedere Square, Canton, Catonsville, Towson, and Upper Fells Point are all still going strong.
Bar Liquorice: Riverside locals enjoyed the last of the Red Vines and Good & Plenty's at this kitschy corner bar last week. After five years of slinging cocktails and refilling the popcorn bowls at Bar Liquorice, owner Jeff Cahill has decided to move on. "Owning a bar is a 24-7 labor of love that can really kick your ass," he wrote in a message announcing the closure. "Although I have loved my 30-plus years in Baltimore, I have decided to join my family in a new venture that will free me up to actually enjoy my life." There's no word yet what will become of the Fort Avenue property.