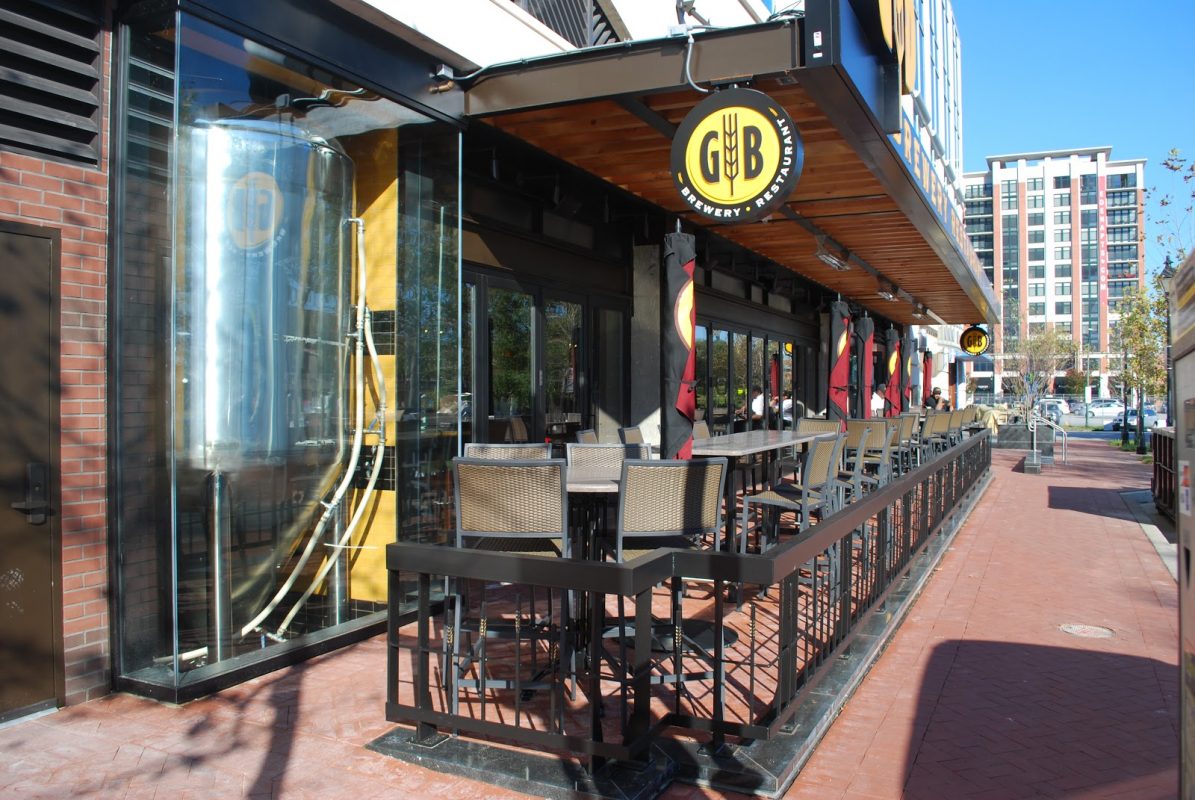 The new Gordon Biersch Brewery in Harbor East has been open since last Monday (even despite Hurricane Sandy hitting the East Coast that day). We got a chance to check out the spot at one of its grand opening receptions.
The space—adjacent to Charleston on Lancaster Street—is pretty massive, with a 279-seat dining room and bar area, as well as a 50-seat patio across from the water. The layout is unique, in that everything is exposed: There's an open kitchen, you can see through to the six beer tanks, and, during warmer weather, the doors open out onto the patio.
The bar has a specific tap system dedicated to Gordon Biersch's signature brews, the Golden Export, Marzen, Hefeweizen, Czech Pilsner, Schwarzbier, and a rotated seasonal selection. Our favorite was probably the Marzen, which is a well-balanced lager with a brown-sugary start and malty finish. We also enjoyed the Hefeweizen, a traditional and unfiltered German wheat beer.
These are all crafted by head brewer Chris Cashell, formerly of The Brewer's Art, who is well-known for creating the dark, winter favorite Proletary Ale. It's also interesting to note that GB's signature beers follow the German Beer Purity Law, which states they can only be brewed with water, hops, barley, and yeast. Besides their own beers, there was a lot of local selections on tap, including Union's Duckpin Pale Ale, Heavy Seas Loose Cannon, and Resurrection Ale.
Additionally, there is a list of 14 delicious sounding cocktails, like the Veev Mule (Veev Açaí Liqueur, lime, mint and ginger ale), as well as nine martinis, and three "skinny" cocktails (under 150 calories). We did get to sample some complimentary appetizers, a favorite being the California cobb flatbread with bacon, avocado, tomato, baby greens, and balsamic vinaigrette. We also tried the restaurant's famous garlic fries and were not disappointed.
Though Gordon Biersch is a chain restaurant (with nearly 200 restaurants nationwide), its beer is more thoughtfully brewed than most franchised restaurants. And the open design and waterfront view will surely make the newest location a prime destination.
[Image: courtesy of beerinbaltimore.blogspot.com]