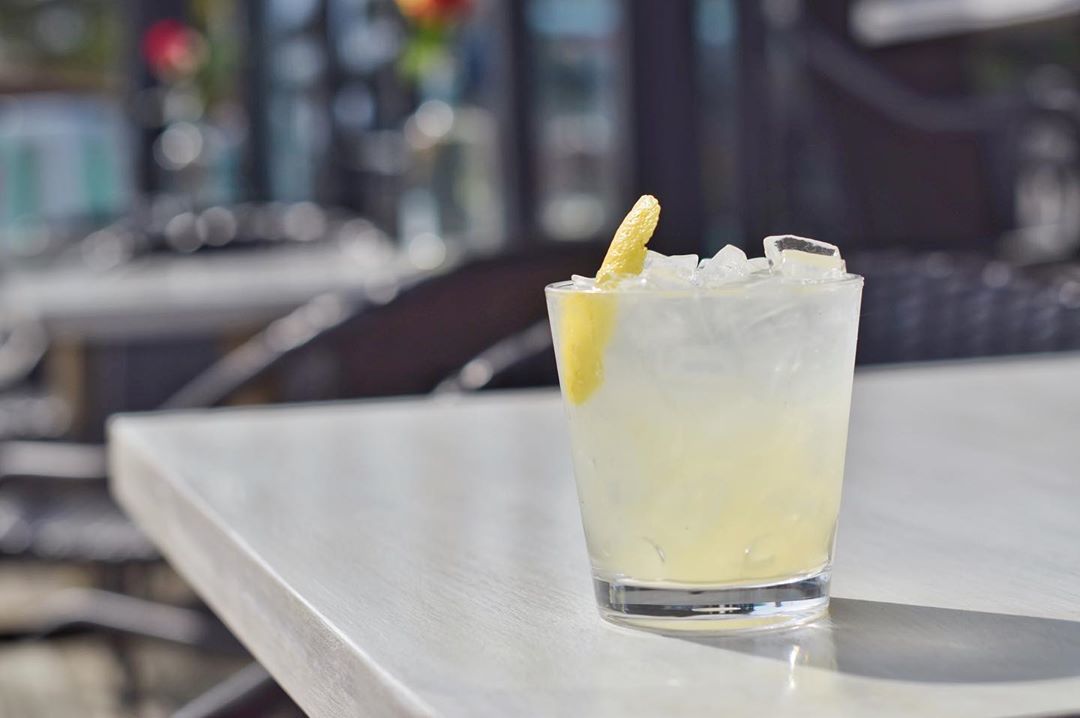 Raw and Refined
A batch of new beach bars are joining the city's open-air dining scene this summer, which means it's the perfect time to throw on a pair of shades and head out for a sun-soaked day drink. Whether you're into boozy slushies, rum punches, classic daiquiris, or trendy tiki cocktails, these new (and returning) seasonal spots have something to please all palates. In between visits to our coveted dockside destinations and sky-high rooftop bars, enjoy a little change of scenery at one of these outdoor hangouts.
El Tigre: Not only has the Dooby's team graced us with Old Boy and Fat Tiger inside the new Broadway Market, but they've also launched El Tigre—a pan-Latin-inspired tiki bar that expands cocktail service outside onto Broadway Square. Beneath the twinkling lights on the market's patio, beverage director Tyler DiMarco pours thoughtful creations including the cachaça-forward "Muito Bom," a classic Planter's Punch, and the "Viracocha"—a flagship cocktail made with Peruvian pisco, dry gin, tropical fruit juices, and cinnamon. "It embodies who we are and what our mission is," DiMarco says of the Viracocha, which is named after the ancient Peruvian Incan god of the sun.
Standout sip: The "El Teniente," an agave-infused riff on the classic Navy Grog that combines Ilegal Mezcal Joven, reposado tequila, aperol, passion fruit puree, baking spices, absinthe, and star anise. 1640 Aliceanna St.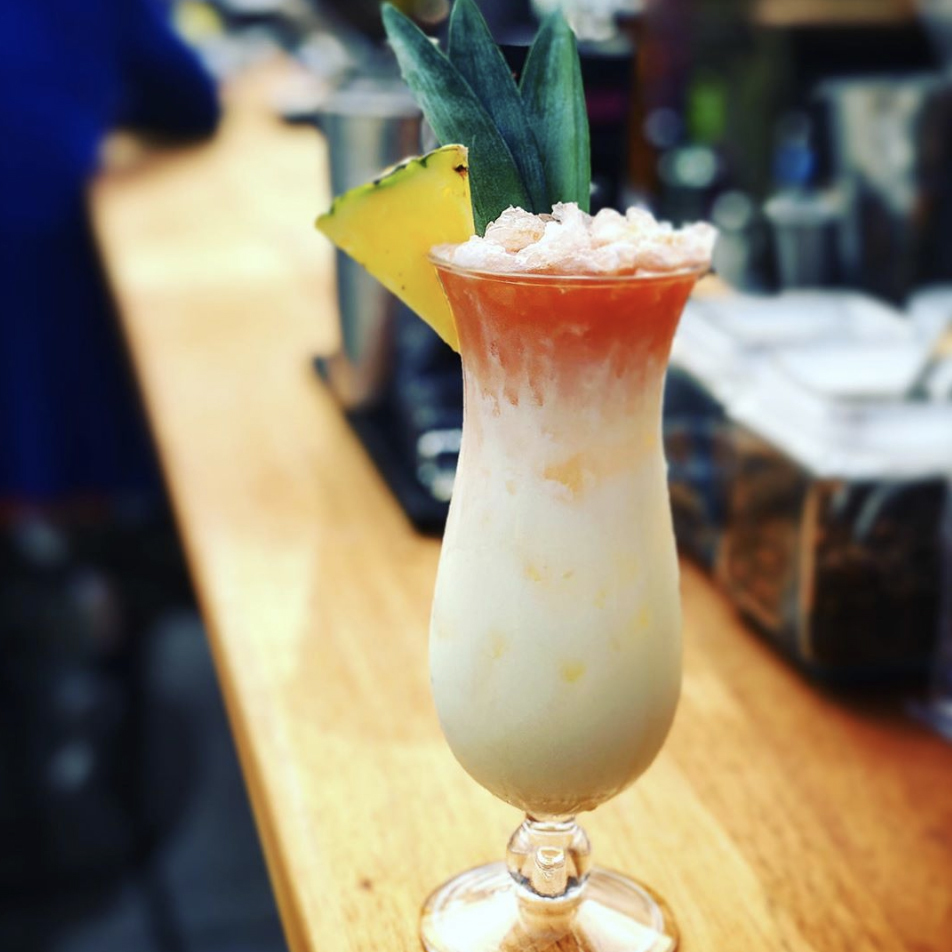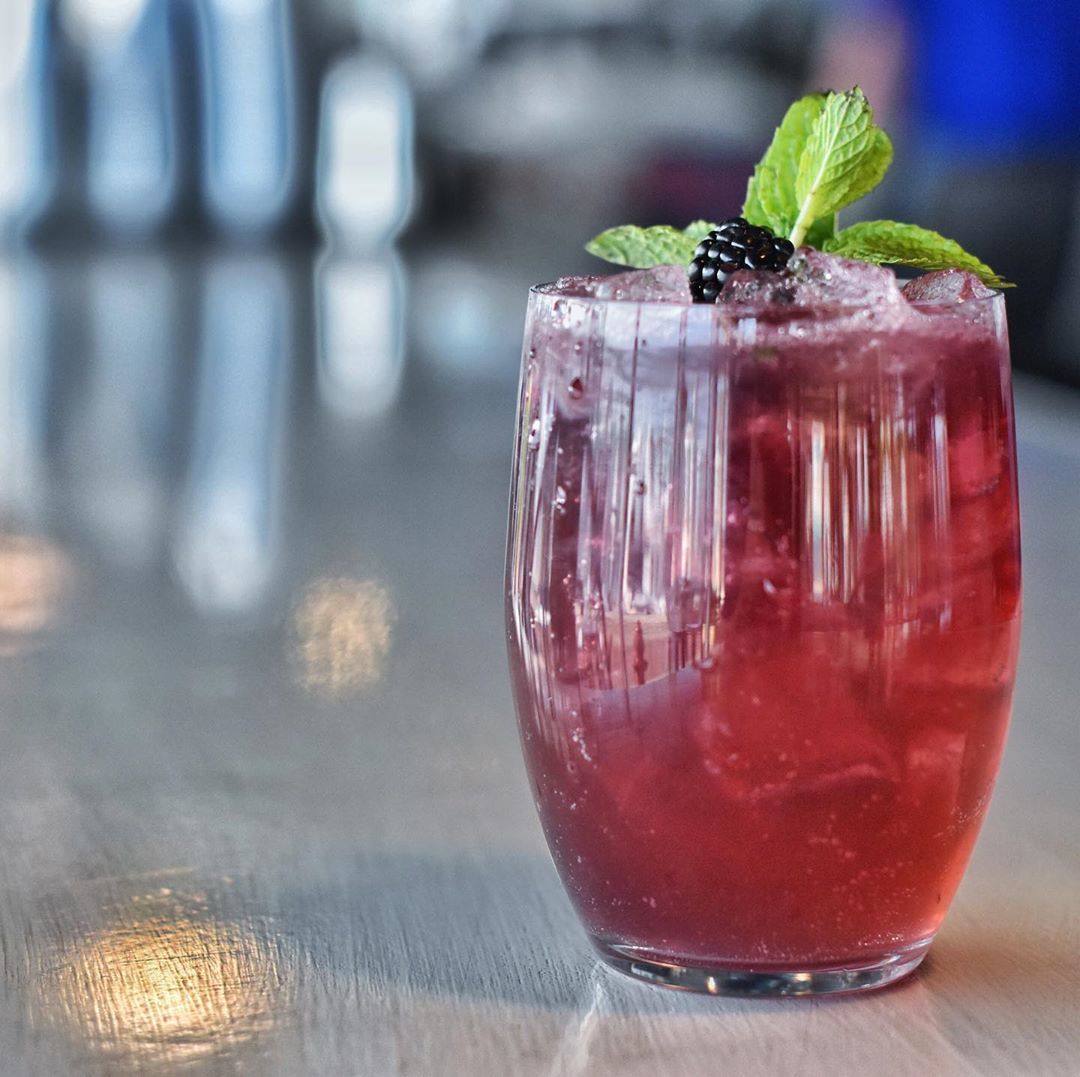 Piña colada with an Angostura float at El Tigre and the "Bull & The Berry" at Raw and Refined
Long Beach Marina: The recently renovated bar and restaurant at this full-service marina in Bowleys Quarters has all of the essentials for an island staycation. In addition to the palm trees and frequent performances by reggae and steel drum bands, the refreshed menu features summer staples like sesame ahi tuna and massive crab cakes. Pair the eats with fruity cocktails including the "Bananarama" (banana rum, peach schnapps, and pineapple juice) and the "Coconut Concussion"—a mix of coconut rum, Sprite, and muddled lime.
Standout sip: The "Mermaid Water" with Captain Morgan spiced rum, pineapple juice, lime juice, and blue curacao. 800 Chester Rd., Bowleys Quarters. 410-335-8602
Ouzo Beach: Ouzo Bay in Harbor East is expanding its footprint across Lancaster Street with this sister venue expected to open next week. Decked out with blue stone, palm trees, a wooden trellis, and tons of tropical plants, the streetside oasis is meant to resemble the courtyard of a Mediterranean-style villa. The bar team is rolling out some creative cocktails for the new concept, including a "Gin & Juice" cocktail made with Baltimore Spirits Company's Shot Tower Gin and a frozen "Cold Fashioned."
Standout sip: The "Rose All Day" mixed with ginger and rose water. 1000 Lancaster St. 443-708-5818
Raw Bar: After sitting vacant since last fall, Boathouse Canton has been brought back to life by the team behind Bond Street Social and Barcocina. As its name suggests, the waterfront social spot offers a seafood-focused menu emphasizing raw oysters, rockfish tacos, crab cakes, and lobster rolls. While taking in the harborside sites from the patio and outdoor gazebo, enjoy island-inspired cocktails like hibiscus margaritas, blackberry sangria, Sagamore whiskey lemonade, a classic Bee's Knees, and a rum runner on tap.
Standout sip: The "Smokin Pyrat" with Pyrat rum, pineapple juice, sour mix, and agave nectar in a cinnamon-smoked glass with a brown sugar rim. 2908 Boston St. 443-708-7961
Raw & Refined: Not to be confused with its neighbor Raw Bar, this Boston Street hideaway adjacent to Swim Club recently debuted with a Caribbean- and Latin American-inspired seafood menu. (Think dishes like tuna tartare cannoli, an open-faced Cubano, and elote-inspired grilled oysters with chili lime butter and cotija.) The eatery's outdoor patio is ideal for sipping cocktails while watching boats sail across the water at Lighthouse Point. Options include refreshing Grapefruit Crushes, the "Bull & the Berry" (Ketel One botanical cucumber, coconut-berry Red Bull, simple syrup, and fresh berries), and the "Poolside Paloma" with jalapeño-infused tequila and grapefruit.
Standout sip: The "Rude Buoy" made with Tanqueray Ten, St. Germain, pressed lemon, agave, and soda. 2723 Lighthouse Point.
Sandlot: Baltimore's beach is back for the season with a full schedule of live music, community barbecues, DJ dance parties, salsa lessons, sunset yoga, and much more. Head to Harbor Point to lounge on one of Sandlot's shaded cabanas while sipping a Spanish G&T, classic Dark & Stormy, or a bitter spritz with prosecco and strawberries. Local breweries and wineries have also made exclusives for the harborside hangout, including Heavy Seas' "Stay Cay" wheat ale and the sparkling, canned "Bay Rose" from Old Westminster Winery.
Standout sip: The "Sandia Fria" slushie with local rosé, limoncello, watermelon, and honey. 1000 Wills St.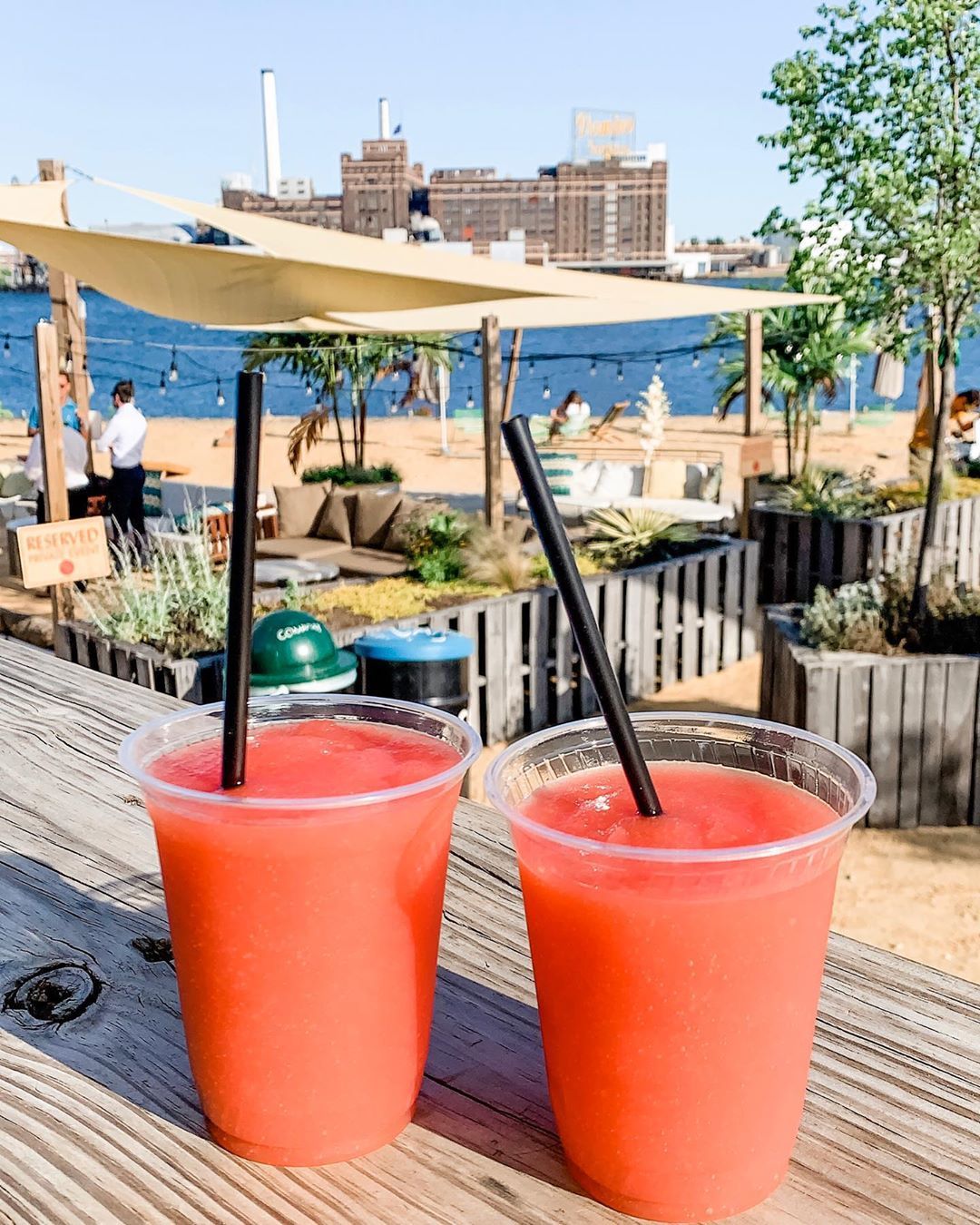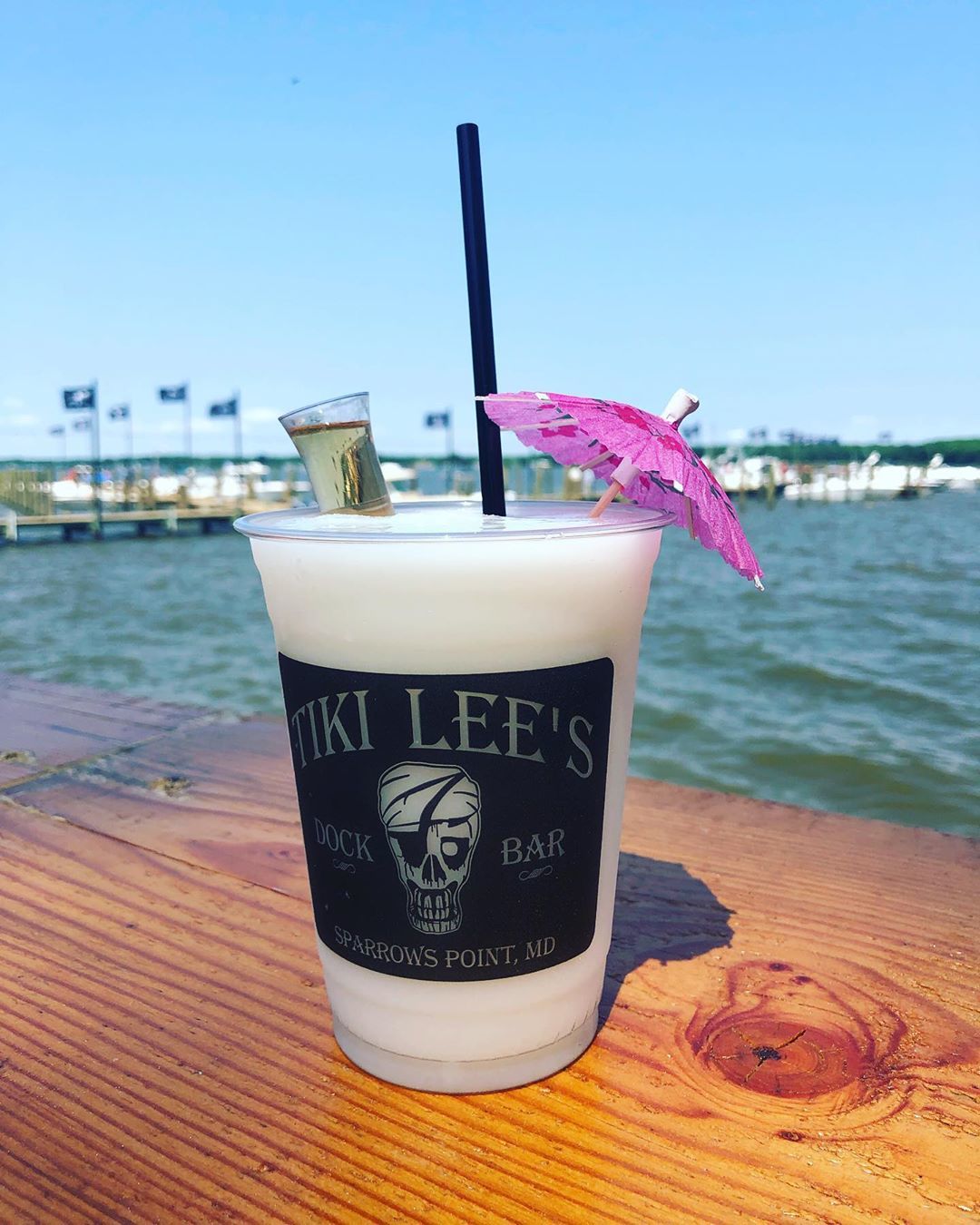 "Sandia Fria" slushies at Sandlot and a frozen pina colada at Tiki Lee's
South Point: With a killer view of the Hanover Street Bridge, this Port Covington venue is one of the most beautiful sunset-watching spots in the city. Last summer, the community hub became requisite stop on dog-walking routes, a go-to for life-sized Jenga and Connect Four, and a place to sip cold cocktails and canned wine while listening to live music played on a custom-built stage. It's expected to officially debut for the season later this month, offering Crushes squeezed to order, 40 different varieties of beer and wine, and a new array of low-carb and gluten-free drinks.
Standout sip: The fresh-squeezed lemonade Crush. 101 W. Dickman St.
Tiki Lee's Dock Bar: Boaters were delighted by the opening of this nautical newbie at North Point Cove in Sparrows Point, which is equipped with 100 free boat slips. The spinoff of Lee's Pint & Shell in Canton features strung lights, shaded wooden tables, palm trees, and plenty of sand outside. The island vibe also permeates to the menu, which offers summer eats like jerk chicken and pulled pork alongside a lengthy list of libations. In addition to canned beer and wine, the bar also serves watermelon and creamsicle Crushes, fruity Smirnoff bombs, and a signature "Bayside Tiki" with Rumhaven and coconut cream.
Standout sip: A frozen strawberry daiquiri and pina colada "Pain in the Ass" topped with an additional floater of Captain Morgan black rum. 4309 Shore Drive, Sparrows Point. 443-242-6698