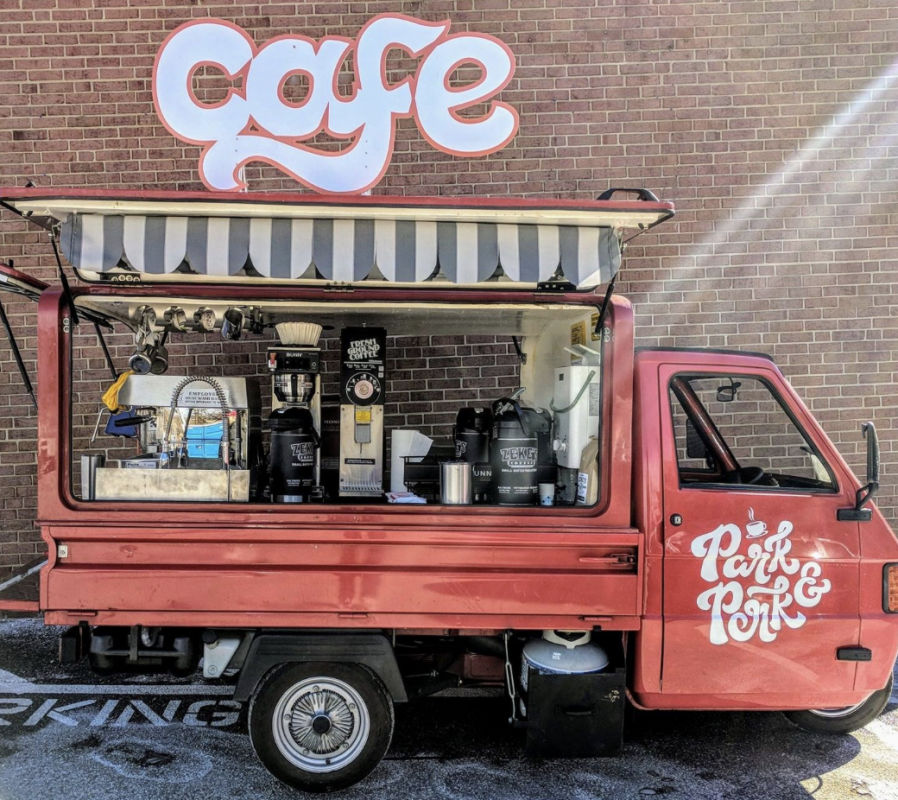 Courtesy of Park and Perk via Facebook
Matthew Fouse is a man of many hobbies. You have him to thank for the city's iconic rat bumper stickers. The design—which centers the letters "BALT" inside the shape of a rat—was conceived nearly a decade ago, when Fouse was searching for a way to break the ice with his Charles Village neighbors. He printed them t-shirts featuring the logo, and it didn't take long for the icon to catch on with the community. Soon enough, Fouse was selling rat merch to local shops like Trohv and Atomic Books.
"I ended up quitting my real job just to print rat stuff," Fouse says. "It's kind of like my Portlandia bit. I put a rat on anything—mugs, t-shirts, hats."
Now, the self-proclaimed Rat Czar is branching out with a venture inspired by another one of his interests: vintage Italian scooters.
"I am a scooter nerd," he says. "I collect Vespas, and really anything odd."
When he acquired his latest purchase—a rare Vespa Ape made in Italy—he was surprised to find that it came equipped with an espresso machine, sink, and refrigeration unit. And, thus, the coffee cart Park and Perk was born.
"I was like, 'I guess I'm opening a mobile coffee business,'" Fouse says, with a laugh. "I love coffee and I love scooters, it was perfect."
Park and Perk recently hit the streets selling brews that make use of local Zeke's coffee blends. Inspired by the European coffee carts that Fouse visited while traveling in Florence a few years back, the scooter peddles drip coffees, lattes, cappuccinos, mochas, and other seasonal java drinks.
The cart has already popped up at local events and small businesses in the area. Once the spring hits, Fouse is hoping to plan a more concrete schedule with stops outside of hospitals and at weekly food truck rallies. 
"I'm really excited to have it evolve to where I start to meet regulars," he says. "I really like people. You can go buy a cup of coffee anywhere, but I want this to be more of an occasion."
Fouse compares his vision to other small businesses like The Charmery, where he says patrons have more of a holistic community experience, rather than simply buying an ice cream cone. He is even toying with the idea of hiring a vocalist to sing for guests as they purchase their coffee.
But, when it comes to the rat merch, patrons are going to have to look elsewhere.
"I could technically sell merchandise, but I've been hoping to keep those two businesses separate," Fouse says. "From the moment that people are within the radius of my cart, I want them to feel like they're in Florence."