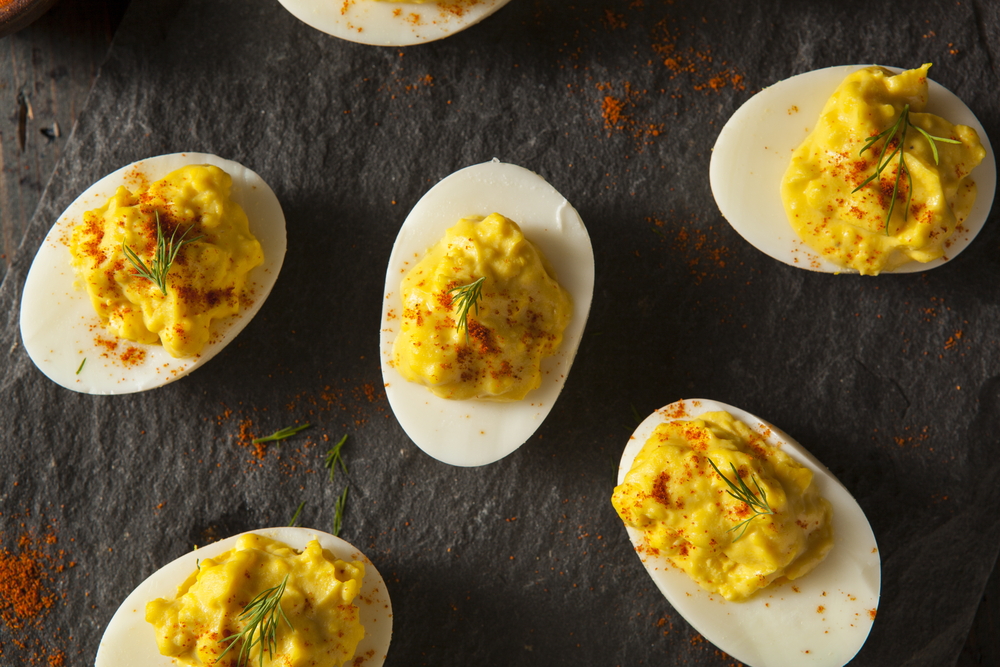 Shutterstock
"My name means the shape I am…" —Humpty Dumpty
Martine Richards was in bad shape, afraid she was going to wind up with egg on her face.
Her party for friends and acquaintances—an afternoon of silliness and vittles, "the dumbest thing I do all year," she said—had always been a manageable affair, held at her home or a friend's house and once in Druid Hill Park.
But this year, as the 31-year-old geared up for the Seventh Annual Baltimore Deviled Egg Pageant, and for reasons unknown, the event took on a life of its own, becoming bigger and more intimidating by the day.
Richards woke up a few weeks ago to find that she had a monster on her hands. And it is set to invade the Single Carrot Theatre at 1 p.m. this Sunday, September 16.
It seems that more than 1,200 people expressed interest in attending Martine's little egg party via Facebook, well over ten times than had ever attended before. The response presented two problems: The Single Carrot lobby near Richards' home in Remington has a capacity of about 100. And even if she could accommodate such a ravenous crowd, could there possibly be enough eggs prepared in time for everyone to down a few?
In the Gospels, the loaves and fishes are not accompanied by a side of deviled eggs.
By the math of most informal events, where a fraction of those who say they cannot wait to attend actually show up, Richard reckons that everything will be fine—especially if the weather is nice so the theater parking lot can accommodate the overflow.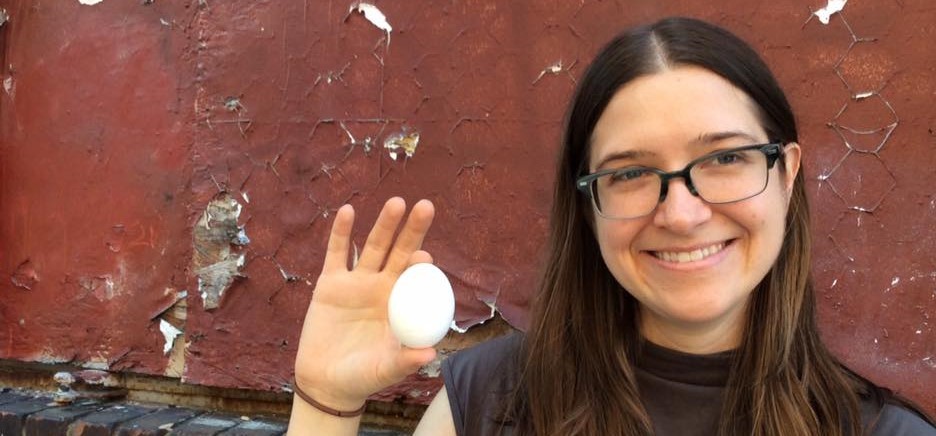 Hopefuls will battle it out in the following categories: "Best Meaty Egg," "Best Meatless Egg," "Best Not an Egg," (let your minds wander), and "Audience Choice."
After a quintet of judges has selected a winner in each of those groups, the most delectable diablo will be crowned "Best in Show," with a tiara and wild applause along with a whole bunch of honorable mentions just for fun.
This leaves a parsley-garnished question on the tip of every great-aunt's tongue: What about the best traditional deviled egg?
"There used to be a traditional category, but it caused too many arguments," said Richards. "Everybody thought their grandmother's recipe was the classic. I got too much push back and did away with it."
Deviled egg aficionado Kendall Jenkins, another Remington resident who runs with Richards' grub posse, believes the quandary over what is a "true deviled egg" falls into two historic classes: savory versus sweet. Even with a divide as simple as that, however, provincial predilections abide.
"You will find people are incredibly loyal to a brand of mayonnaise that they use," said Jenkins, a 30-year-old originally from North Carolina. "I would only dare to use homemade mayo or Duke's in my eggs."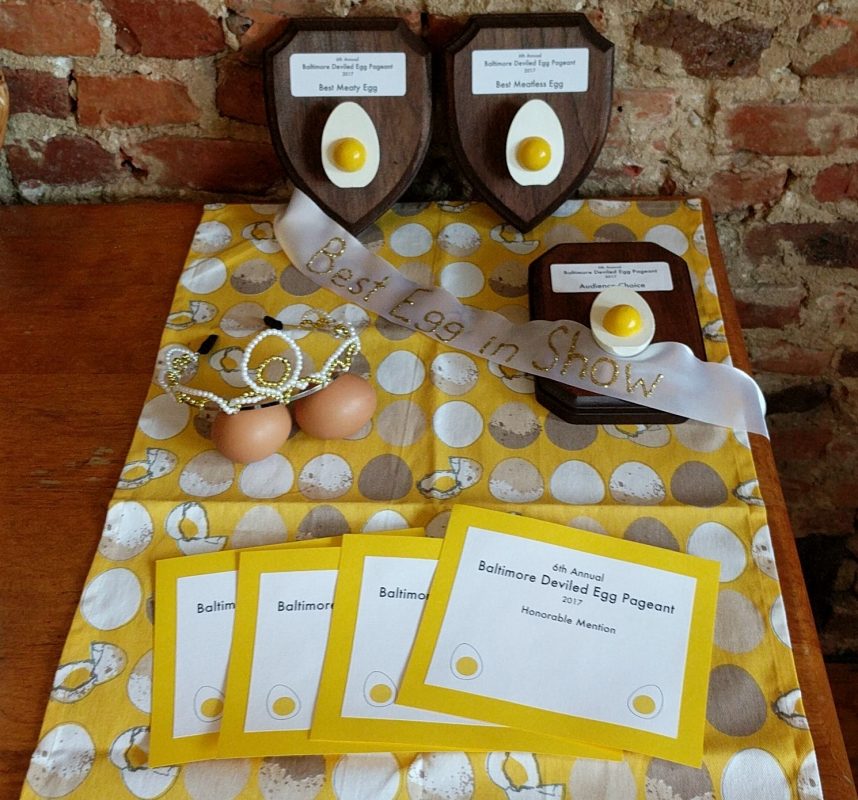 Duke's is decidedly a Southern product, though it appears in groceries as far away as Idaho and Maine. Baltimoreans favor Hellman's mayonnaise ("bring out the best!") while a younger generation of Crabtown cooks prefer a shake of Old Bay on top instead of the paprika that likely dusted the deviled eggs at their First Communion or Bar Mitzvah.
No matter the filling or the garnish, said Jenkins, "appearance is important for the perfect deviled egg. You want the eggs to look neat and clean, and it is crucial to not overcook the yolks so you have a nice bright yellow color to your filling."
In many families, where at least one matron or matriarch-in-waiting holds the title of "deviled egg lady," the debate over what makes for the real thing is as intense as the arguments among Italian-Americans over whose grandmother made the best tomato sauce.
The deviled egg recipe in the family of 2018 pageant judge Courtney Hobson goes back to the first decades of the 20th century, back to the southern Virginia kitchen of her maternal great-grandmother, Brownie Cornelia Morgan Gaines in the Shenandoah Valley town of Staunton.
"My mother learned from her mom and she learned from Brownie. I have eaten deviled eggs for as long as I can remember," said Hobson, who at 28, long before the mantle is typically passed to the next generation, has become "the deviled egg lady" in her family.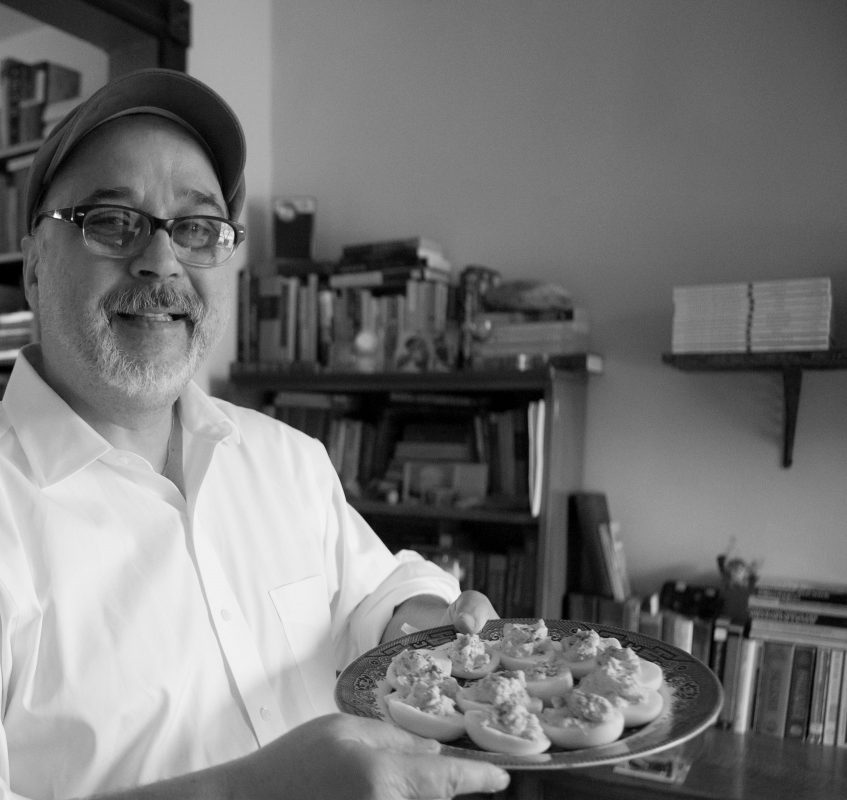 Certainly, there are families in which the hallowed (and hollowed) honor of filling a cut-in-half-and-scooped-out hard-boiled egg with a whipped yolk concoction belongs to a man. But that seems to be as untraditional as a deviled egg made with chicken liver mousse and pureed pear, an entry in a previous Richards contest.
The Hobson family recipe follows tradition, one that Courtney sampled as a young "official taster" before the goodies were set out with the potato salad, sliced ham, and dinner rolls at family gatherings.
"It has to have a good balance of vinegar and mustard," said Hobson, who uses wet mustard where Brownie was partial to dry. As a kid, she said, "I knew [the filling] was just right when it wasn't too vinegary—the mustard helped to calm it down but the relish still gave it some kick."
While Courtney will be making Hobson family deviled eggs for "the judges circle," as will her fellow jurists, everyone outside of that circle be forewarned.
"I typically don't trust most people's deviled eggs," she said.