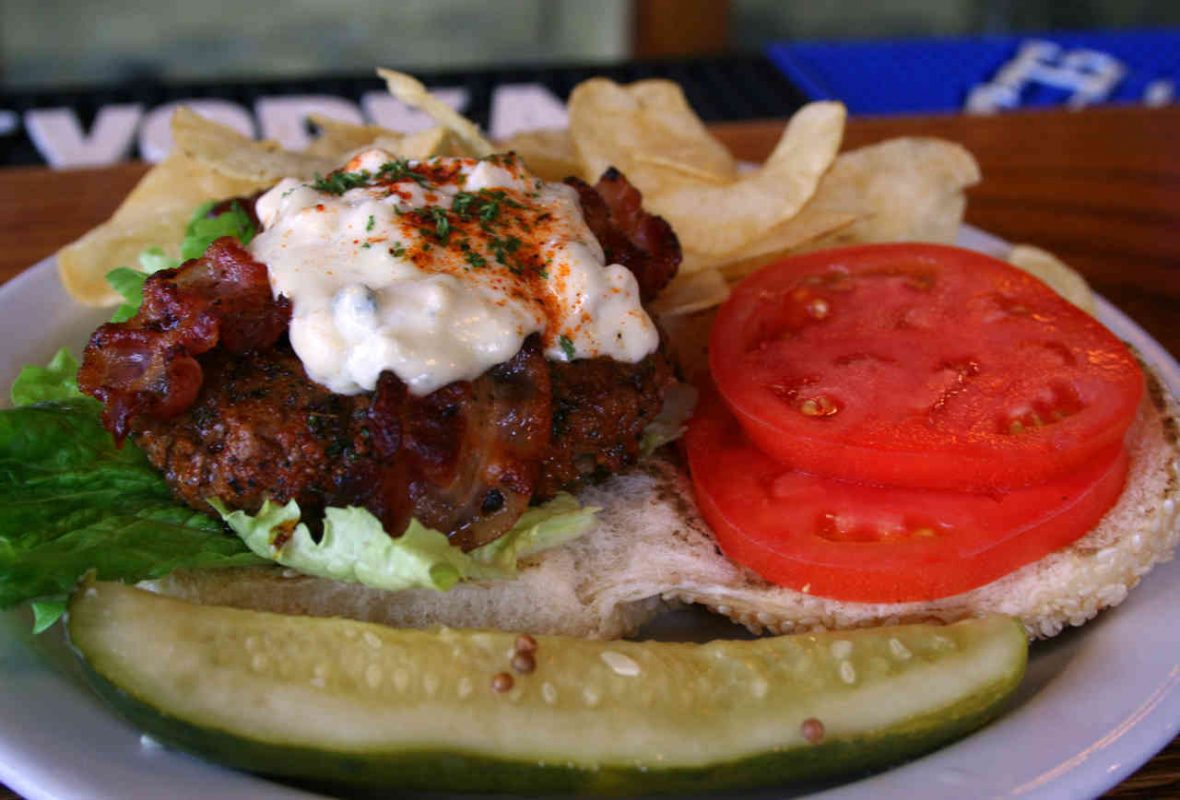 Courtesy of The Dizz
Baltimore neighborhoods are constantly evolving and it's safe to say that Remington has officially experienced a renaissance.
"I was born and raised in this neighborhood, so I've seen it go through quite a few changes," says The Dizz general manager Elaine Stevens, who has worked at the restaurant for 27 years. "But I wouldn't live anywhere else. I love the people here. It's just a great place."
To commemorate Remington's history and bright future ahead, locals came together last spring to host the first-annual Remfest—a street festival that coincided with the centennial of some of the area's most celebrated properties.
"We think we have something pretty special here," says Dan Scott, a partner at Charmington's on Howard street. "We really wanted to show that off to people, and the festival totally exceeded our expectations."
This Saturday, May 11, food vendors, musicians, makers, and neighbors will pack the streets once again for the second-annual gathering along Remington Avenue from 12-9 p.m. Aside from an impressive vendor lineup, family-friendly programming, and live music by Baltimore favorites (think Brooks Long, Bobbi Rush, Soul Cannon, Super City, and Outcalls), there will be plenty of local eats and drinks to choose from.
"To me, it's fantastic that we are doing something to bring more foot traffic and give Remington the recognition that it needed a long time ago," says Sweet 27 owner Suraj Bhatt, who is one of the returning food vendors this year.
Stevens, too, is looking forward to returning to the event with The Dizz, especially on the heels of such a pivotal year for the neighborhood fixture. The owners put their corner hangout on the market last fall, but ultimately decided against selling after seeing the outpouring of support from the community.
"This place has been here forever," she says. "I think [the owners] were ready to just get out of the business, but then they saw how much it means to everybody and that made them say, 'You know what, we're not giving up. We're going to hang in there.'"
Stevens says that the street fair is a great way to strengthen the community bond that she sees firsthand every day at the beloved burger bar.
"That's one good thing about The Dizz being here, we get to meet everybody who moves into the neighborhood," she says. "It's kind of like a little meet-and-greet all the time. And it's the same at Remfest—it's just a chance for everybody to come together."
The Remington eateries, along with a few visiting vendors, will serve everything from burgers and steamed buns to cookies and crab cakes this Saturday. Here's a preview of what's on the menu:
Shrimp salad and Old Bay sausages from The Dizz: Visit Stevens and her team to chow down on portable festival fare including curly fries, bleu cheese sliders, fried pickles with ranch, chicken tenders, and grilled Polish hot dogs. The Dizz will also be welcoming Charm City cookout weather with summer staples like shrimp salad and plump Old Bay sausages.
Ginger Immunitea and cookies from Charmington's: In anticipation of the warm temperatures, Scott and his staff at Charmington's are preparing batches of their iced Ginger Immunitea—a refreshing sip is steeped with raw ginger, lemon, and honey. The shop will also be pouring iced coffees and selling its fresh-baked cookies in flavors ranging from vegan banana-walnut to classic chocolate chip.
Bombay chicken and chana masala from Sweet 27: Best known for its multicultural cuisine and gluten-free sweets, this Remington mainstay will offer a sampling of dishes off of its regular menu. Look out for bombay, penang, and Jamaican jerk chicken served with a choice of one side. Vegan options include veggie fritters, garlic kale, chana masala, basmati rice, and garlic mashed potatoes.
Smoked salmon tacos from Neopol Smokery: Follow your nose to this popular smoked meat stall from Belvedere Square. Owner Dorian Brown will be preparing smoked salmon tacos with pico de gallo and chipotle cream, applewood-smoked pulled pork sandwiches, smoked mussels on the half shell, and portobello wraps with feta and field greens.
Crab cake sandwiches and ice-cold oysters from The Local Oyster: Head to the red-and-white pop-up tent to slurp oysters and indulge in colossal crab cake sandwiches served alongside Utz chips. Another highlight will be the team's signature shrimp grilled with butter and Old Bay.
Steamed buns from Ekiben: Get your hands on a pillowy steamed bun from this Fells Point favorite known for its innovative Asian-fusion dishes. Look out for signature buns and bowls like the "Neighborhood Bird" (Taiwanese curry fried chicken topped with coleslaw and fresh herbs) and the vegan "Tofu Brah" topped with spicy peanut sauce.