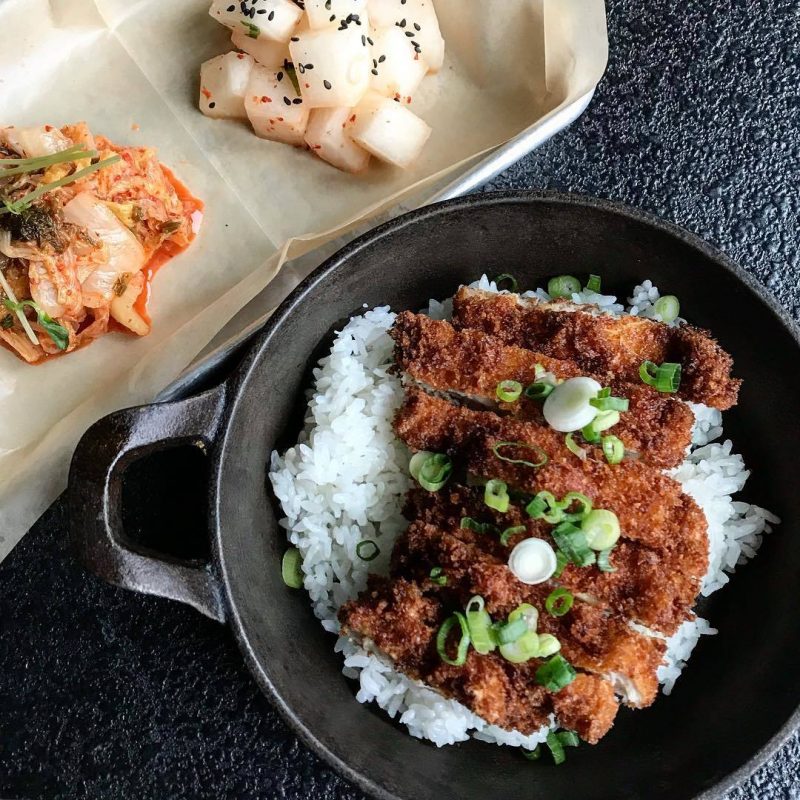 Instagram
Since opening his Korean-inspired cafe Dooby's in Mt. Vernon in 2014, Phil Han has witnessed the city's food scene expand with globally diverse concepts that take diners everywhere from the islands of Thailand to the mountains of Senegal.
"When Dooby's opened, we played a very fine balancing act of introducing some Korean ingredients, but at the same time making a menu that was a little more approachable for the broader audience," says Han, who also owns cocktail bar Sugarvale and forthcoming pizza spot Noona's. "Where we are food-wise as a city has certainly progressed and caught its bearings since then."
Han made it a priority to reflect that evolution when he was asked to assist with the vendor selection process for the newly renovated Broadway Market in Fells Point. It was announced today that the revamped north shed of the 232-year-old property—between Fleet and Aliceanna streets—will house 10 stalls, both old and new, when it reopens in early 2019.
Aside from new locations for Connie's Chicken & Waffles, Taharka Bros. Ice Cream, Thai Street, and The Verandah, veteran vendors Sal's Seafood, Sophia's Place, and Vikki's Fells Point Deli will make up the market. Han himself also plans to introduce two new concepts, an all-day centerpiece bar and an authentic Korean eatery called Old Boy.
The Dooby's spinoff will feature bar seating that allows diners to engage with their servers and learn more about the authentic dishes that Han grew up with. He mentions homestyle options like tonkatsu, a deep-fried pork cutlet, and dakbokkeumtang, spicy chicken braised with vegetables and spices.
"You'll certainly see modern interpretations throughout the menu," he says. "But it's still built so that if my parents were to come in with their friends they would very much feel at home with the dishes that were presented."
While partially inspired by a classic Korean action film, Old Boy's name also pays homage to the idea that, as Han has grown older, has has developed a deeper appreciation for the classic dishes that he grew up eating with his family.
"I used to be that kid who would bring a Happy Meal into Korean restaurants," he recalls. "Now I realize that the food my mom cooked when I was younger is the food that I'm craving more often. This is what I want to eat, and it's a return of a deeper appreciation and representation of where I came from."
Not far from Old Boy's stall will be Han's yet-to-be-named bar, which will offer an array of cappuccinos and lattes in the morning, as well as house made pastries and its own New American-style brunch menu. Situated under a gleaming skylight, the bar will also serve a menu of beer, wine, and cocktails during the evening hours.
Though they're only a few hundred square feet, the goal is for both concepts to have distinct and inviting styles—which will be executed by a hyper-local design team that includes PI.KL Studio, Goodwood Design, and Sandtown Millworks.
"With Old Boy, you'll see a little bit of homage to that old-school Korean look, which generally lends itself to a lot of natural wood tones," Han says. "We just really want to create this warm space where it feels inviting to come over and sit down."
The redesigned north shed, which has sat vacant for more than a decade, is expected to debut in February. Following in the summer of 2019 will be the premiere of The Choptank, a collaborative seafood concept from Atlas Restaurant Group and Captain James Landing, which will open in the neighboring south shed.
Aside from reactivating the Fells Point space, Han is enthusiastic about what a concept like this means for the future of the Baltimore food scene.
"I think sometimes people get a little bit too fixated on what's closing," he says. "But there's definitely some positivity and growth happening in Baltimore. It's an exciting time to see some of these younger food guys getting a shot at a bigger game."