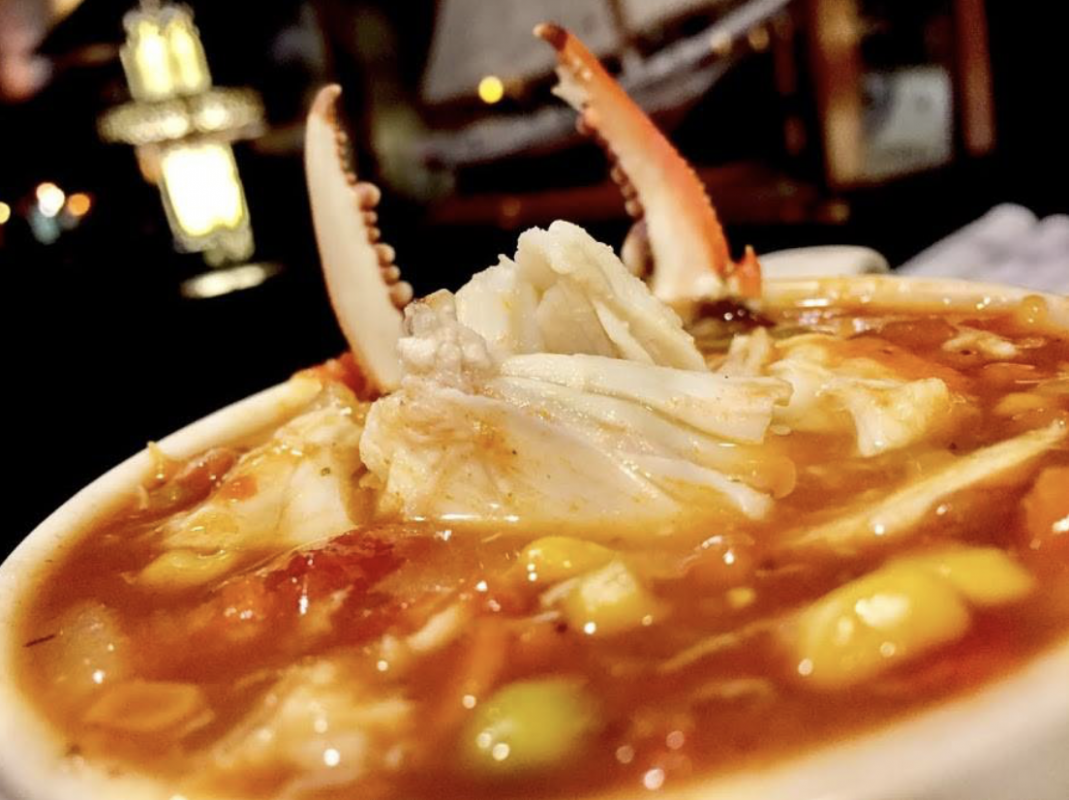 Courtesy of Mama's on the Half Shell
Since opening in 2009, Jimmie & Sook's Raw Bar and Grill in Cambridge has become known for its award-winning cream of crab soup. But some regulars might be surprised to learn that the staple hasn't been on the menu since the very beginning.
"I actually didn't open with the cream of crab," says owner Amanda Bramble. "Mainly because I felt that, if I was going to have one on the menu, it had to be the best."
An Eastern Shore girl through and through, Bramble recognized the importance of serving a quality cream of crab soup. Within the first year of opening the restaurant, a few of her cooks came together to experiment and craft a recipe.
"I remember one of them coming to me and saying, 'Let's do the cream of crab for the soup of the day,'" she recalls. "And I said, 'Okay, but just make enough for the day. Because if it's not awesome, then I don't want any left over.' But, sure enough, it was really good."
Bramble's version, which she says has the perfect consistency, is just one of many iterations of the seafood staple around town. Everywhere from Charm City to the Eastern Shore, area eateries continue to put their own stamp on soup loaded with lump crab and signature spices. And, no matter what their specialty—thick cream of crab or steamy Maryland crab—most agree that a good crab soup is all about the tradition behind it.
"What makes ours special is that it's not that special," says chef Sean Fisher of Mama's on the Half Shell in Canton. "It's an old-school recipe that we've used since the beginning."
The recipe—which incorporates cabbage, potatoes, green beans, black pepper, and Old Bay, and arrives garnished with crab claws and lumps of meat—was created by late owner Patrick "Scunny" McCusker, who drew inspiration from the many restaurants that he worked at along the Eastern Shore.
"Marylanders take a lot of pride in things that originated here," Fisher says. "And when they find a good recipe that they really like, they stick with it."
Owner Billy Hughes of Barracuda's Tavern in Locust Point—which celebrated its eighth anniversary last week—agrees that it's best not to tamper with tradition.
"Every recipe that I use is from 100 years ago," he says. "My crab soup is made exactly the same way my grandmother made it."
Hughes says that the uniqueness of his Maryland crab soup lies in the stock, which is made with crabs sourced by Gaffney's Back Fin in Highlandtown.
"We start with the crab shells, and make our own stock," he explains, adding that it's important to let the stock rest for at least one day before serving. "There are a lot of people who just use a vegetable or chicken stock. But the crab stock gives it some depth that you can't get from any other base."
Aside from the focus on local ingredients, Bramble adds that texture is key when crafting the perfect crab soup.
"There are some cream of crabs that are very thick and floury, and others that are thin and drenched in sherry. But ours is creamy and silky," she says of her soup, which has continually won top honors at the annual Taste of Cambridge Crab Cook-Off. "It's not a thick chowder, but not a light bisque either."
Another Eastern Shore operation that has become synonymous with its cream of crab is Shore Boys—a soup startup that ships to more than 70 stores across the tristate area, including local bodegas like Eddie's of Roland Park and Santoni's in Glyndon.
Co-owner John Dodson started Shore Boys with his business partner, Tim Quinn, after the duo sold their Easton bar Legal Spirits Tavern eight years ago.
He says that the recipe—which has been lauded by local and national media alike—is simple and features a quality cream sherry: "There's a lot of competition out there," Dodson says. "But our soup has just a little bit of a bite. It finishes off really nicely and leaves you wanting more."
Although many Marylanders are food purists (think crab cakes with saltines or snowballs with marshmallow), somewhere along the line, it became a preference for some to mix cream of crab and Maryland crab soup. At Mama's on the Half Shell, for instance, Fisher serves a "half-and-half" bowl of Maryland crab soup topped with a ring of cream of crab.
"Sure, you get the old-school people who don't believe in it," Fisher says. "But if you're willing to try it, it's really good."
Bramble says that, while her personal preference is to keep the two separate, she combines them at the restaurant per customer's requests.
"If you're asking my personal opinion, I think it's against the crab gods to mix them," she says. "But I'm also a big stickler for 'You like what you like, and we'll give you what you want.'"
Hughes, however, refuses to combine the two.
"I think it's absurd," he says, with a laugh. "That had to have been started by someone who wasn't from here. If I have cream of crab on special, I won't mix it. If people want to mix it, they can buy a bowl of each and do it themselves."
No matter which side you come down on in the crab soup debate, something that all locals can agree on is the comfort that comes in every bowl.
"It just makes you feel good," sums up Hughes. "It's one of those dishes that takes you somewhere else."