Let There Be Light
Spike Gjerde brings his devotion to local sourcing to a rehabbed church in Washington, D.C.
Inside a neoclassical church in Adams Morgan, light streams through the massive stained-glass windows illuminating several cloth-bound "bibles" that sit stacked beneath the soaring cathedral ceiling. This isn't just any hallowed space, however. In fact, it hasn't been a place of prayer for more than 20 years, but it is a place of worship—especially when you begin with an elixir from the good book of gorgeously crafted cocktails and linger for the night.
Welcome to A Rake's Progress inside the capital's trendy The Line Hotel, Maryland chef Spike Gjerde's newest restaurant and his first foray outside of Baltimore. The name of the space was inspired not only by Gjerde's nostalgia for time spent raking leaves on a Vermont farm in his youth, but by a series of satirical William Hogarth paintings in which the follies of a young rake, who goes from excess to ruin, were once seen as a social commentary.
Similarly, Gjerde, who studied philosophy at Middlebury College, serves us food for thought. As with his five Baltimore restaurants (including Woodberry Kitchen), at Rake's, he feeds us commentary on the industrialization of our food systems in the modern day. (His message is pretty simple: We don't need to fly rabbits in from France when they're hopping around Liberty Delight Farms in Reisterstown.) Here, with his usual messianic zeal, Gjerde is spreading his locavore gospel to Baltimore's sister city.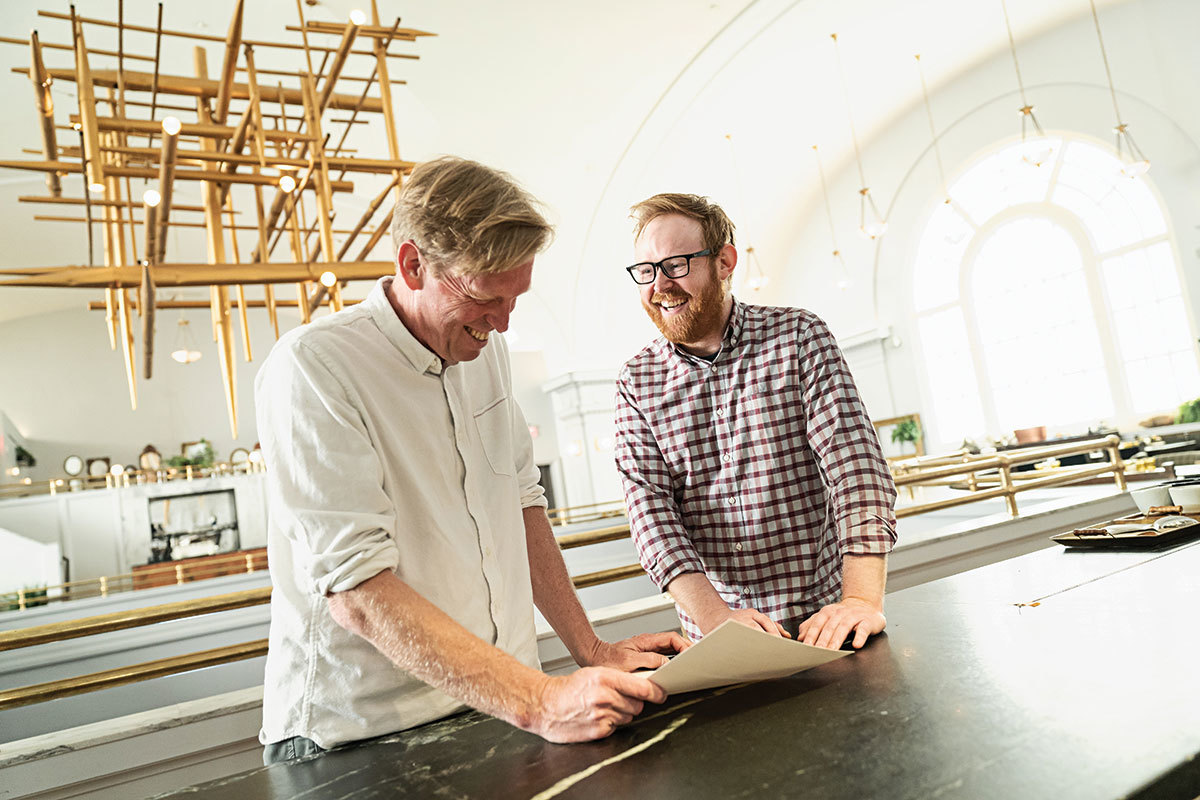 The project has been four years in the making, but if "day ninety-six," as it reads on our menu during one spring visit, is any indication, Gjerde and his disciples—including executive chef Opie Crooks and co-owner/barman Corey Polyoka—are on their way to becoming some of the most important tastemakers in the country.
Since the January opening, devotees have included Chez Panisse's James Beard Award-winning Alice Waters (a farm-to-table icon in her own right), funnyman Bill Murray, and former First Lady Michelle Obama, who celebrated her 54th birthday here. It's hard not to feel reverent while sitting in the lofty space. The church's organ has been replaced by the commercial kitchen, while the pipes have been refashioned into a spectacular chandelier that hangs high above the expansive dining room. A new altar, one where lattes, macchiatos, and Spike-i-attos (a double machiatto and an espresso shot on the side) are made at the coffee bar, is central to the setting. Also of note: Gjerde's mad-for-plaid motif on display at Woodberry has been supplanted by more polished materials such as leather armchairs and horsehair sofas.
While the wine and cocktail lists resemble religious texts (and were made by Baltimore bookmaker Heather O'Hara), the paper dinner menus are stamped with sealing wax and printed with thought-provoking passages of poetry from Richard Wilbur and Henry David Thoreau. Heavy on game and highlighting foods found in the Chesapeake Bay watershed, it feels like an offering. "You won't find lemons or olive oil here," says our server, noting that those products aren't grown or made regionally. But diners will find items sourced from the Chesapeake Bay watershed.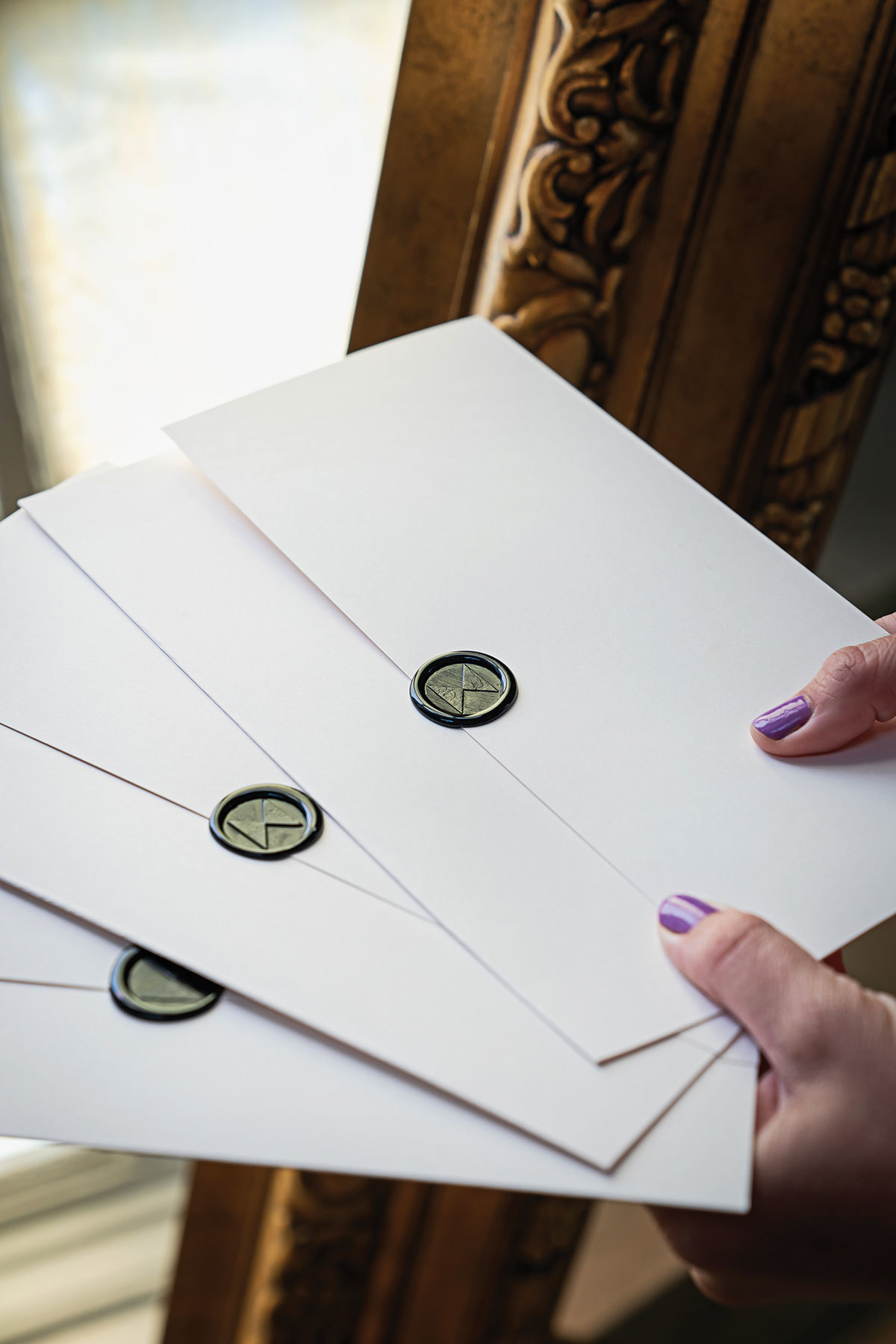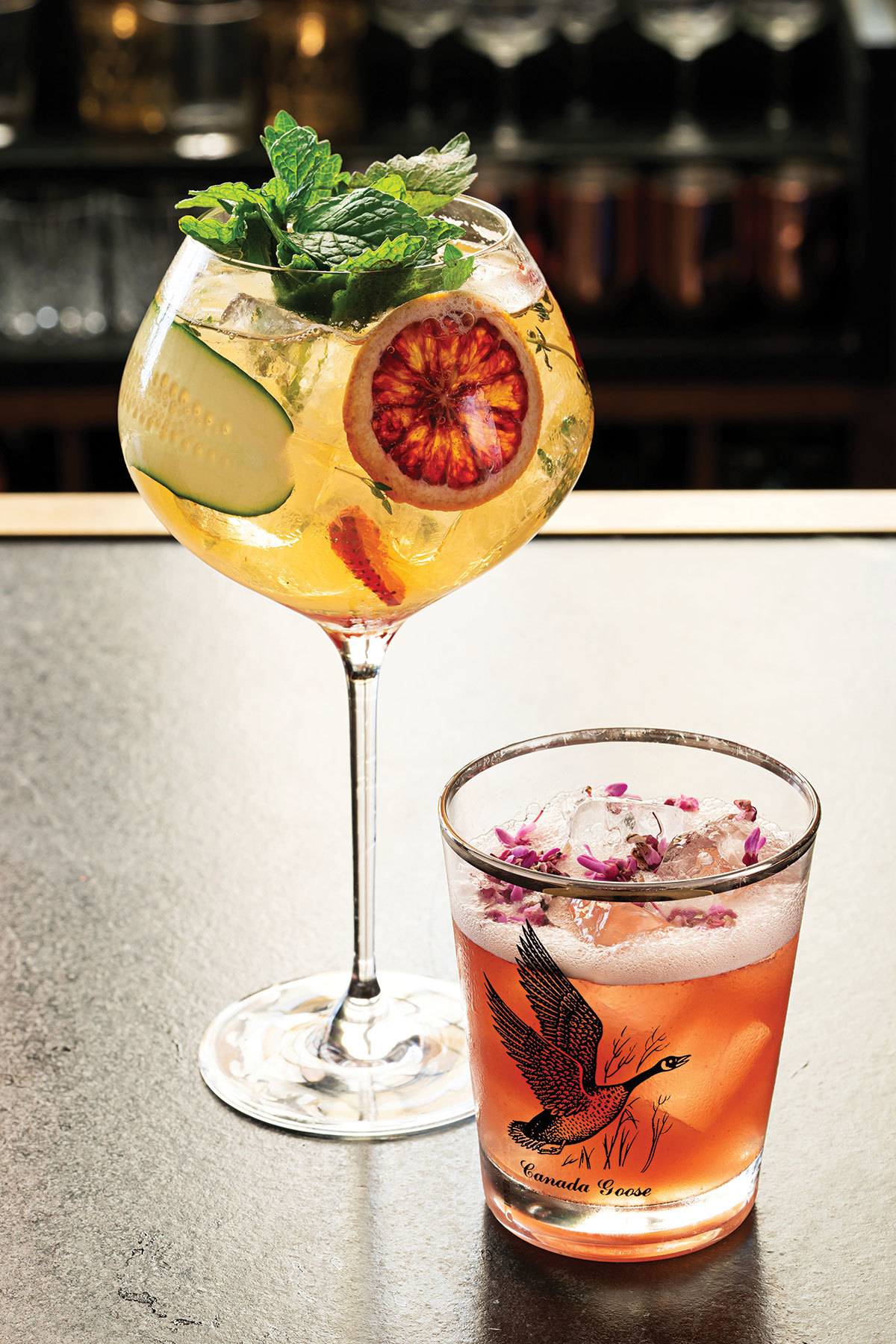 Dinner menus stamped with sealing wax and artisanal cocktails. —Scott Suchman
For our meal, that meant a shellfish tower stacked with tiers of Shooting Point Virginia oysters, a crudo-style Maryland rockfish tossed with apples and turnips, and even local lobster, found 70 miles off Maryland's shores. It also included a charcuterie board of Tidewater ham accompanied by mini sweet potato biscuits, heavenly gougères cheese puffs, and cherry jam made by Lauren Sandler of Gjerde's Baltimore Canningshed.
Another appetizer of note included small plates of fried quail given a clever riff on Korean fried chicken. The small bird was delicate and full of flavor, only enhanced by the Asian addition of pickled cucumbers and gochujang. The shareable, Appalachian-inspired Kilt Greens with crisped ham, rye crumbs, hard-boiled egg, and tossed with a hot bacon-mustard dressing was delicious and decadent. Even the arrival of the dish—presented in a wooden bowl tableside, then whisked away to a carving station for tossing—felt special.
For shareable entrees, our whole hearth-roasted chicken was also presented before being carried away, then carved with craftsman-like precision. The brined bird was paired with buttermilk potatoes and creamed greens, basically comfort food at its very finest. On the ever-changing menu, supper-sized plates included spit-roasted pork loin lacquered in a sorghum-honey glaze and Potomac rockfish with barbequed heirloom marfax beans grown in Southern Maryland, which added wonderful, if unexpected, dimension.
It's a noble mission to be faithful to local sourcing, but it's also a challenge to make food taste this good while sticking to those strictures. Being from Baltimore and understanding Gjerde's mission certainly helped us appreciate the operation, but we also took the pulse of the dining room and watched the dishes arriving at nearby tables. The looks of delight turned into something else after first bites were taken. You might even call it rapture.
---

A RAKE'S PROGRESS: 1770 Euclid St., Washington, D.C., 202-588-0525. HOURS: Mon.-Thurs. 5-11 p.m.; Fri.-Sat. 5-midnight; Sun. 11 a.m.-2:30 p.m., 5-11 p.m. PRICES: Appetizers and small plates: $15-68; entrees: $38-154 (including plates for two); desserts: $5-16. AMBIANCE: Elegant former sacred space.