High Steaks
Bar Vasquez makes us wonder if we are in Buenos Aires or Baltimore.
Walking into Bar Vasquez off Aliceanna in Harbor East is like entering another world. A photograph of a gaucho girl wearing a wide-brimmed hat and sitting atop a white horse draws you in at the door. Lavish leathers, cowhide rugs, Brazilian tigerwoods, and 15-foot palm trees further the fantasy. Live Latin music and the intoxicating aroma of grilled meat permeate the place. Topping it all off is a kitchen crew wearing Boca Juniors caps, in support of the celebrated soccer team. Are we in Buenos Aires or Baltimore?
Welcome to Bar Vasquez, the newest eatery in the Foreman Wolf empire. With its latest spot, the restaurant group focuses primarily on the region in and around Argentina, a place that offers a confluence of cuisines heavily influenced by Spain, Italy, and France. It's a logical follow-up to the Mediterranean-centric Pazo that formerly sat on this site.
Whether it's France (Petit Louis, Charleston) or Italy (Cinghiale), when business partners Tony Foreman and Cindy Wolf fall in love with a place, they don't settle for bringing back a few simple souvenirs. (Foreman has visited Argentina more than 20 times through the years.) Instead, to promulgate their passion, they open new eateries.
It will take more than one trip to Harbor East to get the full experience. Named for chef Wolf's beloved mentor, Marcelo Vasquez, this spot—featuring former Pazo chef Mario Cano Catalán—offers a variety of eating and seating options. While the menu is the same wherever you sit, the lively downstairs area with banquettes, benches, booths, and a commodious bar is more casual. The upstairs, with velvet chairs and white tablecloths, and a DIY whiskey and bourbon bar, feels more fine dining.
There are also decisions to be made when it comes to ordering. If you enjoy grazing, there are plenty of approachable ceviches, soups, and salads. Another option is to commit to a coursed meal with a variety of generously portioned meat, seafood, and pasta entrees, many of which marvelously mesh smoke, sweet, and heat.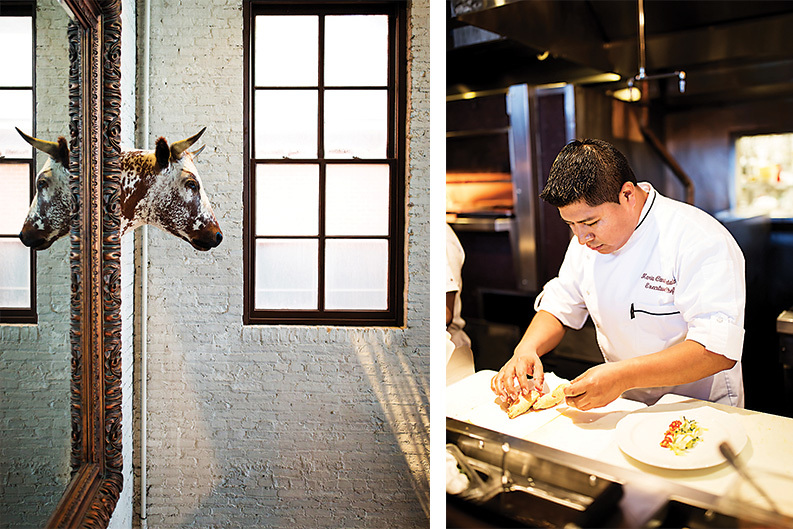 Over the course of several Vasquez visits, I kept coming back to an assortment of empanada starters. By far my favorite was the one stuffed with minced Uruguayan beef and onions, and spiked with cumin and smoked paprika. My dining companions and I also enjoyed the delicate tostadas de cangrejo. Topped with blue crab, avocado, chili, corn, and cilantro, it was the ideal prelude to the heartier entrees. For a sophisticated starter, try the hearts of palm salad with poached shrimp, butter lettuce, avocado, and an ambrosial Russian-dressing-style rosé sauce, comprised of house-made mayo, ketchup, and a tinge of Tabasco and cayenne pepper.
As for entrees, eating meat is pretty much compulsory here. The main attraction is high-quality beef, sourced from world-famous meat metropolises including Kansas (corn-fed T-bone), Chile (wagyu), and cuts coming from Uruguay, a country known for its lean, grass-fed, free-range beef. One caveat: The prices are high—the majority of steaks are in the $59 and upward range—but so is the quality of the product. And the steaks, which can be served sliced, are eminently shareable.
The Uruguayan-sourced ojo de bife is a dark and deliciously charred rib steak sitting almost Zen-like on a white plate with nothing but a line of herb salt. With its juicy center and sublime balance of texture and flavor, it induced serious swooning at our table. For those who like a leaner, lusher cut, go for the melt-in-your-mouth filete de bife, a 10-ounce filet mignon so tender that chewing seems almost optional. While steaks arrive à la carte, they do come with your choice of salsa. Go straight for the spicy chimichurri. The sauce of olive oil, vinegar, garlic, parsley, and basil is basically the state condiment and this version should be bottled.
---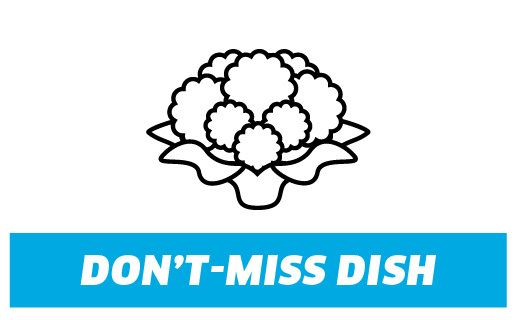 Charred Local Cauliflower
Cauliflower acts as an agent for whatever you add. This dish with lemon chili oil and Parm is a study in taste and texture.
---
Nonmeat eaters will be rewarded with seafood specialties, including the plancha-grilled shrimp from Argentina. Served in a lemon sauce on top of an herbed spaetzle, the sweetness was amplified by lemon juice and hot chili pepper. Side orders are similarly spot on. The simple steamed spinach with lemon and garlic chips and the more decadent smashed potatoes, mixed with house-made ricotta and black olive tapenade, dazzled in their supporting roles.
All of the familiar Foreman Wolf high notes are hit on here—and nothing is left to chance: the impeccably sourced ingredients prepared with care; the polished server who notices that a steak knife has been prematurely used on a starter and replaces it without us ever asking; the pristine table linens steamed before service; the expertly curated wine list (about half of which is well-priced at $50 and under); and the presence of Foreman—a host with the most—as he visits tables and spins his narrative of cows roaming the pampas, an image etched indelibly from his travels across Argentina. "This is the restaurant I've been wanting to do for a long time," he says with palpable pride.
It was worth the wait.
---


BAR VASQUEZ 1425 Aliceanna St., 410-534-7296.
HOURS Mon.-Thu. 5-10 p.m., Fri.-Sat. 5 p.m.-midnight.
PRICES Appetizers: $6-18; entrees: $25-79; desserts: $3-10.
AMBIANCE Gaucho glam.