Review: BRD
R. House mainstay expands to Federal Hill.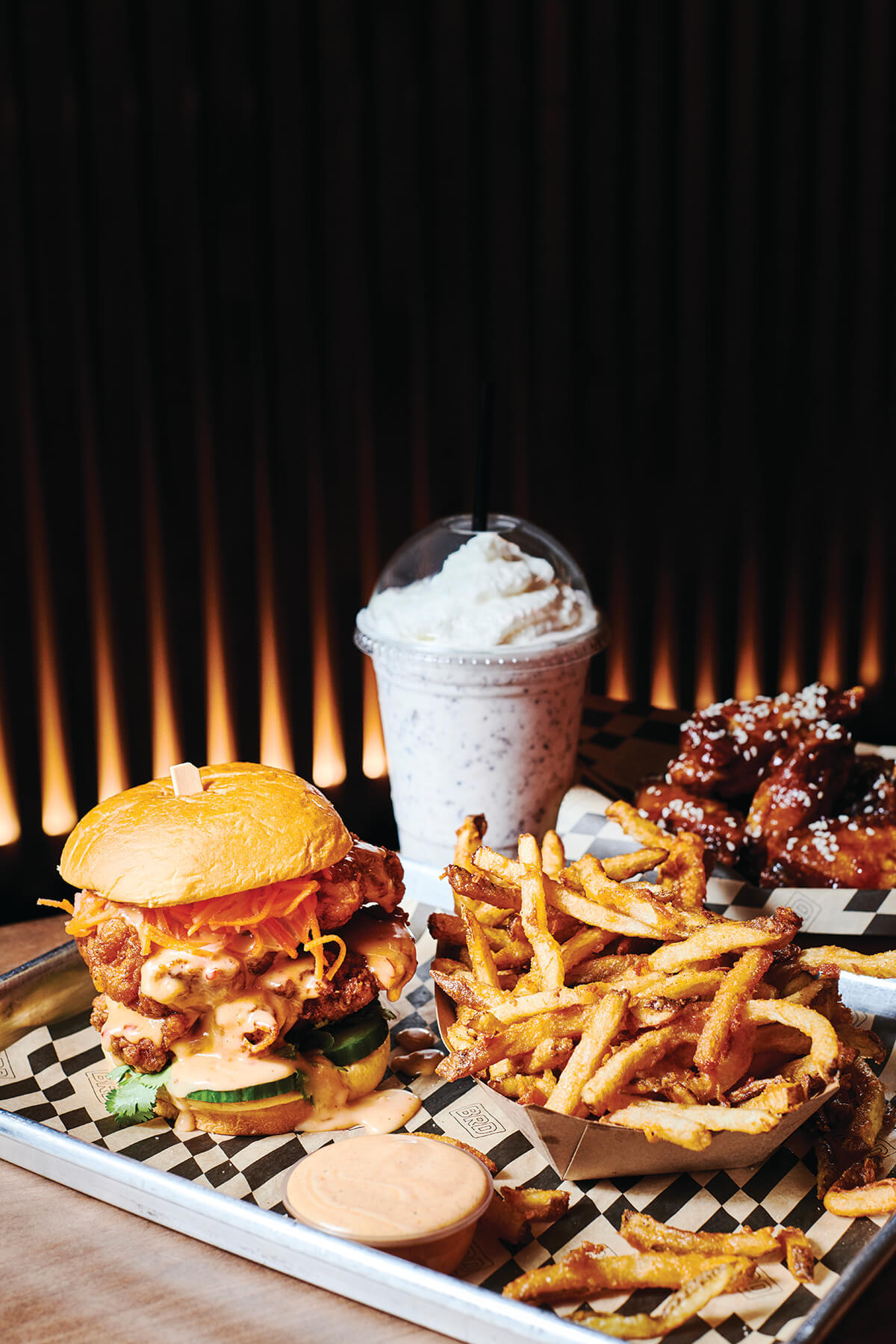 In response to the fried chicken wars that have recently played out on social media, we have only one thing to say: Eat your heart out, Popeye's. Baltimore has a long-standing love of fried chicken. Chicken boxes are a Charm City staple that dates back to the 1930s. (One of the earliest records of the tradition, which is believed to have derived from the packed lunches of the Great Migration, is a 1933 Baltimore Sun ad for a $1 box of fried chicken and a loaf of toasted bread.) And the rise of Royal Farms has put us on the map as a bonafide drumstick destination. Locally, there are plenty of restaurants that take this reputation seriously.
Among them is BRD (pronounced Bird), the R. House chicken-sandwich concept that was part of the Remington food hall's opening roster when it debuted in 2016. In October, owner Alex Janian officially spread BRD's, well, wingspan with a second location on the bottom floor of the new Wheelhouse apartment complex in Federal Hill. Designed by PI.KL Studio, the same firm that built the Remington stall, the new space carries over a similar aesthetic with light woods, touches of red and black, communal seating, and the same counter-service model as the flagship.
But, when it comes to the menu in the larger spinoff space, there are plenty of new additions to savor. Of course, loyalists can count on old standbys such as the "Bmore Bird" sandwich—an inevitably messy but filling affair that stacks two hefty hunks of crispy-fried chicken with house-made pickles, Old Bay, and the signature BRD sauce reminiscent of spicy mayo. There's also the Japanese-inspired "Katsu Sando" layered with cabbage and a tangy katsu sauce, as well as the "Angry Buffalo" dripping with hot sauce in between a soft potato bun.
But, the second location—which is open until 3 a.m. on Fridays and Saturdays to accommodate Fed Hill revelers after last call—also wisely highlights expanded offerings, including an Indian-influenced "Bombay BRD" sando with cilantro and curry sauce, wings tossed in maple honey mustard and Carolina barbecue sauces, hand-spun milkshakes (banana split and PB&J flavors are a hit), and "BRD Bites"—Janian's version of chicken nuggets.
After a recent visit to Mothers' Purple Patio to catch a Sunday afternoon Ravens game, we made our way across the street to sample an order of the nuggets alongside an overflowing box of piping hot, seasoned fries. Although either would have been satisfying on their own, in this case, the dipping sauces took them to the next level. You can't go wrong with a side of orange BRD sauce, but in an effort to get out of our comfort zone, we tried the maple mustard—which provided just the right amount of sweetness to enhance the dunkable snacks to the next level.
While enjoying the eats in the space, diners will notice a glowing neon sign that reads, "Fried and True." It's a fitting mantra—because if you're going to run a fried chicken joint in Baltimore, it has to be the real deal.
---
›› BRD 1104 S. Charles St., 667-210-2222. Mon.- Wed. 5-10 p.m., Thur. 5-midnight, Fri. 5 p.m.-3 a.m., Sat. 11- a.m.-3 a.m., Sun. 11 a.m.-10 p.m.