Brew-haha
Brew House No. 16 reignites a Mt. Vernon firehouse.
The stately red brick building at the corner of Calvert and Read streets pays homage to its former incarnation. Constructed between 1904 and 1908, the old firehouse that's now Brew House No. 16 was reimagined by co-owner Harry Hummel, an architect by trade. He spared no expense in meticulously renovating the space, which was a working station until 1989, after which it was used as an office building.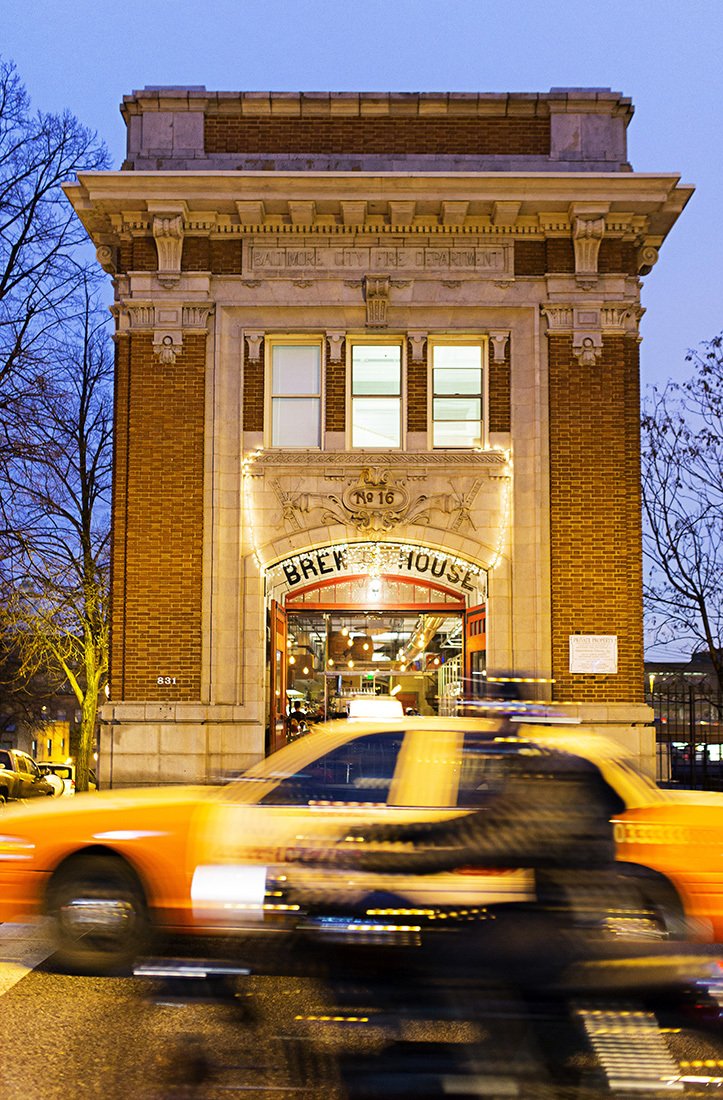 Take time to appreciate it when you enter. Hummel and his son, Ian, the brewmaster, spent two years honing their vision, and the nuances and craftsmanship of the work are striking. The original red wooden bay doors, ornate tile work, high ceilings (which unfortunately contribute to the space's amped-up volume), and iconic brass sliding poles preserve the legacy of the people who once worked—and undoubtedly ate—in the handsome structure.
It's a safe bet that the firefighters weren't washing down butternut squash baklava or pulled duck poutine with espresso porters. Those are among the offerings at Brew House No. 16, which, while it nods to its past, is very much rooted in the present. It is not a small endeavor in either scope or ambition.
We first visited on an unseasonably pleasant mid-November Wednesday evening, about a month after the Mt. Vernon restaurant opened to much anticipation. A sculpture of a bee (Hummel means "bumblebee" in German) and a cheerful, helpful hostess greeted us at the entrance. Every table in the dining room, which seats 80, was filled, so she took our cell number and texted us when our table was ready. (The Hummels hope to add outdoor seating for about 30 in the spring, and have long-term plans to convert the upstairs to a German-style beer garden with entertainment.)
Executive chef Adam Snyder, formerly of Cunningham's in Towson, has designed a menu that leans toward heartiness. We found the most satisfying of his dishes in the starters, shared plates, and pub fare sections. Bacon and oyster pie, which would be a shrewd choice for a cold night, includes parsnips and potatoes in a soupy cream broth. The crab mac and cheese with bacon, made with cheddar, Gruyère, pecorino, and sourdough crumbs, features large chunks of crabmeat, and was baked to bubbly perfection. In a city where the dish too often translates to a watery yellow soup sprinkled with imitation crabmeat, this version is among the best we've had. A baby kale salad, mixed with black walnuts, apples, and goat cheese, was crisp and refreshing, as were pickled vegetables that included cauliflower and beets (though their smell isn't for the faint of heart).
Our entrees were less even. A crab cake, served atop a bed of root vegetables, was moist and tangy but difficult to eat; it disintegrated when we tried to spear it. It sounds odd, but it needed more binder, and probably would be better served with less pungent veggies (save for the excellent charred lemon garlic rapini). The Tilghman Island striped bass, while a nice piece of fish, was undercooked. Smoked pork tacos ached for more kick. (As did the rum- and whiskey-based cocktails we tried, both of which pleased the palate but tasted alcohol-free.)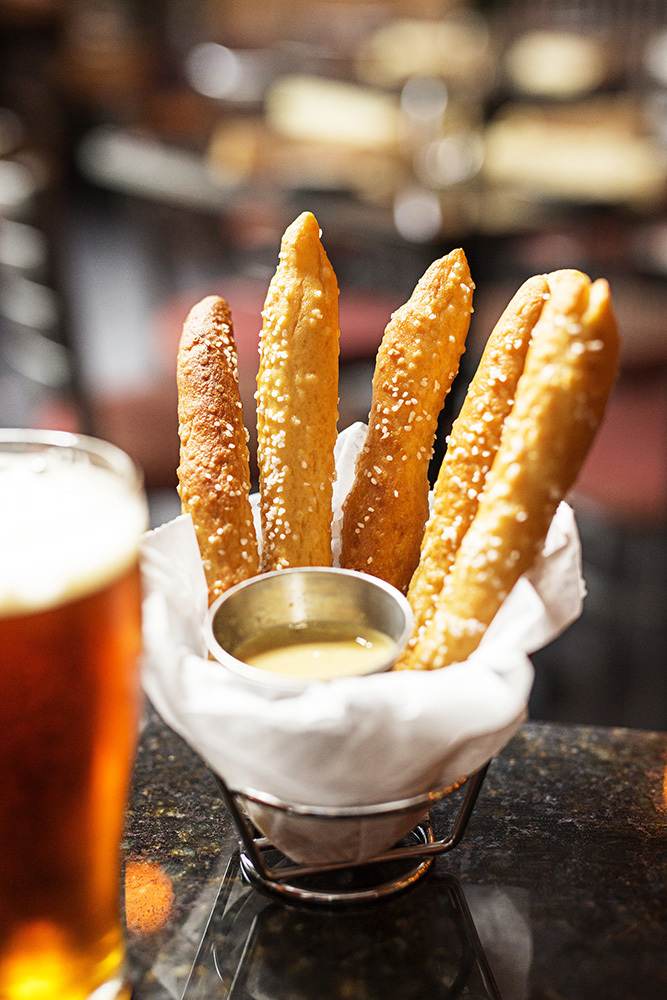 Snyder aims to pickle, cure, bake, and make everything he can in-house. On another visit, we saddled up to the tall marble bar in the back, which is sandwiched between the partially open kitchen and stainless steel beer tanks. We devoured a Roseda Farms Angus beef burger topped with crispy Tasso, roasted garlic aioli, and red onion jam, all of which melded perfectly. With it, we munched doughy and salty breadstick-like pretzels, made from scratch by the restaurant's baker, Josh Feldman-Saunders. Paired with a smooth, but not-too-sweet, Belgian wit, it made for a terrific, casual meal.
Ian Hummel received a brewmaster diploma from the VLB Berlin, a research and teaching institute in Germany. The beers we sampled were properly bodied and eminently drinkable. The amber ale, which checks in at 6.5 percent ABV, is refreshing and a great choice by itself or with food. On multiple visits, however, Brew House's brown ale wasn't available, a disappointing development we'll chalk up to growing pains.
Therein lies one of Brew House No. 16's biggest challenges. The Hummels, who have designed a beautiful restaurant for which they have grandiose plans, have succeeded in certain areas, but have some work to do in others. If the restaurant/brewery's components continue to develop and mesh—which we suspect they will, considering the passionate people running the front of the house, the kitchen, and the brewing operation—the buzz surrounding Brew House No. 16 will continue to spread like, well, wildfire.