Review: Canton's Charming Elephant Brings Laotian Cuisine to Baltimore
The restaurant—the first in the Baltimore area to focus on cuisine of the country—is a family affair.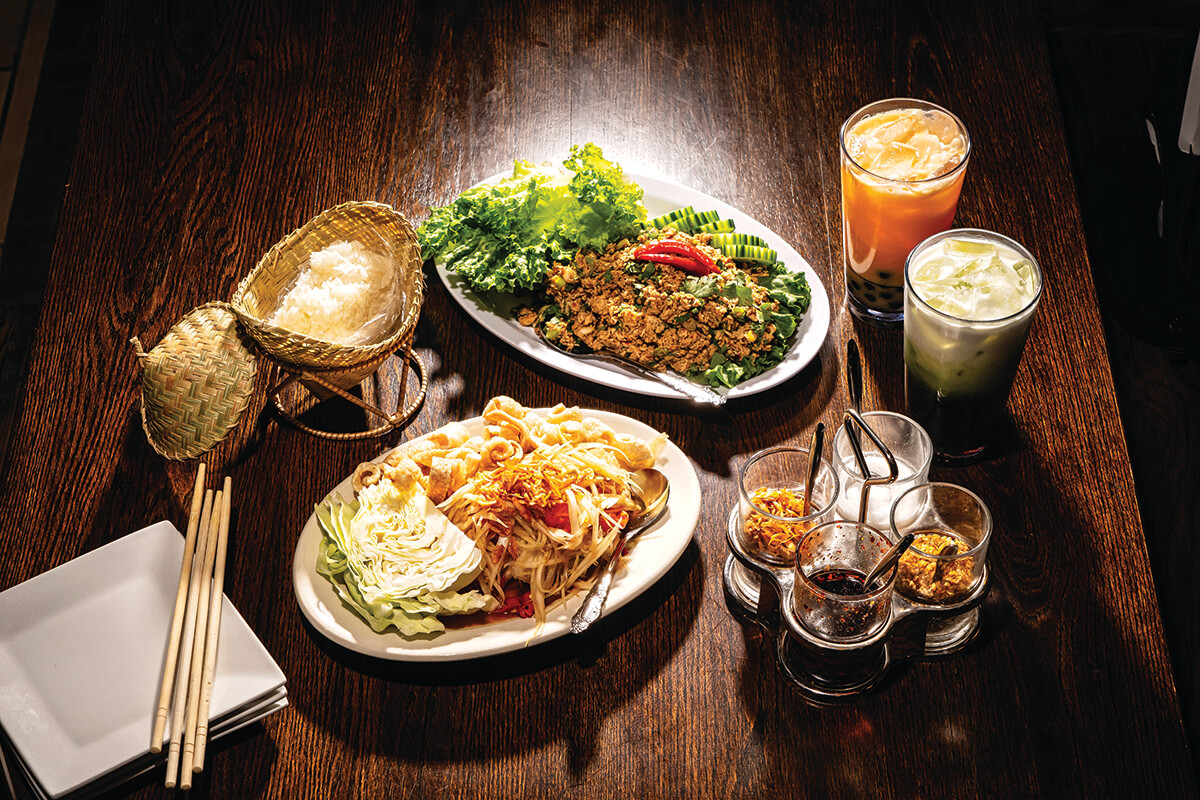 Years ago, when she was working at Citibank in Baltimore, Joy Sivongxay's grilled chicken and egg rolls became the most sought-after bites at office holiday parties.
"People would say I should open a restaurant," says Sivongxay. "They'd say, 'You should bring these flavors to Baltimore.' And I said, 'Well, I'd have to have more than just grilled chicken and egg rolls!'"
Fast forward to late April 2021. Sivongxay and her 21-year-old daughter, Vanessa Sipayboun, an accounting major at Community College of Baltimore County, sit side by side at a booth inside Charming Elephant in Canton.
Sipayboun was working at Baltimore Seafood when the owner of the restaurant, who also owns the building, decided to help her realize her family's dream by renting them the space next door to open a Laotian restaurant. It would be the first restaurant in the Baltimore area to focus on the cuisine of that country. Last October, they opened their doors, while settling on the perfect moniker for the business.
"Before it was named Laos, the country was called Lan Xang, which means one million elephants," says Sivongxay. "Elephants are considered good luck, and we were like, 'We are in Baltimore City, we are in Charm City, so why not call it 'Charming Elephant?'"
The restaurant is a family affair. Sipayboun owns and manages the restaurant, while her younger brother, Jason, 18, works as a server and oversees social media. A cousin, Le Valladares, is head chef. Yet another cousin cooks all of the vegetarian and vegan recipes brought back from a Buddhist temple in their country. For her part, Sivongxay, who came to America as a refugee, toils behind the scenes. Her husband, Khamphoui, who owns an insulation business, works weekends.
Most dishes can be prepared from mild to "Lao spicy," though Sipayboun recommends starting off slowly, with a cuisine she describes as "the perfect balance of flavors with a lot of depth." And though the menu does feature grilled chicken and egg rolls, there are myriad offerings, from the trifecta of Lao cuisine—sticky rice, papaya salad, and laap, which is minced meat atop lettuce leaves—to a selection of noodle dishes and the labor-intensive lao sausage, which takes a team to create, from mincing the meat to stuffing the casings.
In addition, there are dishes that are very much influenced by Vietnam, Cambodia, and Thailand—such as Pad Thai and pho. And for every dish, no shortcuts have been taken. The fermented fish sauce marinade for the spicy green papaya salad, for example, is handmade with palm sugar, crab paste, shrimp paste, anchovies, tamarind, and dried chili peppers.
"We make everything from scratch," says Sivongxay. "We make the type of food I was raised how to cook, and this is how I cook it for my kids. We want our customers come in, we want them to experience how Lao people eat their food."
Customers will also notice the monk-blessed, intricate "money tree" paintings hanging on the walls.
"We bought these in Lan Xang, where the Kingdom of Laos used to be," explains Sivongxay. "They symbolize peace and prosperity."
As smiling patrons slurp pho, it's clear that both are present here.
CHARMING ELEPHANT 2325 Boston St., 443-708-7762. HOURS: Tues.-Fri. 11:30 a.m.- 9 p.m.; Sat. 11:30 a.m.-10 p.m.; Sun. 11:30- 9:30. PRICES: Appetizers: $6.25-9.50; entrees and noodle dishes: $12.25-27. AMBIANCE: Casual comfort.