Review: Char'd City
Could this pizza spot be the next great Hamilton hangout?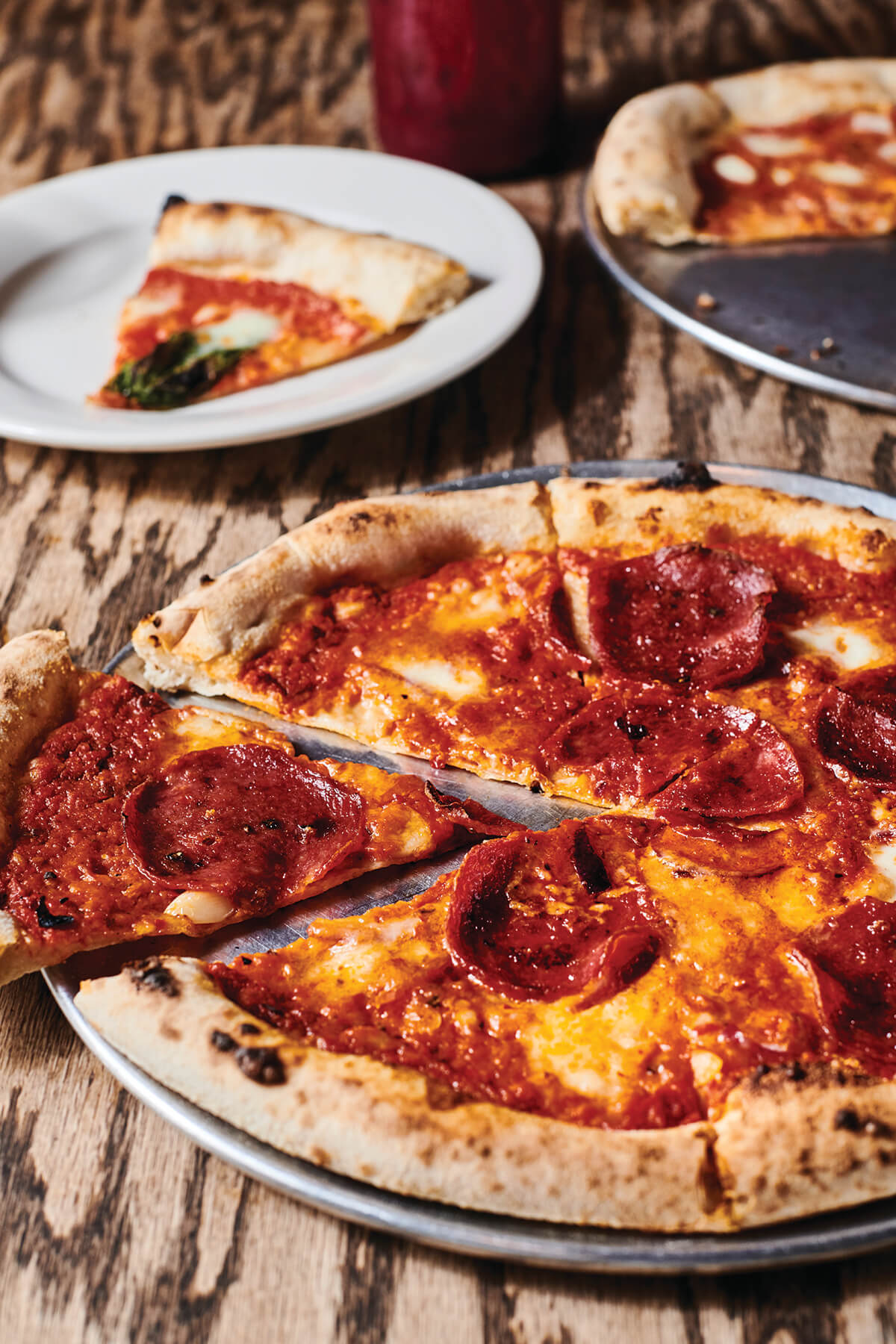 What makes a great neighborhood restaurant? It's a delicate combination of factors, to be sure. The setting needs to be welcoming, but not so casual that it can't accommodate the odd special occasion. The food needs to have broad appeal, but still be interesting enough to warrant repeat visits. And the service needs to be efficient without sacrificing warmth. If a restaurant can meet all three of these objectives, it could be a contender.
We had reason to ponder this question after a recent dinner with friends at Char'd City, a new wood-fired pizza place in Hamilton. Open since September in the space formerly occupied by Clementine—once the gold standard in Baltimore neighborhood restaurants—Char'd City seems to be aiming for that same sweet spot.
Chef Yassine Rmadhnia, a native of Tunisia, and his wife, Sindee Gibson—both veterans of Baltimore's hospitality industry—have altered the space with dark wood paneling, low lighting, a piano for the occasional live performance, and an open kitchen that showcases the restaurant's wood-fired oven that burns at 900 degrees and cranks out pizzas in 90 seconds.
Those pies—with appropriately charred crusts—form the basis of the compact menu, which is rounded out with strombolis and a smattering of Tunisian-inspired dishes. We tried four pizzas—the crab-topped Charm City Pie, the mushroom-laden Tartufo, the spicy Sopressata Picante, and a classic Margherita—and all were tasty, though some flavor combinations succeeded better than others.
Best of the bunch was the Tartufo with its creamy base of ricotta and mozzarella, accented by the umami of black truffles and the zing of garlic and lemon zest.
Less successful was the Sopressata Picante, which was distinguished by the inspired use of harissa instead of tomato sauce but burdened by thick slabs of sopressata. A thinner, more neutral meat topping, like prosciutto, may have worked better. As for the Charm City Pie—a somewhat odd mix of mozzarella, ricotta, and Parmesan cheeses, Maryland blue crab, and cherry tomatoes (why?)—let's just say that Matthew's Pizza's title of best crab pie in Baltimore remains safe.
The most impressive dish we tried wasn't pizza at all, but an appetizer straight from Rmadhnia's Tunisian heritage. The Tajine el Bey—a sort of Tunisian shepherd's pie that layers ground beef, lamb, spinach, and ricotta—was a knockout: savory, flavorful, but somehow still light. It made us wish that Rmadhnia and Gibson would add more Tunisian-inspired plates to the menu. Minor menu quibbles aside, we have high hopes for Char'd City as a neighborhood favorite, mostly because of how fun it was to eat there.
]The restaurant has no liquor license, so alcohol is BYOB, and this helps keep the vibe relaxed and the bill affordable. The big-hearted service reinforces the gaiety. When one of our table's half-eaten pies accidentally crashed to the ground, staff insisted on making a new one at no charge, proving that pizza can be replaced, but there's no substitute for neighborly kindness.
---
›› CHAR'D CITY 5402 Harford Road, 443-760- 1501. Wed.-Thurs. 5-10 p.m., Fri. 5-11 p.m., Sat. 11 a.m.-11 p.m., Sun. 11-8 p.m.