Fine Fettle
Charles Levine opens an upscale dining spot.
Time was, if you wanted to eat well, fine dining was the most obvious option. But as casual spots—and even bars—serving foie gras, lobster tails, and P'tit Basque have started to elevate the scene, that rule no longer applies. Yes, fine dining has been on the wane for years, but reports of its death have been greatly exaggerated. That's because it isn't just about the food. It's about deep wine lists, impeccable lighting, tasteful artwork, and the feeling that a respite from the world—at least for a few hours—is, in fact, possible.
Veteran caterer Charles Levine hits many of these high notes at Citron in Pikesville. For the past 30 years, Levine has worked the wedding, bar mitzvah, and special events circuit. But despite his long and storied career (including feeding the likes of Mick Jagger, Oprah Winfrey, and Ronald Reagan), he felt the need to switch gears and open his first brick-and-mortar eatery.
Perched over a picturesque body of water, Citron, which means "lemon" in French, is a thing of beauty, a cream dream with tasteful touches of charcoal and beige (as imagined by Jay Jenkins of Jenkins Baer Associates), and significant modern artwork gracing the walls (by local artists such as Tammra Sigler and David Brown). And it is set to be one of the most spectacular alfresco dining destinations in Baltimore County.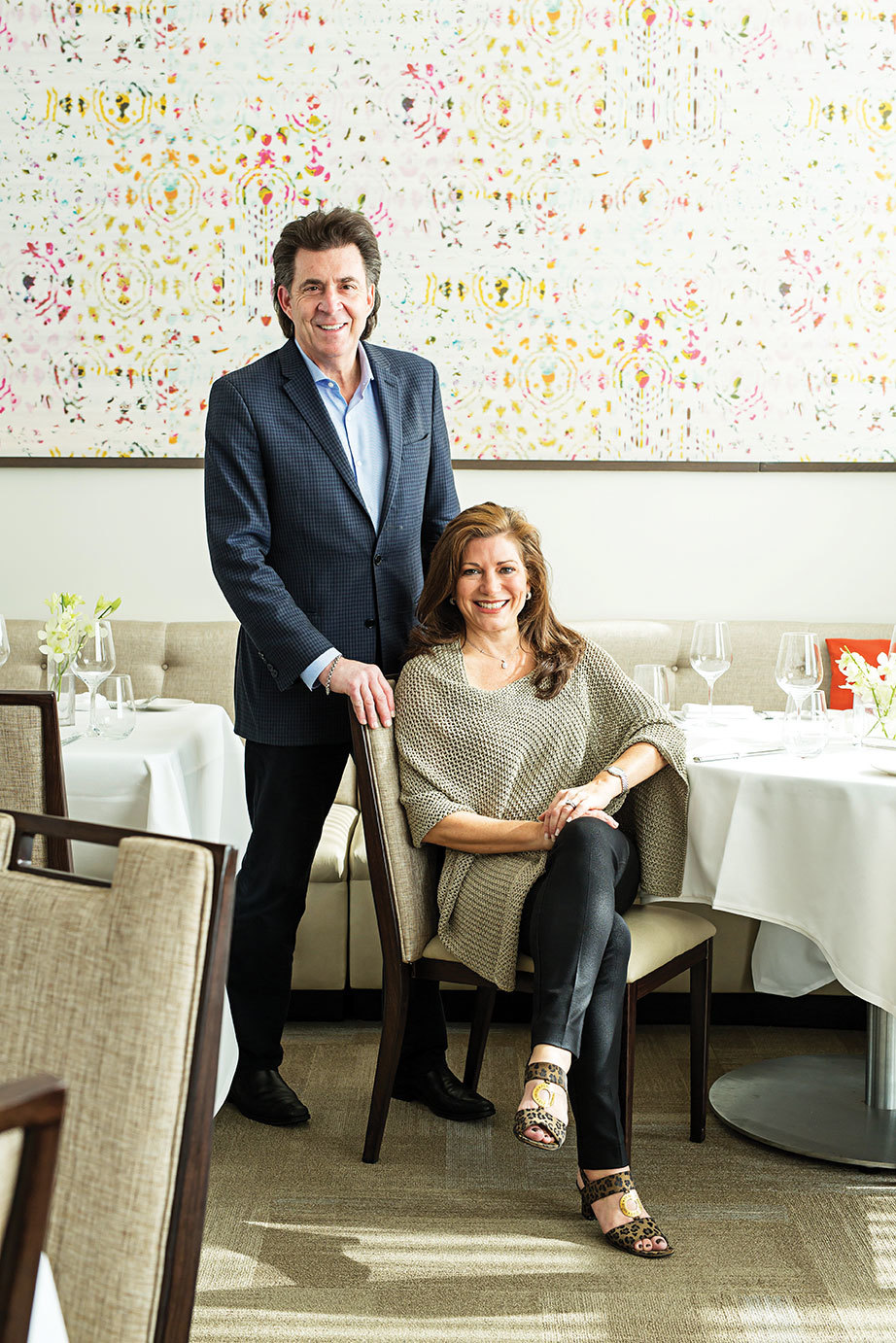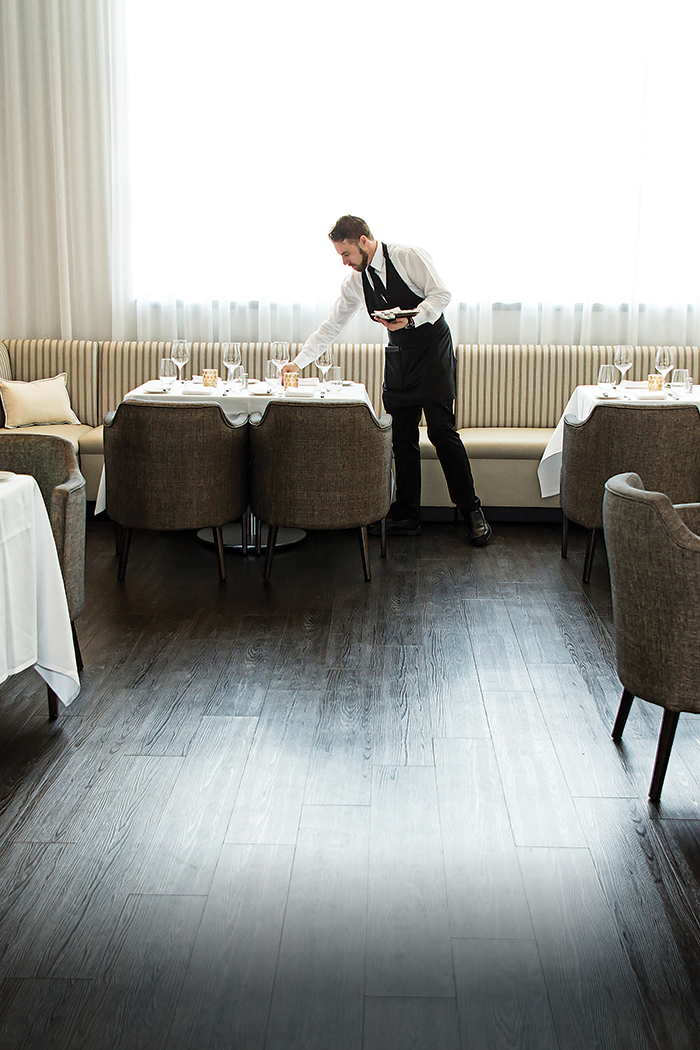 Citron owners Charles and Susan Levine; the dining room of Citron. —Photography by Scott Suchman
Ever since its opening in early November, throngs of Levine's catering customers—as well as new patrons—have been pouring into the dressy dining rooms. On a recent Saturday night, we were among them.
As if on cue, our black-tied server arrived immediately to hand us our menus featuring New American (albeit sometimes faintly generic) crowd pleasers: steak, chicken, and fish dishes, as well as soup, salad, and seafood starters, some of which are augmented by French twists such as an occasional accent of beurre blanc or bordelaise. That said, it was a good thing we were midway through our first round of drinks before we opened the luxe linen books—their golden lettering seemed a portent of what was to come. A vegetarian pasta dish starts at $26, and then prices quickly climb to the mid-$30 range (crab cakes, scallops) and up to $56 for a beef short rib.
To kick off our meal, we started with a so-called "contemporary Caesar salad." The shredded lettuce could have benefitted from a whirl in the salad spinner, and it had very little of the advertised creamy citrus garlic dressing, which was bland, possibly because it was watered down by the wet greens. (Note to the kitchen: Don't mess with a classic.)
---
TUNA TARTARE
Asian-inspired sushi-grade tuna bathed in a lime vinaigrette and served with chili-pepper chips is the one to order on a menu of mostly Continental plates.
---
More successful was a skillet of mammoth mussels served simply with olive oil, sea salt, and a squeeze of citrus. The tender bivalves were prettily presented in a dish that was inset on a metal tower with a bowl below for discarding shells, and the portion was easily large enough to make a meal. One of my three dining companions was similarly pleased with her seasonal greens, a sweet/bitter medley of endive, watercress, spinach, dried blueberries, apple, and pecan brittle in a light Champagne dressing.
With the exception of a deeply disappointing grilled chicken and cavatappi dish (it's never a good feeling when you're certain you could have done it better at home using the same box of pasta), the entrees are where the menu really shines. Duck lovers will delight in the Hudson Valley duck served two ways: a pan-seared breast and a crisp confit leg. Both preparations were paired with a savory side of tangy tamarind mashed sweet potatoes and a tart, poached, cherry reduction sauce that offset the richness of the meat.
Citron is a thing of beauty, a cream dream with tasteful touches of charcoal.

Also zero in on the fish dishes. The grilled Atlantic swordfish was a juicy white hunk of fish ably supported by a zippy tomato-olive compote and flanked by sautéed spinach and a harissa-laced white bean mash that resembled potatoes. And the herb-seared Chilean sea bass, served with a bed of wild mushroom risotto, was fantastically flavorful and filling (not to mention prettily plated).
On another night, we ate in the upscale bar area, a dark, den-like space—the yin to the dining room's yang—with the same offerings, in addition to a more reasonably priced designated bar menu. On this visit, the stars of the meal were the chicken wings—slick with a deeply delicious black-garlic-sesame sauce—and a superb burger comprised of sirloin, short rib, and brisket and featuring house-cured maple Cajun bacon. Service on both of our visits was top-notch, caring, and perfectly paced.
Despite the uneven moments, a pro like Levine will no doubt work out the kinks. And who knows? Maybe fine dining is, in fact, making a comeback.