Going South
Cosima dazzles along the Jones Falls waterway.
From the moment you reach the top of the cobblestone driveway leading to Cosima, you'll be charmed. While the approach—a hairpin turn that leads toward the whooshing waters of the Jones Falls—can be harrowing, as you pull into the piazza-like entrance under a string of white lights, you'll marvel that you're in Baltimore City, not Sicily.
Set inside an old sailcloth factory in Woodberry's historic Mill No. 1, Cosima is the newest venture for Donna Crivello (of Donna's Coffee Bar and Restaurant fame) and Alan Hirsch (co-founder of City Paper). And it is enchanting.
After more than two decades of running cafes, the duo decided it was time to set their sights on a fine-dining restaurant focusing on the Sicilian and Southern Italian foods of Crivello's Boston childhood, where she cooked with her nonna Cosima.
With exposed stone and brick walls, unique architectural details, and spectacular alfresco dining, the multi-level, 150-seat space is simply stunning. And for a spot that only opened in mid-February, it's fast falling into the category of destination dining.
I ventured out in early March just a few weeks after it opened. One of my three dining companions was a dear friend, whose birth name is Fortunato and whose grandfather was known to turn over the table if he didn't like his meal. Fortunato had an instant affinity for the place and welled up while reading over the menu. "Smelts! Like my grandmother and aunt used to make!" he said as he perused the offerings.
Here, you'll find delectable combinations of salt (capers, anchovies, olives), citrus (blood oranges, lemon), and sweet (figs, raisins, and agrodolce, a thick vinegar sauce). Also on offer are dishes with saffron and cinnamon and ingredients like pine nuts and pomegranate that harken back to eras of Arab, North African, and Greek occupation in Sicily.
---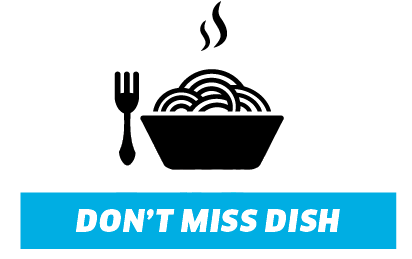 Insalata di Popli:
Cosima features a number of raw, marinated, and cured crudo dishes, but the grilled baby octopus appetizer—complemented by capers, peppers, and celery and tossed in an anchovy vinaigrette—is incredibly flavorful and a unique take on potato salad.
---
In addition to the basket of fried smelts, calamari, and shrimp—fritto misto di pesce—among our appetizers was a small cast-iron skillet of polpette, mini meatballs swimming in house-made "gravy" topped with ricotta that oozed all over the morsels and provided a cooling counterpoint.
Not to be outdone, an order of the grilled baby octopus crudo was also a clear crowd favorite. Simple and sublime, it sat on a salad composed of potatoes, celery, red peppers, and capers, and arrived tossed in a bright, lemony anchovy vinaigrette.
Though I wasn't overly eager to order the grilled sardines appetizer, Fortunato insisted. To my delight, they were divine. Imported from Portugal, the richness was tempered by a sweet and tangy caramelized onion agrodolce rife with raisins. Another fish dish, the house special, a whole grilled bronzino served with blood oranges, had potential. Unfortunately, our otherwise wonderful waiter had no idea how to filet a fish. By the time he was done doing battle with the bones, it was lukewarm and a bit of a mangled mess. (Here's one for the server suggestion box: Unless you are an absolute expert, this is best done behind the scenes.)
You also can't go wrong with a bowl of the elegant grilled half Maine lobster served over a bed of black cuttlefish ink pasta. Served with a charred tomato and sweet lobster sauce, it was a sophisticated interpretation of Sicilian comfort food.
Despite the fact that we had no room left on the reclaimed wood table, we shared one of three wood-fired pizzas on offer. The genius was in the crust—chewy and charred. Despite the weight of the toppings—in this case, prosciutto, broccoli rabe, Gorgonzola, sweet, chutney-like spicy fig mostarda—it was a gravity-defying marvel and we're still regretting that we left two pieces on the pan.
Fortunato finished his meal with a glass of amaro liqueur, as we polished off our bottle of Sicilian Nero d'Avola and followed our server's suggestion to move forward with a basket of sfinci (Sicilian donuts) and a dish of pistachio gelato. "You must be Italian," joked Fortunato. "Everyone is a little Italian, here," the server responded. "Mangia. Mangia." And we obliged.
There's no need to turn over the table here.
---

COSIMA 3000 Falls Rd., 443-708-7352.
HOURS Sun., Tues.-Thurs. 5-10 p.m., Fri.-Sat. 5-11 p.m.
CUISINE Sicilian/Southern Italian.
PRICES Appetizers: $7-16; entrees: $22-38; desserts: $7-9.
ATMOSPHERE Hip, historic rehab.