Review: Grand Cru Market Bar is a Welcome Newcomer to Belvedere Square
The expansion of the beloved wine shop has added a much-needed jolt to the square.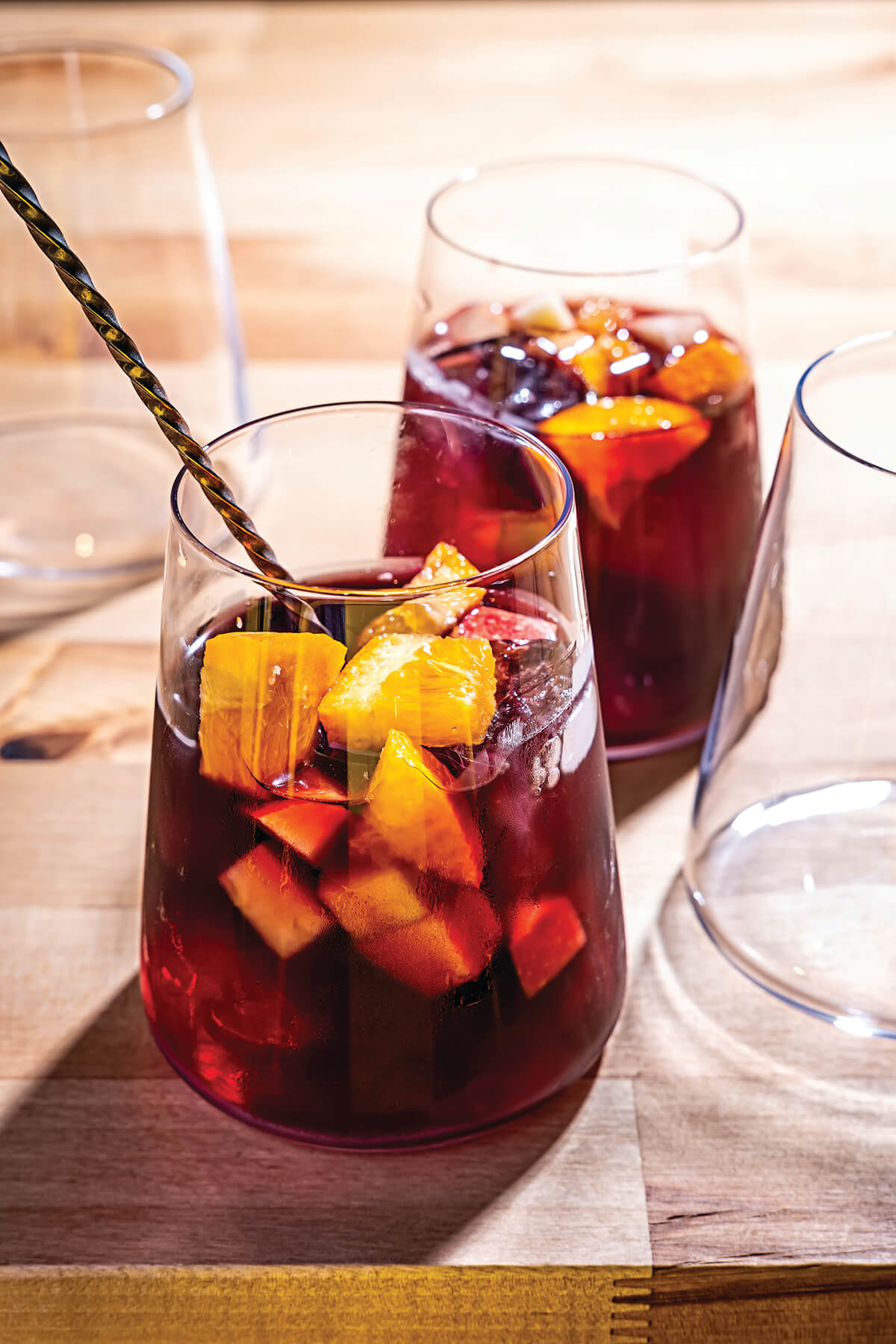 On the list of things to love about the new Grand Cru Market Bar—and there are many—No. 1 is the fact that a bartender will happily pour you a half glass of wine, draught beer, or even make you a smaller-than-standard cocktail. It's a genius idea that's rare around these parts.
Since opening in December, the bar has added a much-needed jolt to the space in Belvedere Square that's sat vacant since the Italian grocer Ceriello closed in 2019. It's an outgrowth of the beloved adjacent wine shop that's been a market staple for years.
Husband-and-wife co-owners Jayce Flickinger and Rebecca Sandler set out to create a neighborhood gathering spot. Judging by the crowds we encountered during happy hour, they've succeeded. The incredibly relaxed vibe imparted by the bartenders is a major reason, but so is the unique lists of cocktails, beers, and wines.
Take for example the 600 Pounds of Sin. It's made with reposado tequila, saffron amaro, sweet vermouth, Aztec chocolate and angostura bitters, and an absinthe rinse. Its potency and curious collection of ingredients make it understandable why the bartender who serves it calls it the joint's most "divisive" cocktail. But the creativity and care with which it's made underscores why it and so much at Grand Cru succeeds. Among the other house cocktails that shine through is the Velvet Waltz, a combination of rye, blueberry amaro, sage, demerara, lemon, and black walnut bitters. It too packs a punch yet is eminently drinkable. Boy With a Coin, Grand Cru's take on sangria, is red-wine-based, with house-infused vanilla Cognac, pomegranate, and spices.
If you'd like, a bartender will make you a classic drink like a Manhattan, Old-Fashioned, or Mai Tai. But an entire section of the menu is dedicated to Grand Cru's twisted takes on these standards. An Old-Fashioned is made with Añejo tequila and chocolate bitters. A "fortified" Manhattan adds port wine to the rye whiskey base. Again, these drinks aren't for every palate, but those willing to take a risk will be rewarded.
On the days we visited, the intriguing list of beers on tap included a marshmallow milk stout, Belgian saison, orange crush ale, black IPA, and a pilsner from Germany. There were plenty of local offerings avail- able in bottles and cans, including varieties from Union, Heavy Seas, and Brewer's Art. There is also wine by the glass, bottle, and on tap, and a smattering of hot drinks like Say A Little Prayer: chai tea with crème liqueur and whipped cream.
After enjoying several drinks and finishing a bowl of spicy basil noodles from nearby Thai Landing (Grand Cru doesn't serve food but invites customers to bring anything back from any stall in the market), we were full and slightly buzzed, but not quite ready to go home. A half pour it was.