Review: Hungry Andy's
Hungry Andy's in Fells Point serves pit beef and more.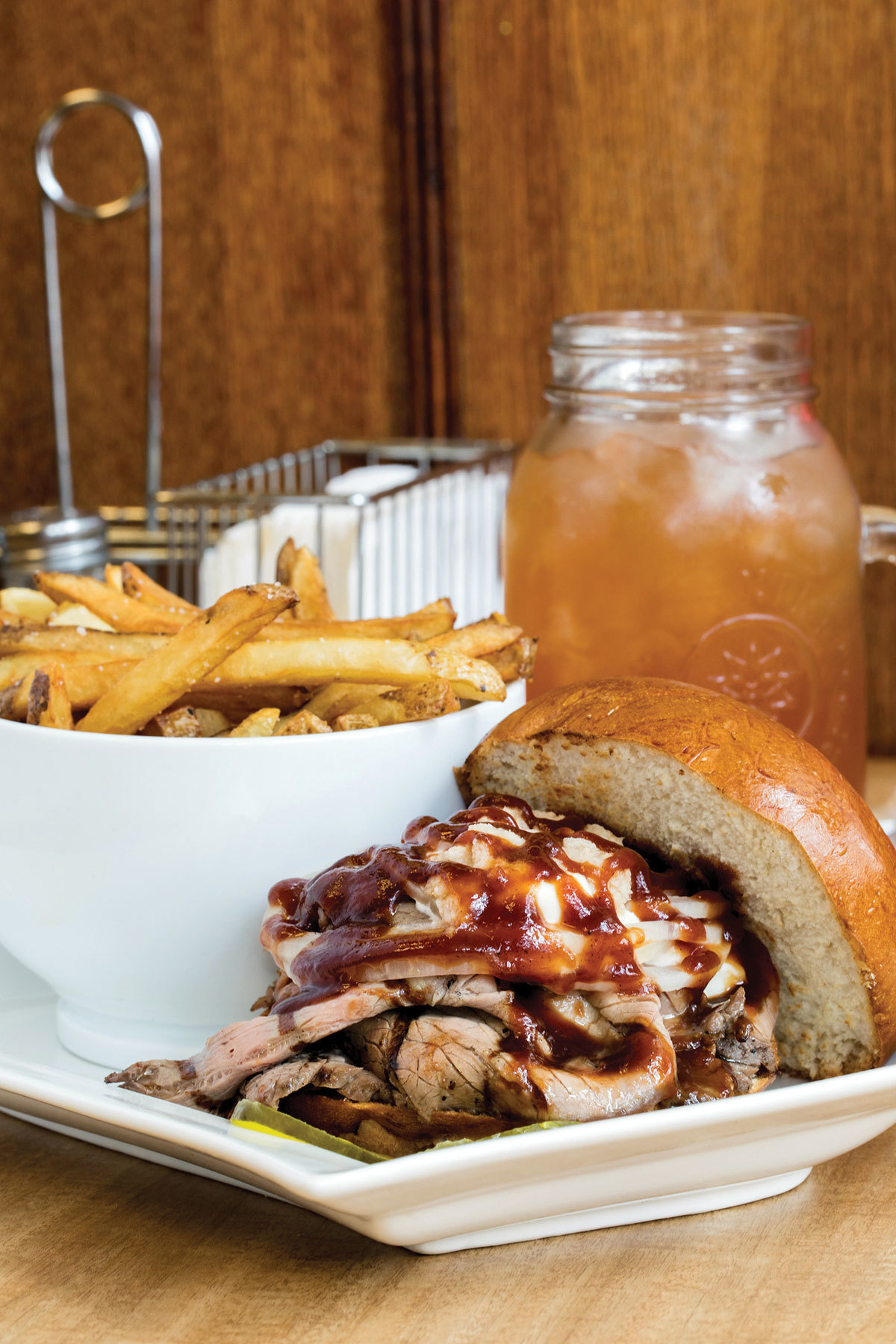 The original Andy has left the building, but caterer Damon Chapman pounced on a chance to take over Hungry Andy's in Fells Point last year.
You could easily walk past the modest storefront located a few blocks from the main thrum of Thames Street. The luncheonette setting with 18 seats may not have the trendiest décor, but it is spotless and cheery. And the personable staff, including manager and Chapman's wife, Rashawn, are welcoming.
On the food front, Chapman is putting creative touches on a menu that stars casual American fare such as ribs, burgers, fried chicken, and Baltimore's quintessential sandwich, pit beef.
Andy's captures the nuances of the signature meat pileup that is usually sold at roadside stands: meltingly tender beef cooked to order, zippy tiger sauce blending horseradish and mayo, and pungent onions, either raw, sautéed, or both.
Rashawn proudly explains the process: A hunk of top-round beef is crusted with spices and cooked in a smoker for several hours until the interior is a succulent pink. It's finished in the restaurant char-broiler, where the meat can be prepared to a customer's preference.
It's our go-to sandwich. Every time we bite into the pillowy roll and pliable folds of meat, we are reminded of our Baltimore culinary heritage. It's the same with Hungry Andy's crab cake. The six-ounce, broiled patty was moister than many, but it is studded with crab lumps. It's also available in 4-ounce and 9-ounce sizes.
We paired the crab cake with a Caesar salad that may have wowed us more if we had asked for the dressing on the side. The vinaigrette, while silky and pleasantly garlicky, saturated the delicate ribbons of romaine lettuce.
A better side dish is the salty French fries. Chapman says the potatoes are fresh-cut and soaked in water to draw out the starch. The sticks are par-fried and then re-cooked for crispness. The result is a crunchy coating with a soft inside that is addictive.
Hungry Andy's also offers lunch specials, which recently included a BLT, grilled ham and cheese, and chicken sliders with French fries and a can of soda or bottle of water for $7.30.
Other drinks are self-serve. It's always difficult to decide between the homemade peach mango iced tea and the homemade lemonade. You won't go wrong with either—or take Chapman's advice and mix them for an original half-and-half beverage, a fun take on the Arnold Palmer.
Desserts feature offerings such as chocolate cake and carrot cake. They're not made in-house, so we suggest heading across the street to Sophia's Place in the Broadway Market for the classic Polish cookies called chrusciki.
Hungry Andy's may have lost its namesake founder, but the new proprietor is carving out his own niche—one pit beef sandwich at a time.
---
›› HUNGRY ANDY'S 629 S. Broadway, 410-558-1869, Mon., Wed., Thurs. 11 a.m.-9 p.m.; Fri. 11 a.m.-11 p.m.; Sat. 11:30 a.m.-11 p.m.; Sun. 11:30 a.m.-9 p.m.