Review: Jabali Coffee Shop Is a One-Man Show in Fells Point
Head off the beaten path to find Alex Dominguez's tiny, idiosyncratic shop that's built up a cult-like following over the last decade.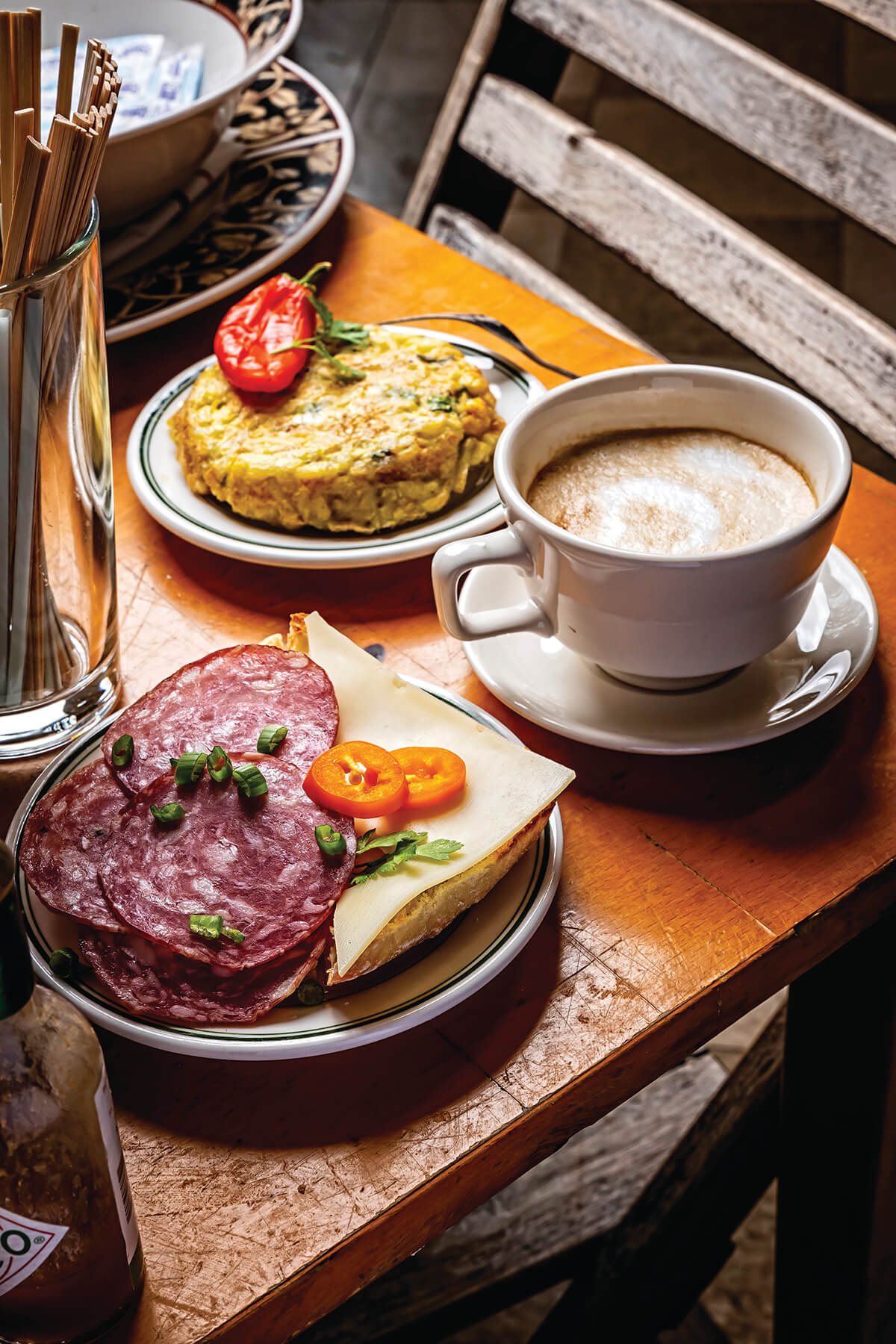 If you're in need of a caffeine fix in Fells Point, you'd do well to head off the beaten path to find Jabali, a tiny, idiosyncratic coffee shop that's built up a cult-like following over the last decade, despite being virtually hidden among the cobblestones and rowhouses.
When you arrive at the corner of Lancaster and Bond streets, you'll see kelly-green doors, a striped awning, and a red sign that says "cigars." It is not a cigarshop, but Alex Dominguez's coffeehouse. Jabali, Spanish for wild boar, is about as opposite from a Starbucks as you can get: an eccentric operation, run by one man as a way of keeping busy during his semi-retirement, making coffee for his longtime neighbors—and visitors who find him via word-of-mouth or accident—one demitasse at a time.
Inside the rowhouse, which Dominguez says dates to around 1795, under an old tin ceiling, a long counter houses coffee paraphernalia, including a burr grinder and burlap sacks of coffee beans, plus random books, pastry cases, and a sandwich press, which may or may not contain the day's biscuit breakfast sandwich offerings, depending on which regulars have already been in for their morning fix.
Dominguez, 61, will invariably be installed above his La Pavoni espresso machine, an Italian contraption with a single over-sized lever, about the size of a blender. A drum roaster for roasting green coffee beans sits in the corner of the shop. Twice a year, Dominguez will drive to a Newark warehouse to pick up bags of Brazil Guaxupé, Ethiopian Yirgacheffe, and Sumatra Manhelding. He estimates that he goes through 500 pounds of beans a year.
Dominguez didn't start his career as a barista. Before he retired, in 2013, he was an Associated Press reporter for 25 years. He'd bought the building in 1993, spent a few years fixing it up—he eventually moved upstairs—and then opened the shop in 1995, though at the time he had no idea what he was going to sell.
"You never know what's going to happen in journalism, right? So it was a side thing," he says one morning, in a break between making the double cortados (two shots of espresso, steamed half-and-half) that are a specialty of the house. He sold random items until he noticed that people kept buying cigars, of all things. "I was selling hundreds of dollars of cigars a day," he says of the curious late '90s cigar craze. Then he started selling various drinks, which evolved into coffee.
Whether it's because he was a reporter for a quarter-century, or because he's the kind of guy who runs a coffee shop for fun, Dominguez is a natural storyteller. The shop was a numbers-running operation in the '50s, he says, and before the massive '40s-era refrigerated case contained food, it functioned as the hiding place for a man who once spent the night there, avoiding the police after a gunfight on the second floor. It now holds ingredients for whatever Dominguez feels like putting on the menu: those breakfast biscuit sandwiches, wedges of Spanish tortilla.
"If it doesn't sell, I'll eat it for lunch," he says. "I have a friend who says, 'It's like Alex's living room, but you have to pay to see him.'"

JABALI: 737 S. Bond St., 443-831-2862. HOURS: Daily, 8 a.m. to 2 p.m. PRICES: Drinks: $1.75-2.75; snacks: $2-3.