Blue Chip
La Food Marketa finds its footing on Quarry Lake.
When chef/owner Chad Gauss opened his wildly popular The Food Market in 2012, he promised "blue-collar food with a white-collar execution" for ever gentrifying Hampden, where old-style taverns patronized by longtime residents mixed uneasily with hip upstarts. Gauss' The Food Market offered a delicate balance of old and new: thoughtfully prepared, updated versions of familiar standbys in a see-and-be-seen space that somehow felt welcoming to everyone. The formula worked so beautifully that, along with its neighbor, Corner Charcuterie Bar, The Food Market tipped Hampden's The Avenue into full-blown dining destination status. There's genius in that.
Now with his new spinoff—the playfully renamed La Food Marketa at The Shops at Quarry Lake—Gauss faces an entirely different challenge: Bring inventive cuisine to an upscale-food desert populated predominantly by takeout joints. The new enterprise succeeds (mostly), and patrons in the surrounding Greenspring corridor have been flocking to the place since it opened in early September.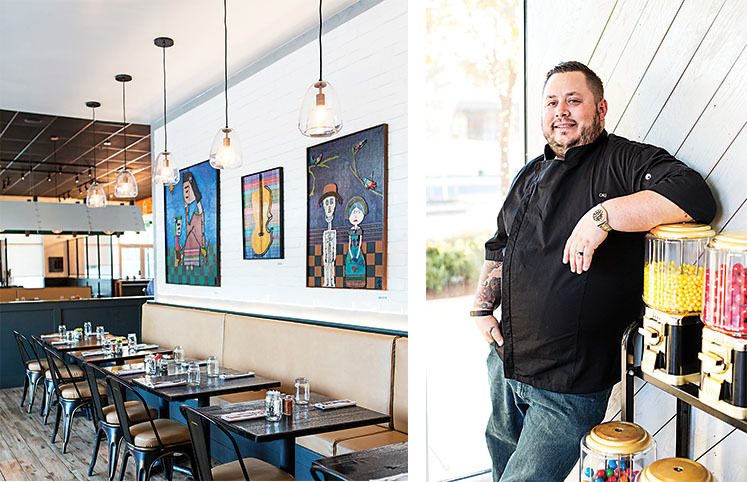 Gauss and head chef John "Johntay" Bedingfield are working a different balance here, creating a mashup of North and Latin American comfort foods: Think Reuben empanadas (complete with Thousand Island dressing) and duck breast sided with yucca (the potato-like root) spaetzle. It's a fun concept, but the place hasn't yet reached The Food Market-like greatness. With a few tweaks, though, it very well could.
Start with the space, a bright white, noisy dining area with a bar and open kitchen to the side and colorful artwork on the walls. It's eminently family friendly, as befits a neighborhood teeming with minivans. But at night it feels a little too bright—a little too fast food—for a place serving ambitious cuisine with an equally ambitious price point. Some low lighting and candles would bring the ambiance in line with the menu.
Bringing the price point in line with the food—at least for certain items—would also help. My dining companion, mulling her $18 entree of three small-ish tacos, asked if she could have a taste of beef from my $28 tenderloin tostada, a generous plate of rosy beef and refried potatoes piled with charred vegetables. The size of those tacos—stuffed with mahi mahi, lamb barbacoa, and charred steak, respectively—might not have mattered if they had been exceptional, but they were, in the words of my friend, "soggy and nondescript." Similarly, a stuffed-squash entree looked beautiful, with its stuffing of roasted corn and burnished pinto beans surrounded by orange squash. But the stuffing lacked the rich play of flavors promised by its presentation.
---
Poutino
A passel of crispy fries dusted with spice are striped with mild, creamy "fondito"—a variation on fondue—and an exemplary mole hinting of chocolate and cinnamon. Dotted with fiery-sweet pickled jalapeños and green onions, these fries hit all the flavor points, like the proverbial party in your mouth.
---
More pleasing were the small plates we tried, although we puzzled a bit over the distinction between the ones deemed "little" and those that fell under the "small" category. Among the former, we tried a large tentacle of charred octopus with dollops of chorizo chimichurri and grilled onions, and the crispy, spicy street cauliflower with lime chili mayo. Both were delicious, but we wondered how in size or price they differed from our "small" serving of poutino, a variation on the Canadian french-fried concoction known as poutine.
Whichever way they're categorized, you could make a meal just ordering from this nonentree section of the menu. Among the more intriguing offerings that we didn't try were mussels vieja in a broth studded with red peppers, olives, and capers, and a pupusa stuffed with duck confit, Brie, and apples. Our favorite part of the meal may have been dessert, as recommended by our accommodating waitress, who'd also turned us on to that tenderloin tostado. She steered us toward the Crazy Banana Milkshake, which did look crazy and tasted crazy good. A banana shake arrived in a mug, its sides encrusted with a corn-flake-popcorn concoction "glued" to the mug with caramel and Mexican chocolate. So although La Food Marketa hasn't risen to the level of its Anglo cousin, we're guessing that its enterprising owner will work the formula until it does.
---
LA FOOD MARKETA 2620 Quarry Lake Dr., 410-415-0606.
HOURS Sun.-Thu. 5-10 p.m., Fri.- Sat. 5-11 p.m., Fri.-Sun. 9 a.m.-3 p.m.
PRICES Appetizers and small plates: $8-18; entrees: $16-32; desserts: $8.
AMBIANCE Family friendly.