Starry Night
Magdalena takes its cue from Michelin-starred spots.
Although Baltimore has seen a spate of swanky restaurants open in the past few years, true fine-dining dens have been eclipsed by eateries adopting a more casual ethos. (Sayonara, silver. Later, linens.) Enter Magdalena, a sumptuous spot inside Mt. Vernon's luxe Ivy Hotel. While Magdalena puts the fine in fine dining, it's formal without the fuss, an of-the-moment fine-dining destination where woven plastic Chilewich placemats keep company with refined black Bernardaud porcelain plates.
From the food and drink (in a word, spectacular) to the décor (staggeringly beautiful) and the service (impeccable), we looked for flaws and couldn't find any, though we wouldn't advise giving up that gym membership any time soon; when devising his dishes, classically trained English chef Mark Levy (formerly of the luxury five-star Adirondack Mountain resort The Point) takes a devil-may-care approach to calorie counting. But this is no time for weight watching. With Levy at the helm, Magdalena, which opened in June and is named for co-owner Eddie Brown's grandmother, is not only the best new fine-dining bistro in Baltimore, but one of the best restaurants around—period.
Spanning land, garden, and sea, the menu shows off the range of Levy's considerable talents, which are grounded in classic French cuisine along with touches of Italy, Korea, Vietnam, and Japan, depending on seasonal availability. On any given night, you might find Nova Scotia salmon sashimi with cucamelons (bite-sized watermelons) and Asian pears or pub-influenced fare from Levy's native England (where he won Gastro Pub Chef of the Year in 2007). And while Levy was schooled in the culinary classics at Colchester Institute back in the mother country, his real muse has been eating his way through more than 150 Michelin-starred restaurants, not to mention working in one of them himself (namely the famed Michel Rostang in Paris).
From the food and drink to the décor and the service, we looked for flaws and couldn't find any.

Over the course of two visits, we were dazzled by Levy's ever-changing and inspired fare, including a corn velouté appetizer with robust maitake mushrooms and pork belly; a house-made ruffled ravioli stuffed with sweet, sizable chunks of Maine lobster sitting in a pool of lobster and lemongrass bisque; and a chanterelles starter of tiny, golden Saskatchewan mushrooms topped with a dainty morsel of buttery brioche toast smeared with endive marmalade and capped by an teensy sunny-side-up quail egg. (This dish exemplified earthy and sweet and was a play on the traditional pub dish mushrooms à la crème.)
Other comestibles coming out of Levy's custom-configured Molteni oven included a wild rockfish entree paired with crabs, capers, watercress, and candied eggplant, and a Korean-style wagyu flank steak served with chili jam and also accompanied by a cooling counterpoint—French bean and enoki mushroom sushi-style summer rolls. And while those dishes were divine, the vegetarian offering (at most places, more often a humdrum concession than a menu marvel)—a risotto with shaved truffles, fresh peas, and a fried poached egg—formed the perfect marriage of field and farm. The egg was both crisp and meltingly marvelous, the risotto was slick with truffle oil, and the peas added a hint of sweetness to ground the truffle.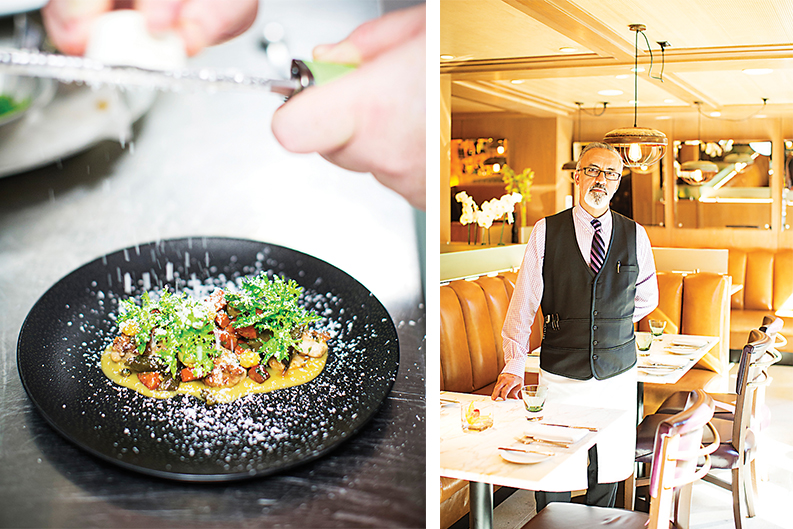 After fare this rich, dessert might feel like an impossible dream, but press on—or miss out. In the course of our visits, we sampled a decadent raspberry and Valrhona chocolate torte toned down by a refreshing house-made almond ice cream. We also enjoyed a lemon cream with pistachio, slow-cooked pineapple, and yogurt sorbet—so pretty we didn't know whether to frame it or eat it. (We chose the latter.)
The ambiance here is as sophisticated as the food—whether you sit in the airy Garden Room among potted herbs and Matisse-like murals painted by a Maryland Institute College of Art professor and her protégés, or nestle in The Tasting Room, a pillowy paradise with brightly colored Ethiopian hats hanging dramatically against stark white walls.
The service is equally stellar. Our waiter, Nezam, who tended to us on both visits, couldn't have been more doting—even proffering pashminas to ward off the air-conditioned chill. And while both of our trips to Magdalena were memorable, our second stay was particularly pleasurable. Sensing our appreciation for the lavishness of the space, Nezam offered an unexpected extra—a chance to tour the hotel. A fresh-faced Ivy staffer, a former history teacher and lover of time travel, he whisked us away across inlaid floors to the Gilded Age, sharing stories about the former private 1889 mansion belonging to banker John Gilman.
It was the perfect nightcap to one of the nicest nights we can recall in our 16 years of living in Baltimore.
---

MAGDALENA 205 E. Biddle St., 410-514-6500.
HOURS Tues.-Thurs. 5:30-9:30 p.m., Fri. 5:30-10 p.m., Sat. 5-10 p.m.
PRICE Starters: $18-25; entrees: $34-49; desserts: $13-17.
ATMOSPHERE Elegant eclecticism.