Review: Noona's
Noona's keeps it casual in Bolton Hill.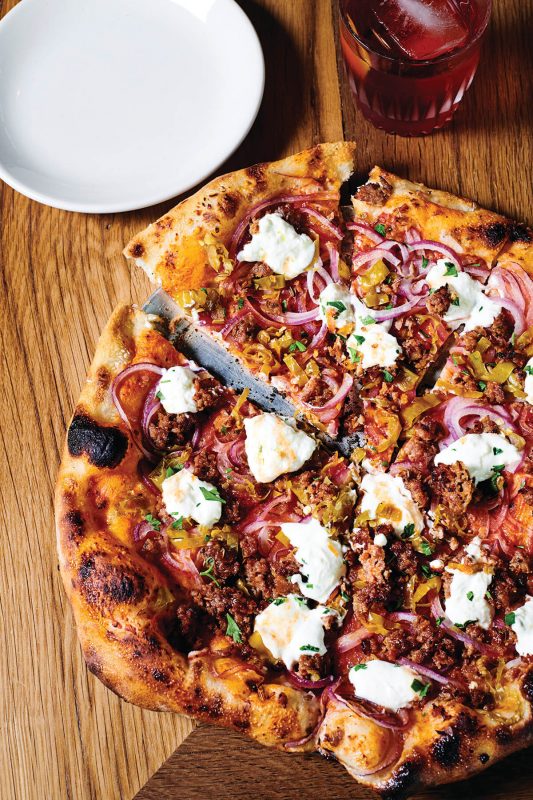 The Bolton Hill district continues to remake itself into an inviting cloister for residents and visitors alike. Narrower driving lanes, well-marked crosswalks, new curbs, and a dedicated bike lane have tamed Mt. Royal Avenue's traffic, rendering it less of a speedway and more of a promenade. The tendrils of new openings probe this revitalized block, and Noona's is the latest arrival.
Owner Phil Han's credits include the Asian-inflected Dooby's on North Charles and laid-back cocktail bar Sugarvale, as well as Fat Tiger and Old Boy's in the newly renovated Broadway Market. Noona's brings an Italian-inspired menu to students and longtime Bolton Hill residents alike, without white-tablecloth prices. On our visit, we were welcomed by an airy space with a minimalist aesthetic accented with cool metals, warm woods, and restrained dashes of color.
From bar stools to high tops to banquettes to outdoor tables, we had our pick of seating options. We took our seats inside and checked out the menu while sipping inventive cocktails, then began our meal with two small plates. We were delighted by fava beans in the farro salad, accompanied by roasted turnips, earthy sorrel, and bright pickled ramps. We also enjoyed the roasted broccoli's interplay between zesty lemon accents and piquant tellicherry peppers.
As we polished off these delicious starters, we were enticed by the pizzas passing by, ultimately indulging in The Bambino. A toothsome and satisfying sourdough crust provided the foundation for a succulent dance of flavors—juicy fennel sausage, red onion, creamy ricotta, and spicy honey. We loved this spirited combination and were tempted to polish off the whole pie right there, but other plates beckoned to us, starting with the soft crab special.
This was offered as a sandwich or on its own, and we opted for the naked crab. Our crustacean arrived lightly battered and fried and accompanied by tartar sauce. The combination was beautiful in its simplicity and left us wanting another. Instead, we went with the roasted pork belly.
Here, chef Cai Lindeman (formerly of the Michelin-rated The Dabney in Washington, D.C.) revealed his understated creativity and sense of humor. Richly fatty pork belly arrived on a bed of charred cucumber, pickled mustard seeds, grilled onions, and radicchio. A dash of vinegar bound all these flavors together in a playful interpretation of a frankfurter accompanied with pickles, relish, and mustard. We wrapped our meal up with a sinful slab of lemon pound cake garnished with basil-infused blackberry compote.
Noona's offers the wholesome yet uncomplicated casual dining that Baltimore needs—unfussy presentations, bright flavors, reasonable prices, and the deft hand of a good chef to bring them together. We'd like to see a bit more Italian-inspired focus on the wine list to support the flavors coming from the kitchen, but that's a minor quibble for a restaurant with no fine-dining aspirations.
---

NOONA'S 1203 W. Mt. Royal Ave. 410-424-0857. HOURS: Sun. 11 a.m.-3 p.m., 5-9 p.m.; Tues.-Wed. 5-9 p.m.; Thurs.-Fri. 5-10 p.m.; Sat. 11 a.m.-3 p.m., 5-9 p.m. PRICES: Small plates: $7-10; pizza and entrees: $11-15; desserts: $3.50-8. AMBIANCE: Trendy casual.