Review: Primo Hoagies
There's a bit of Philadelphia at Primo Hoagies in Bel Air.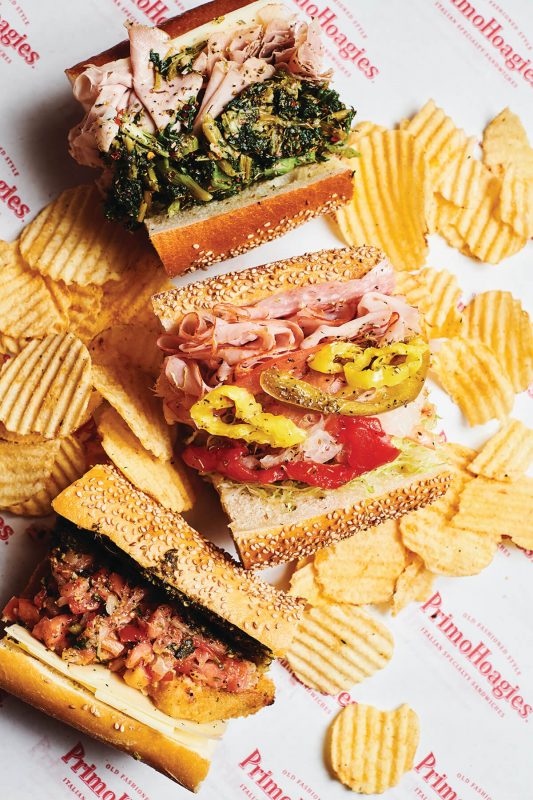 As a native Philadelphian, I adhere to a rule when it comes to hoagies: Never eat something that's called a hoagie that wasn't made somewhere between Philadelphia and the Jersey Shore, meaning Maryland is off limits. And given that I last lived in Philly when Ed Rendell was mayor in 1995, it has been a while since I've enjoyed that particular regional sandwich.
That is, until now. When I heard that Primo Hoagies, a legit hoagie franchise that started in South Philly, had made its way about 70 or so miles across the border to Bel Air, I decided to put my theory to the test. I was curious if a place in Harford County could recreate the quintessential Philly hoagie experience. In my book, not just any sub gets to be called a hoagie. A sandwich can only earn hoagie status if the following applies: The place has to have that unmistakable smell of fried onions and sizzling meat on the grill, hot peppers are called "hots," and, ideally, the person behind the counter should greet you with a "yo."
As I entered Primo—located in a generic strip center just off Route 1—it felt instantly familiar. When I asked the cashier if many of Primo's patrons were former Philadelphians, she said yes and told me that they often say, "It's like being home."
But while it may be reminiscent, it's not exactly the real thing, beginning with the fact that the place is oddly odorless, leaving me to wonder if the subs were trucked over from Wawa through the back door.
Primo gets some elements of the signature sandwiches right: They're packed with every form of Italian lunch meat, including salami, soppressata, capicola, and prosciutto, and the requisite cheeses (American, provolone, and the obligatory Whiz). There are also options for oil, vinegar, and mayo and extras like sweet or hot peppers, shredded lettuce, and sliced tomatoes—all items you'd find in my hometown.
The menu also features a decent—and nicely juicy—rendition of the Philly cheesesteak using chopped steak and a version with chopped chicken. My biggest beef, so to speak, was the roll. It's long (24 inches for a whole), but lacked the crispy-on-the-outside, soft on the inside ineffable quality of the ones coming out of Sarcone's Bakery in the heart of Philly's Italian Market and the go-to purveyor for most authentic cheesesteak joints in the City of Brotherly Love. Things also fell apart in the dessert department, where rice pudding and chocolate-chip cookies are on offer—a real-deal Philly sub shop would have racks of Krimpets, Kandy Kakes, or Chocolate Juniors made by the Philadelphia-based Tastykakes.
So does the Primo franchise in Harford County earn the right to use the word "hoagie"? Let's just say that I don't see Rocky Balboa running here anytime too soon (he favored Pat's). But until I can get home again, it will do for now.
---
PRIMO HOAGIES 1437 Rock Spring Rd., Bel Air, 443-567-5551, Sun.-Thurs. 10 a.m.-9 p.m. Fri.-Sat. 10 a.m.-10 p.m.